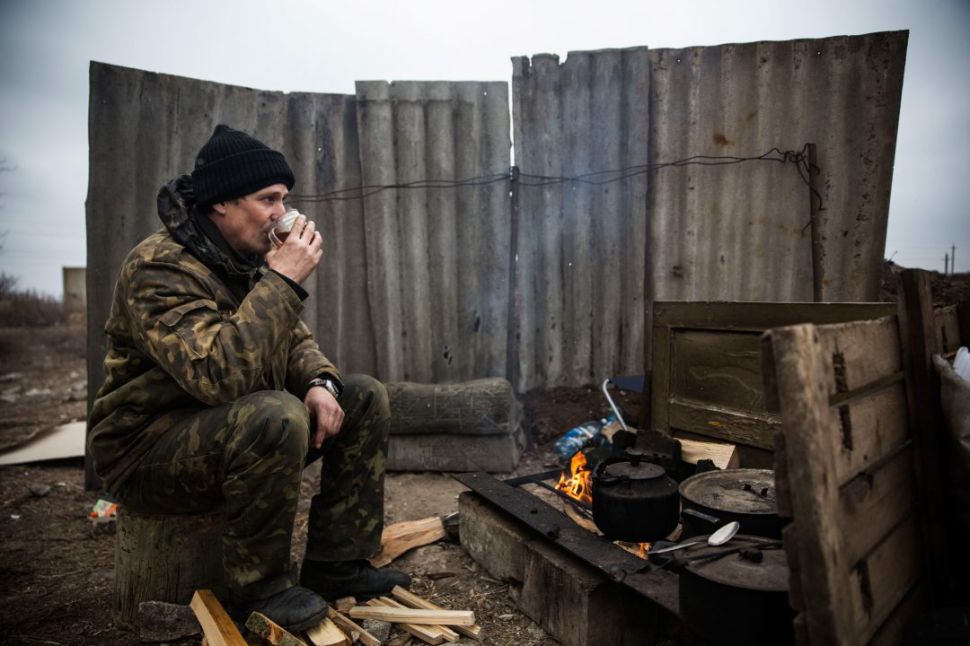 Sooner or later, Ukraine's war against two Russia-supported separatist regions will be over, Ukrainian Minister for Interior Arsen Avakov writes in Ukrainskaya Pravda. However, he believes the multitude of problems the war created are here to stay.
The "Strategy of the Hybrid Peace" (the title of Avakov's article alluding to a "hybrid war" that Russia has supposedly been waging against Ukraine) is not going to be easy since the war created a "phenomenon of destruction" in Ukraine—on both individual and societal levels.
Similar to the Vietnam syndrome American soldiers suffered and the Afghan syndrome of Soviet troops, there is a new phenomenon that appeared in his country: a "Ukrainian post-war veteran syndrome."
He writes, "As of mid-June 2017, 280,500 [Ukrainians] are combatants [in the war in east Ukraine]. These are only those who have formalized their documents [with the government]. That is, the number is far from conclusive. But even these [people], they are already almost 0.7 percent of the country's population, including infants and the elderly."
Since the beginning of the military conflict—the Anti-Terrorist Operation (ATO) as the war is officially called—2,197 Ukrainian troops have been killed, and around 8,000 have been wounded.
Due to the war, social and individual frustration is widespread. Avakov writes, "[This] frustration is the source of aggression" in Ukrainian society. "Sociologists already record in the mass consciousness of our society the desire to solve problems in the most simple and forceful ways. With every day that this war continues, more people are burned by military actions. People easily cross the line of ethical norms and use violence and weapons [to solve their personal problems]." He continues, "According to information provided by the La Strada Ukraine International Human Rights Center, as early as 2015 the number of domestic violence complaints filed by the family members of former participants of the Anti-Terrorist Operation increased eight-fold."
Further, Avakov believes the surge of suicides among veterans of the ATO is a reflection of "the phenomenon of general destruction of consciousness" in Ukrainian society.
"According to the Military Prosecutor's office," he elaborates, "by the beginning of June 2017, around 500 cases of suicides of veterans of the Anti-Terrorist Operation who returned from the war zone were registered."
One of these veterans was 22-year-old Andrei Gorban, private of the National Guard, who hanged himself in February 2015 in his parents' apartment in Kiev. He committed suicide four months after returning from the front lines. There was also a "middle-aged veteran" who blew himself up with a hand grenade in a park on an island not far from Kiev. He left a note that read, "It's nobody's fault. Simply put, nobody needs me." Igor Viryasov, a 54-year-old veteran, jumped to his death off a bridge in Kiev.
The number of veterans who have committed suicide is higher than the one cited by Avakov, as he writes only about suicides committed after soldiers come home from war.
The real number is twice as high, nearing 1,000.
Plenty of people have committed suicide even before being sent to the war zone. These cases aren't included in Avakov's figure, either.
In June 2015, a 43-year-old conscript jumped from a fifth-floor window of Lviv hospital. He was set to undergo a medical evaluation the next day, but, knowing he would be drafted into the army regardless of the results, he preferred to die. The same year, in the town of Zolochiv, a conscript of the National Guard jumped from the top of a military hospital to his death. A 31-year-old conscript from the city of Dnipro jumped off a Kiev-Uzhgorod high-speed train that was delivering him to the front lines.
Also omitted from Avakov's statistics are those who committed suicide during deployment.
Obozrevatel reported that on July 1 2014, Evhen Lukash, a 30-year-old driver of the 3rd anti-aircraft missile regiment, unloaded his assault rifle into his head. "In March, he went to serve his country in a positive spirit and good mood," his 26-year-old widow told to the newspaper. "He was happy that he was having his salary in the army and called home every day." (She later stated she did not believe her husband committed suicide.)
On Easter Day, 2015, three troops of the Ukrainian Military Forces committed suicide. In the morning, the soldier of military unit B2278 shot himself in the chin with an AK-74. Also in the morning, a soldier of military unit A0284 slit his wrists. That night, a soldier of military unit B1688 blew himself up with a hand grenade. In summer 2016, a soldier of the 72nd Brigade at the front line in the village of Granitnoye shot himself in the head after witnessing the death of another soldier.
The number of Ukrainian soldiers killed in action has drastically declined in the past year and a half, in contrast to the previous two years when the ATO raged at full force.
In 2015, according to the Ukrainian Defense Ministry's official report, 1,842 Ukrainian military servicemen were killed in action. Non-combat losses in the war zone totaled 233 for that year, including 85 suicides and 39 deaths caused by careless handling of weapons.
According to 2016's numbers from the Office of Ukraine's General Military Prosecutor, since the beginning of ATO, non-combat losses of the Ukrainian totaled 1,294 soldiers; 259 deaths (20 percent of non-combat casualties!) were suicides, 112 died due to road accidents, 96 due to drugs and alcohol poisoning, 121 due to premeditated murders, 148 due to accidents and injuries, 111 due to careless handling of weapons, 40 due to violation of safety procedures, 405 due to illnesses and two by other causes.
The ratio of combat to non-combat fatalities in the Ukrainian army for 2016 is staggering.
On his Facebook page, Ukrainian journalist Oliksii Bratushchak expressed the anger of his fellow Ukrainians when comparing official figures for combat and non-combat casualties in the Ukrainian army in 2016.
According to the Ukrainian Ministry of Defense's official response to Bratushchak, the combat losses of the Ukrainian army last year were 211 people, while non-combat ones comprised a shocking 256 cases: 63 suicides, 30 murders, 18 deaths due to road accidents, 10 due to drug and alcohol poisoning, 39 due to careless handling of weapons, four due to violations of security procedures, 58 due to illnesses, 29 due to accidents, and five died of other causes.
The real number of suicides in 2016 is most likely higher, since, as Bratushchak pointed out, how could it have happened that 58 people with fatal diseases were sent to the war zone?
Prospects for solutions for "Ukrainian post-war veteran syndrome" are bleak.
For the epigraph of his article, Avakov chose Thomas Mann's famous quote: "War is a cowardly escape from the problems of peace."
On the same day the article was published, 23-year-old Ukrainian border guard Artem Filinenko shot himself in the head with an AK-47 assault rifle in the military unit at Uzhgorod. He left a suicide note behind.