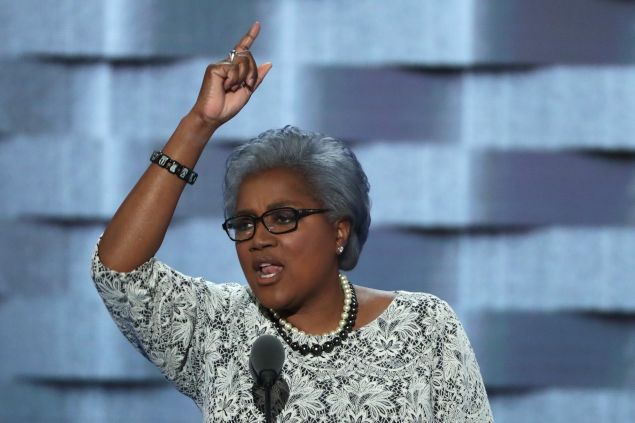 A mix of liberal groups and unions rallied around Horizon Blue Cross Blue Shield on Friday and demanded that Democratic lawmakers release draft legislation being fast-tracked in the state Senate to raid the insurer's reserves.
Gov. Chris Christie has offered to approve increased school funding this year if Democrats in return pass a bill that would take around $300 million a year from Horizon's $2.4 billion reserves.
Senate President Steve Sweeney (D-Gloucester) and state Sen. Joe Vitale (D-Middlesex) are drafting two separate proposals along those lines and are shooting to pass at least one of them by the end of next week.
Neither bill had been introduced as of Friday afternoon. Horizon supporters compared state Senate Democrats to U.S. Senate Republicans, who recently drafted a sweeping health care overhaul bill in internal meetings without public input.
"We cannot afford to have a heartless health care plan at the national level or a malicious plan at the state level," Donna Brazile, the former chair of the Democratic National Committee, said in a conference call Friday with Horizon supporters.
"We don't know what the bill looks like," said Doug Johnston, a spokesman for Hands Off Healthcare New Jersey, a campaign fighting the Horizon legislation. He said Sweeney and Vitale's efforts were "just like in the U.S. Senate, where we had to wait a week or more while politicians worked behind closed doors to craft their bill."
"They finally released it, and now they want to shove it through the U.S. Congress," he said. "The people of New Jersey deserve better than that happening in New Jersey."
Sweeney said Thursday that his bill would include language to guarantee that any fund diversions from Horizon to the state would be permitted only if they did not cause consumer rate hikes. His bill wouldn't go into effect until February 2018, after Christie leaves office, he said.
Vitale, the chairman of the Senate health committee, described his bill Thursday as "longer-term reform." Under his plan, the state Department of Banking and Insurance and others would conduct a public vetting process and take input from Horizon before establishing a cap on the amount of money it could keep in reserves.
The Blue Cross Blue Shield Association requires Horizon to keep reserves worth at least 550 percent of what's needed to pay all its claims, and Christie and Senate Democrats are in rough agreement that the state should be able to take whatever money is not needed. The state is in one of the worst fiscal shapes of any in the country, with staggering unfunded pension liabilities and 11 credit-rating downgrades so far under Christie's watch.
The Horizon funds would relieve some of the budget pressure, but a wide range of critics say the move to target one private company would be more fitting for a communist regime than the capitalist United States. Any raid would inevitably hurt Horizon's 3.8 million policyholders, the company says.
One of the critics is Assembly Speaker Vincent Prieto (D-Hudson), who said Thursday that he would in "no way, shape or form" consider a Horizon raid before the budget break, as Christie, Sweeney and Vitale are hoping. After the budget break, the Assembly would consider only bills that affect a wider range of nonprofits, and not just Horizon, Prieto added.
Lawmakers were not at the state house on Friday, and legislation can only be introduced during a quorum. But Sweeney after a voting session on Thursday left open the Senate board, a parliamentary tactic that would allow the Horizon bills to be introduced Friday even without lawmakers in the building.
If the bills are in by the end of the day, a committee hearing could be held Tuesday and a final vote on Thursday, the last scheduled voting session before the budget break. That would give the public roughly a week to learn about major legislation overhauling the state's largest health insurer.
Vitale and a Sweeney spokesman didn't respond to requests for comment Friday.
The news conference hosted by Hands Off Healthcare New Jersey included representatives from the Communications Workers of America and the New Jersey Working Families Alliance. The speakers sought to tie the Horizon bill to the Republican effort in Washington to repeal and replace the Affordable Care Act.
Brazile and others said the Horizon plan could harm the insurer's 3.8 million policyholders in the state by causing massive premium increases. On Thursday, Sweeney said any Horizon bill would protect ratepayers.
"We don't know that if we haven't seen the bill," Johnston said in response.