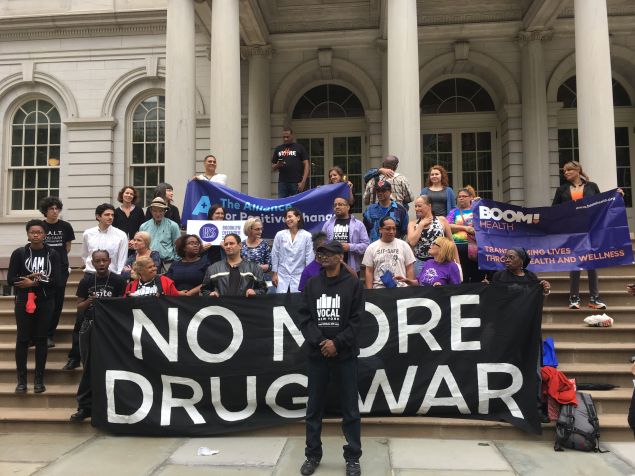 Advocates, public health experts and service providers rallied in front of City Hall this morning to urge the city to increase funding and political action toward developing a public health approach to end record overdose deaths in the city.
The city's Department of Health and Mental Hygiene released data this week indicating that 1,347 people died of unintentional drug overdoses last year, compared to 933 in 2015—roughly four a day, an increase of 46 percent. The report also found that while overdose rates increased among all demographics and in nearly every neighborhood, black New Yorkers, Bronx and Staten Island residents, and people living in high-poverty communities have experienced the largest increase.
Speaking on behalf of VOCAL-NY and not himself, co-executive director Jeremy Saunders said that they frequently hear the mayor speak about the need to tackle traffic accidents and homicides but that more people die of overdose than traffic accidents and homicides combined.
"The mayor needs to recognize that these deaths have continued to go up for six years," Saunders said. "There was close to a 50 percent increase in deaths in one year. This problem is getting worse.
In March, Mayor Bill de Blasio and First Lady Chirlane McCray launched HealingNYC, a new comprehensive effort to reduce opioid overdose deaths by 35 percent over the next five years.
Saunders acknowledged that the program devotes about $150 million to tackling the overdose epidemic, but complained nearly half has been directed to law enforcement. This, he asserted, helped turn emergency rooms into crime scenes: where overdose victims find themselves subjected to questions about where they got their drugs.
"The NYPD has had a long time to prove whether it can address the opioid epidemic, the overdose epidemic," he continued. "It has not. It has failed. Now what we need to do is invest every dollar we can in public health. Those funds that are directed to detectives entering emergency rooms needs to go to the Department of Health if our city is serious about adopting a public health approach."
VOCAL-NY instead recommended funding to prevention resources such as fentanyl testing strips, education campaigns, community health and outreach workers and facilitating community partnership between harm reduction, recovery and treatment programs. They also called for expanding public education campaigns and more funding for peer educators, care coordinators and syringe exchange program staff to provide the education and naloxone—medication that blocks or reverse effects of opioid medication, especially in overdose—training.
They also called on the City Council to pass legislation sponsored by Bronx Councilman Ritchie Torres that calls for training all shelter staff on overdose reversal techniques. They also emphasized a need for supervised injection facilities, where addicts can make use of their drug in a controlled environment.
Elected officials, including Ithaca Mayor Svante Myrick, support statewide establishment of safe consumption spaces, and Assemblywoman Linda Rosenthal plans to introduce state legislation, they noted. And they called on the state to expand and simplify access to medical marijuana, which they said can be a pain management alternative to pharmaceutical opioids.
"This is not only a New York City issue," Saunders said. "This is a New York State issue. Our governor and our state electeds are also to blame. They need to take action."
The mayor's office said its initiatives have enabled the NYPD to save 270 lives with the overdose antidote naloxone, and that the city is in the process of arming all rank and file cops with the medication. But the city said it currently has no plans to distribute the fentanyl testing strips given a lack of sufficient data to support their effectiveness.
"New York City is facing a drug crisis driven by a toxic mixture of cheap heroin and fentanyl, which is why we launched HealingNYC earlier this year – a comprehensive initiative that combines proven public health, safety and educational efforts to reduce overdose deaths," mayoral spokeswoman Olivia Lapeyrolerie said in an emailed statement.
Gov. Andrew Cuomo's office noted that it has invested in $200 million in anti-addiction efforts.
During his weekly "Ask the Mayor" segment today, de Blasio said fentanyl has driven up the deaths in recent months and that the city was aware of the data released by the Health Department when he announced the city's plan, which he called "straightforward."
He said anyone dealing with the opioid problem can be connected to treatment and called for more work by the NYPD to interrupt the supply of heroin, particularly laced with fentanyl and to stop doctors and other medical professionals who think it is normal "to prescribe a huge number of pills." He also said police officers and firefighters are now being outfitted with naloxone.
"We want to do much better but I do want to give a lot of credit to the NYPD and FDNY for saving more and more lives all the time," he said.
And when the city announced its plan, Police Commissioner James O'Neill said that "you can't arrest your way out of this problem," noting that when they interview those who survive, they don't arrest them but rather teach them "to make good decisions, to resist peer pressure" and live healthily.
Shantae Owens, a leader with VOCAL-NY, said that they sit in meetings with elected officials, they "smile in our faces" and the very next day, they "see nothing is being done."
"I'm tired of going on outreach and having my people tell me, 'Why don't they care about me?' I'm human, too. What's happening?,'" Owens said. "And I gotta sit there, and I gotta explain to them, 'We're trying, just hold on a little longer, hold on a little longer.'"
Terrell Jones, a leader with VOCAL-NY, said that the South Bronx, where he lives, "has a very high rate of overdoses."
"We have our elected officials who don't care about our community," Jones said. "How can I sit in a meeting talking about overdose and our elected officials—some of them—never even heard of Narcan. Narcan has been out since 2006."
Kassandra Frederique, the New York State director for the Drug Policy Alliance, said that they are "devastatingly disappointed" with the number of overdose deaths occurring in New York City.
"The numbers are going up and the resources aren't coming," Frederique said.