Welcome to our TV Fashion column, where TV Ate My Wardrobe's Emma Fraser discusses the trends in television apparel. This week: the new wardrobe of Kyle Maclachlan on Twin Peaks.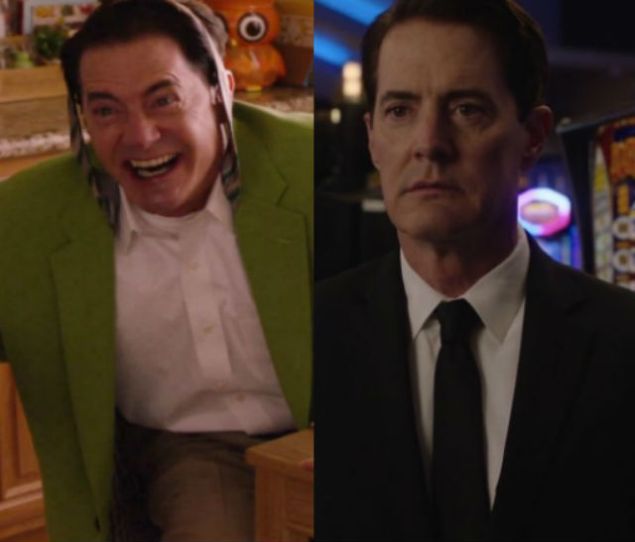 Dale Cooper hasn't quite woken up yet on the new series of Twin Peaks and the side effects from all that time in the Black Lodge are strong. He's got his beloved coffee and his investigative skills are still alive and kicking, even if they come in the form of drawings that have yet to be explained. A police badge provokes a response he can't quite explain just yet and parts of Agent Dale Cooper are falling back into place. He can pick out a liar and there's a strong sense of empathy; he now also looks the part once again after ditching the lurid lime green sportcoat in favor of his signature sharp black suit.
The black suit is what he wore for over two decades, hanging out in the Red Room and it is the outfit he came back into this world in. To anyone who knows Agent Dale Cooper he looks exactly the same as he ever did. But the place where he came back through is a long way from the home he had made at The Great Northern Hotel and he is currently in a bizarro world version of a body swap movie. And one with a really bad selection of clothes at his disposal.
Everyone thinks Cooper is Dougie Jones; despite the weight loss, hair change and the inability to string a whole sentence together. The less than pressing concern about Dougie's state of mind gives an impression of what the original Dougie was like, but so far people seem more exasperated at him rather than wondering if he's had some kind of head injury. What was his life like prior to this if only one person considers he had a stroke? Was he painting over his sadness with bad, bright fashion? Oh and plenty of people are trying to kill him, so the plea from the One-Armed Man – who is stuck in the Red Room – to wake up and not die is warranted.
Naomi Watts as Dougie's long-suffering wife Janey-E has no time for his shit, which is no surprise considering his extra-marital activities and general ineptitude that all took place long before Cooper came back. Cooper-as- Dougie is a much better husband despite his inability to put a tie on properly or communicate beyond repeating back the last word/phrase that has been said. There's an inherent sadness to Cooper in this state with Kyle MacLachlan delivering humor and pathos in equal measure; the melancholy etched on his soul seems even more intense as a result of Dougie's wacky style choices. No one should be forced to wear that shade of green.
There's a reason why I didn't talk about Dale Cooper in too much detail in this Twin Peaks style retrospective; other than his brief foray into the world of plaid shirts and fishing attire, he has pretty much been a one kind of suit type of guy. The fit and cut of menswear has changed since 1990 and this is a good thing in the suit department. While watching old episodes of The X-Files and The West Wing it is impossible to ignore the bagginess of the suits from this time and wonder why anyone thought this was a good idea. Because of his slender frame, Kyle MacLachlan mostly escapes bad baggy suit pants and jackets – his overcoat is where the real oversized fit comes in – and his signature outfit is classic for a reason. When it comes to Twin Peaks and the character of Agent Cooper, a black suit and tie is just as synonymous as coffee and cherry pie.
In a season 5 episode of The Americans when Stan informs a guy they have been surveilling that they are FBI agents, he jokingly adds "case you can't tell from our suits" and the strict straight-laced G-man dress code dates back to J. Edgar Hoover. Times have of course changed, but there are still certain aspects of this and "A Style Guide for the Federal Employee" by Luke Hartig in The Atlantic gives insight into how an FBI agent might dress in 2017:
"To understand the FBI's style, you need to understand that agents think of themselves as something of a cross between a detective and a spy. Suits are sharper than those worn by The Wire's McNulty but still oversized so that a pistol can be easily concealed. Haircuts are short but stylish. FBI agents also love men's hardware, such as cufflinks, tie clips, lapel pins—little flashes of bling that make the detective into an agent."
Certainly not a green blazer like the one insurance agent Dougie Jones favors and it is significant that Cooper is back in his signature crisp black suit; it might mean he is one step closer to waking up. But first he has to make sure he doesn't die and this could be rather difficult considering another hit man has been hired.
There is one person who might be able to crack the Cooper identity dilemma and that's Diane. Oh, Diane! The person at the end of all of Cooper's tape recorder messages is real and the reveal in episode 6 maybe caused me to scream at my TV in pure delight. Speculation had suggested Laura Dern would be playing this previously unseen iconic character and even with this casting theorizing the payoff was worth it. This scene might be brief, but it is clear that Diane is going to have an impact; both on the overall narrative where Cooper is concerned and as another Twin Peaks character to emulate sartorially.
From the white-blonde bob giving off 1920s silent movie star realness (see Louise Brooks for the brunette version) to her embroidered outfit, winged eyeliner, chunky bracelets and matching colorful manicure; Diane is one for the ages. Costume designer Nancy Steiner has created many iconic looks in the past and it is no surprise that her take on this character has me all a fluster. Not to mention that this is the year of Laura Dern and Diane could end up rivaling Renata in the style department. But first to wake Agent Cooper up and make sure he burns Dougie's wardrobe.