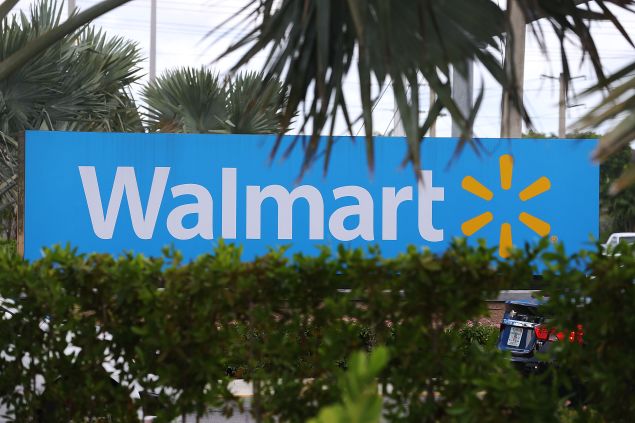 Walmart announced this morning that it's acquiring menswear brand Bonobos. But at least one analyst doesn't really understand why.
"You don't go to Walmart for high quality, fabulous goods," brand consultant Kate Newlin told the Observer. "You go for OK and cheap."
The world's biggest physical retailer—with over 11,000 stores and revenue of $485.9 billion—has actually become more welcoming to online merchants as it competes with Amazon (AMZN) for consumer dominance. But while Walmart has shown 63 percent growth in U.S. e-commerce sales, it still hasn't been much of a competition since Amazon's market cap is also almost double Wal-Mart's.
Walmart has still shown some signs of life online, however, acquiring e-commerce retailers like Jet, Modcloth and ShoeBuy. And today, at the same time Amazon announced it was acquiring Whole Foods, Walmart also revealed its next move.
The big box store acquired Bonobos for $310 million in cash. The deal, which has been in the works since April, is just slightly above Bonobos' $300 million valuation in 2014.
As part of the deal, which is expected to close later this fiscal year, Bonobos apparel, along with other Walmart brands, will be offered on Jet.com in a variety of countries. Bonobos CEO Andy Dunn will report to Marc Lore, founder of Jet and president and CEO of Walmart U.S. eCommerce.
Dunn will "oversee the company's collection of digitally-native vertical brands," a company press release reads.  He and other top executives can earn an extra $20 million combined if they remain with Walmart for four years.
"We began Bonobos 10 years ago to give men a completely different product and shopping experience: better fitting, higher quality clothing, in new and imaginative ways," Dunn said in a press release. "That will always remain our mission. We are excited about applying all that we have learned to help shepherd in the next era of retail."
Bonobos, which projects 2017 revenue of around $150 million and 30 percent year-over-year growth, launched in 2007 as a market for men to buy custom fitted chinos online. But in recent years the company expanded its products to include shirts and suits.
It's also branched into brick-and mortar by opening 35 Bonobos Guideshops, e-commerce stores where patrons can try on the clothes with help from customer service "ninjas" and have the products shipped to their homes. And since 2012, Bonobos has partnered with Nordstrom (one of its investors) to offer its products online and in the company's 118 stores.
Newlin said Bonobos' high-end style (prices on the company's website range from $28-$798) isn't a natural fit for Walmart's "everyday low prices" ethos.
"Walmart clearly doesn't know how to sell to today's buyer," she said. "Bonobos' young, urban audience wouldn't go to Walmart."
As such, Bonobos risks becoming a store brand and alienating its core user base, according to Newlin.
"Do they 'Walmart' the brand and change it more than it changes them?" she asked. "When Walmart owns the whole sales channel from design to distribution, they might cut corners and shred details. Bonobos could get tarred with that brush."
There is one benefit for Walmart, however—it can see how a successful e-commerce brand works.
"They're learning how to do things online through other peoples' wisdom rather than figuring it out themselves internally," Newlin said.
Benjamin Conwell, senior managing director and national practice leader for e-commerce and electronic fulfillment at Cushman & Wakefield, took a more positive view of the merger.
"It's one more of an interesting pattern that Walmart is following as they take some meaningful steps to appeal to a different customer base and target market," he told the Observer.
Whether the Walmart and Bonobos brands can work well together is "the $310 million question."
"It will feel like a stretch" for shoppers, Conwell said. "There is the risk there will be erosion of the brand and a perceived diminishing of value."
But he added that the merger also presents a big opportunity for Walmart, since the retailer offers a same-day in-store pickup discount for consumers who order online. If Bonobos customers choose this option, they could make impulse purchases of other Walmart items.
"Walmart has 4,700 more stores than Jeff Bezos does," Conwell said. "It's imperative for them to leverage the store footprint to stay relevant."
Ultimately, however, the best thing Walmart can do is let Bonobos and its ninja approach to retail stand alone.
"These are two companies with very different value propositions and different target customers," Conwell said. "It all comes down to how well they preserve the perception of an independent, specialty apparel brand."
It might not be that difficult in the end—after all, you can actually buy Prada and Balenciaga products at Walmart.