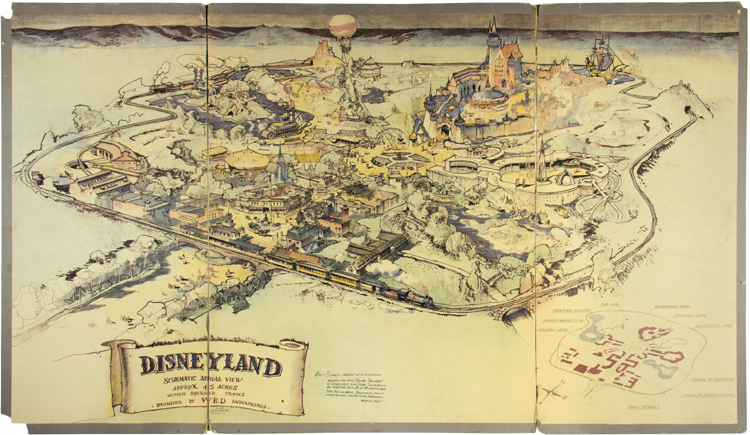 Walt Disney's original hand-drawn 1953 map of what would go on to become Anaheim's world famous Disneyland theme park has sold for a record-setting $708,o00 at Van Eaton Galleries, reports the BBC. The map, which was created over the span of a weekend by Disney and his friend Herb Ryman to help raise funds to build the park, was offered for sale by collector Ron Clark on June 25, and valued between $75,000 and $1 million. While the map didn't quite make its high estimate, it did set the record for the "most expensive Disneyland map ever sold," according to the house.
"As we had expected, this extraordinary Disneyland map sold for an outstanding price today," said Van Eaton Galleries co-owner Mike Van Eaton in a statement. "We are beyond thrilled that the map will continue to be appreciated and cherished just like it has been for all these years, [sic] Our "Walt Disney's Disneyland" auction proved once again that the popularity of the happiest place on earth continues to excite people from around the world."
The map, which is believed to be the "first-ever" drawing of Disneyland, includes plans for sections which were never realized, including an area called Lilliputian Land and a vision for Sleeping Beauty's Castle at the center of the park. The rare artifact was rescued from Walt Disney's office by his one-time employee Grenade Curran in 1955. "I kept it for history's sake, I kept it for Walt's artistic stake, [sic] I kept it because it was the first thing to show and display…what a theme park would look like," said Curran, according to the BBC.