Welcome to "Weekend Stream," where every Friday, Darian Lusk—comedian and writer living large in Brooklyn—will gently recommend something new and exciting to stream, listen to or play over the weekend. Follow him on Twitter @eatpraylusk to send suggestions for future installments.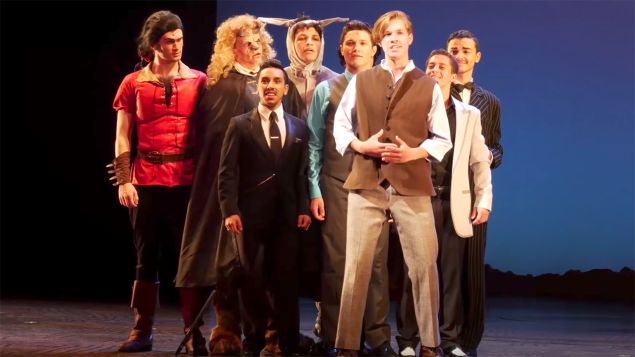 Everyone has their go-to Youtube videos for social situations. For some, it's the earnest fast food reviews of Report of the Week, for others, it's that guy who lets insects bite him. For me, it's the sheer artistry that is high schoolers dressed as Shrek.
The National High School Musical Theater Awards, otherwise known as the Jimmy Awards, is an incredible showcase of something you didn't know could be, or needed to be, quantified: the best performances in high school musicals of the year.
Held on one dazzling night in New York City (on the same Broadway stage as Lion King!), the competition features more than 60 students from across the country and consists of three parts. First, there's the opening number, in which the full group takes the stage. Then, there's the series of "medleys," in which the actors are divided into sections of boys and girls. These are my favorite. Each young performer strikes a pose in character before literally stealing the spotlight from one another to do a solo from their show. And finally, the contest is narrowed down to the finalists, and a male and female performer are crowned.
All of this is streaming on Youtube dating back to 2009, which is incredible. And equally incredible is how many nights I've spent in my apartment watching these high schoolers sing.
So in honor of the 2017 awards, which were held on June 26 and hosted by Dear Evan Hansen's Ben Platt, I've devised — and rigorously tested — a Jimmy's drinking game. And unlike other drinking games, friends are optional! Sadly I've tested this part too.
Instructions: Pick a year from the playlist section of the Jimmy awards Youtube (I suggest 2013 because it was particularly stacked) and start with the opening number.
Take a sip if…
During the opening, the curtain opens and there are twice as many people on stage as you expected.
The performers do a choreographed move in unison and someone in your party gasps out loud.
Lyrics to a showtune are re-written to be about the Jimmy's, and it WORKS.
You wonder what would happen if you saw this entire group of teenagers in an alley. Could you take them? You decide no. They would destroy you.
The girl who plays Fiona in Shrek The Musical flexes.
A performer cuts another performer off when it's their turn for a solo. (Prepare to take many sips.) 
Take a shot if…
Two competitors are playing the same role.
You find yourself secretly wishing the regionals were on also on Youtube, but then wonder why you need that much high school theater. Are you reaching for something?
Someone slays a number from Into The Woods.
You say "this is better than the Tony's" but no one can hear you because you're alone. Everyone else left. You didn't even notice.
You think, "I should have done theater in high school." Then you remember you tried out for that one straight play and got a callback but they gave it to the kid who was "friends with the girl who ran casting." But is that really why you didn't get it?
 Finish your drink if…
You're crying. Is it the moving, incredibly impressive performances, or the alcohol? Or something deeper?
Someone crushes a solo from a more obscure show, like the girl who played Orange in Shout: The Mod Musical.
You wonder how the rest of these high school productions felt  about this one insanely talented performer. Like, were they so good that it was distracting? Was there resentment? Is there such a thing as too good?
An actor has a great voice but you feel they aren't right for their role.
You wonder who "Jimmy" is.
You think about how if you could go back to high school now knowing everything you do, you would be really popular this time.
You think about what clique you would align yourself with and how, even though you would have a close group of friends, you would really be "friends with everyone."
You think about how you'd stick around after graduation so everyone could sign your yearbook, instead of purposely leaving right away to go to hibachi with your family.
You're blown away by the talent of these possibly Broadway-bound students. But also you've now watched every Jimmy Awards video on the internet.
Other Great Things to Stream This Weekend:
 On Netflix:
Okja: Netflix's ambitious original film about a giant elephant-like animal, and also very overtly about animal rights, is now streaming. The movie was directed by Snowpiercer's Boon Joon-ho and stars Tilda Swinton (who plays a great villain as usual) and Breaking Bad's Gus Fring, in what is clearly a huge step forward for the streaming platform. So if you can't get tickets to Baby Driver this weekend, that doesn't mean you can't get swept up in something great. (Added June 28)
On Spotify:
Bob Segar's Discography: Speaking of huge steps forward, Spotify has finally obtained Bob Segar's catalogue, now available for streaming. That means you can work on your night moves all weekend. (Added June 23)
Calvin Harris' Funk Wav Bounces Vol. 1: In case our world wasn't bizarre enough, Calvin Harris may have released the party album of the summer. Funk Wav Bounces already sports hits like Frank Ocean's Slide, but as it turns out, every song on this album is a bop. Seriously, I may purchase it on vinyl. A Calvin Harris album. It's that good. (Added June 30)