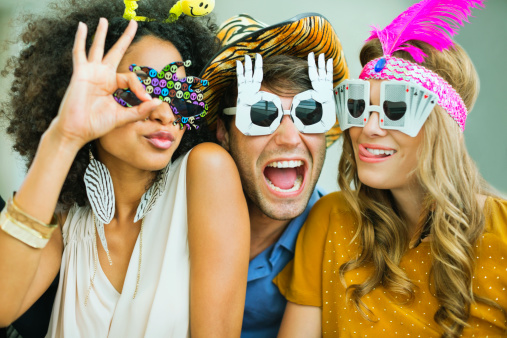 Ten years ago, when I turned 30 I freaked out. So, I ran away to Hollywood for one last ditch attempt at movie stardom.
"You should've come here when you were younger." Declared a male cashier at a groovy boutique off Melrose. This was immediately after I shared my Hollywood dreams with him.
"I just spent a lot of money here, and you're telling me I'm too old? That's rude." I responded, debating on returning every item I had just bought.
"I'm not being rude, I'm just telling you the truth." He went on, "You're cute, but you should've come out here ten years ago."
"Better late than never!" I responded.
"Well, I'm not sure if that works here."
It was a swift lesson.
During my two years in California, I was forever 28. My acting coach warned me that admitting to being over 30 would completely ruin my chances at any sort of lasting success. Thanks to ageism, I found myself hesitating even when it came to dating. I went on autopilot, fibbing about weight and age on both my resume and my dating profiles, until disaster struck in the form of a cute 22 year old named Justin.
Justin asked me out on a dating site and I hesitated at first.  He was interested in me?  A 28 year old (who was really on the edge of 31, but he didn't have to know that).  Perusing his photos and his five o'clock shadow, I assumed he was lying about his age as well.  Maybe he was really 28 and trying to play the younger game himself.  We could have a laugh about it over dinner if things went well.  Our chats on the phone were entertaining.  He was studying film at UCLA, and seemed like a very responsible college student.  Every night around 10:45pm, he would wrap up the conversation.
"Well, my roommate is getting home, and I have to be up early for class.  I can't wait to take you out this weekend.  Does Friday work?" He asked.
"Yeah that sounds great."
"I know a great pizza spot on La Brea, my car's in the shop, so my roommate will drop me off around 10:00pm." He said.
"I'll pick you up."  I offered.
"No, no, please that's fine.  I don't want you to drive all of the way out to my place, it's too far, let's just meet there.  I can't stay out too late, gotta hit the gym in the morning."
This was looking promising already, a low key easygoing night.  On Friday I arrived early at 9:40, Justin called.
"Hey uhh, I'm running a few minutes late.  Why don't you order us a few slices and I'll have a beer."  He said in a hushed tone.  He hung up before I could say anything but I went ahead and ordered.  Around 10:20 he entered the restaurant looking flushed and nervous, almost looking over his shoulder as if he were being watched.  "I apologize for getting here late," he said "and I owe you an even bigger apology because my roommate is coming back to get me in an hour. I hate to dine and dash but next time things won't be so rushed."  Before I could respond a woman walked up to our table and she didn't look happy.
"Justin you left your wallet in the car.  I thought you were meeting Brad here to study for your chemistry test."  I suddenly had a very bad feeling about this woman who looked me up and down  "I'm Cheryl, Justin's mother.  Can I ask what's going on here?  Why do you have a beer Justin?  Did you buy my son a beer?  You do realize he just turned 18 last week don't you?  How old are you?"  The entire restaurant became silent and watched the drama unfold.
"He told me he was 22. I'm 28."  There was no way I was fessing up to my real age at this point.  "I have proof."  I was lucky that I had saved the messages Justin and I had exchanged so I could show his mom that I wasn't a sexual predator trying to seduce her son.  Justin stood behind her looking down at the floor, slouching with his hands in his pockets.  I can't say that Cheryl had a good sense of humor about it but she was definitely on my side.
"How could you lie to this sweet woman?" She yelled at him.  "Here, this should cover the meal. Keep the change and please do not call him anymore."  She handed me a $100 bill.  "This is coming out of your allowance!" She screamed, dragging him outside.  That night I went home and updated my profile to say I was 30.  I didn't want to risk being in a "To Catch a Predator" situation again.
When it comes to online dating and apps it's common knowledge that people lie. Women bend the truth about weight, which is easier to get away with than when men lie about height. Common to all, literally everyone I have ever asked, is at the very least, a muddying of the age issue, at the most, people cheerfully knocking decades off without a backward glance.
I've always rationalized. Doesn't everyone lie about their age? Some people are upfront about it in their profiles and almost always casually admit to putting down a younger age just to beat the algorithms of a site or app. How low can you go without looking completely obvious? Three to four years seems acceptable, but by her very late 30s for instance, my good friend Lisa was going all out. In her journey to be forever young like the cast in her favorite TV show, Younger, she shaved an entire decade off of her profile. She made it clear she had no intentions of ever 'fessing up her real age.
"I'm even pushing it by saying I'm 30. That's the prime age for having a baby."
"Don't you think that's a little much?" I asked. "If you get serious with someone you can't backtrack and make it sound like no big deal. How would you feel? If someone had lied to me about that big of an age difference, what else could they be hiding."
"Sutton Foster gets away with it on Younger." she argued. "Everyone on the original 90210 was in their 30's playing high schoolers."
"This isn't a television show, it's real life. Do you really want to be with someone who's going to judge you for being a certain age? Knock off four or five years if you want, but 10?"
"Good luck to you then!" She said dramatically. "Your love life seems to be going really great!" she added sarcastically. As for her plan to be "Younger", It worked for awhile. She met a guy who adored her. Things were going well until one of his fraternity brothers outed her, he said she looked a lot like his childhood babysitter. Then he realized that she was. She was embarrassed and heartbroken. She took her quest to Rutgers, and no one knows exactly how that's working out for her.
I came to discover that every single man I had a conversation with online admitted to knocking a few years off their age. Even though I never went on an actual date with any of them after Justin, it was oddly comforting to know that men have the same complexes about aging as women do. I still knock a few years off of my age if add a new dating profile online. It's good to know I'm not the only one, but it's a shame that we're conditioned to think we have to lie about it at all, male or female.