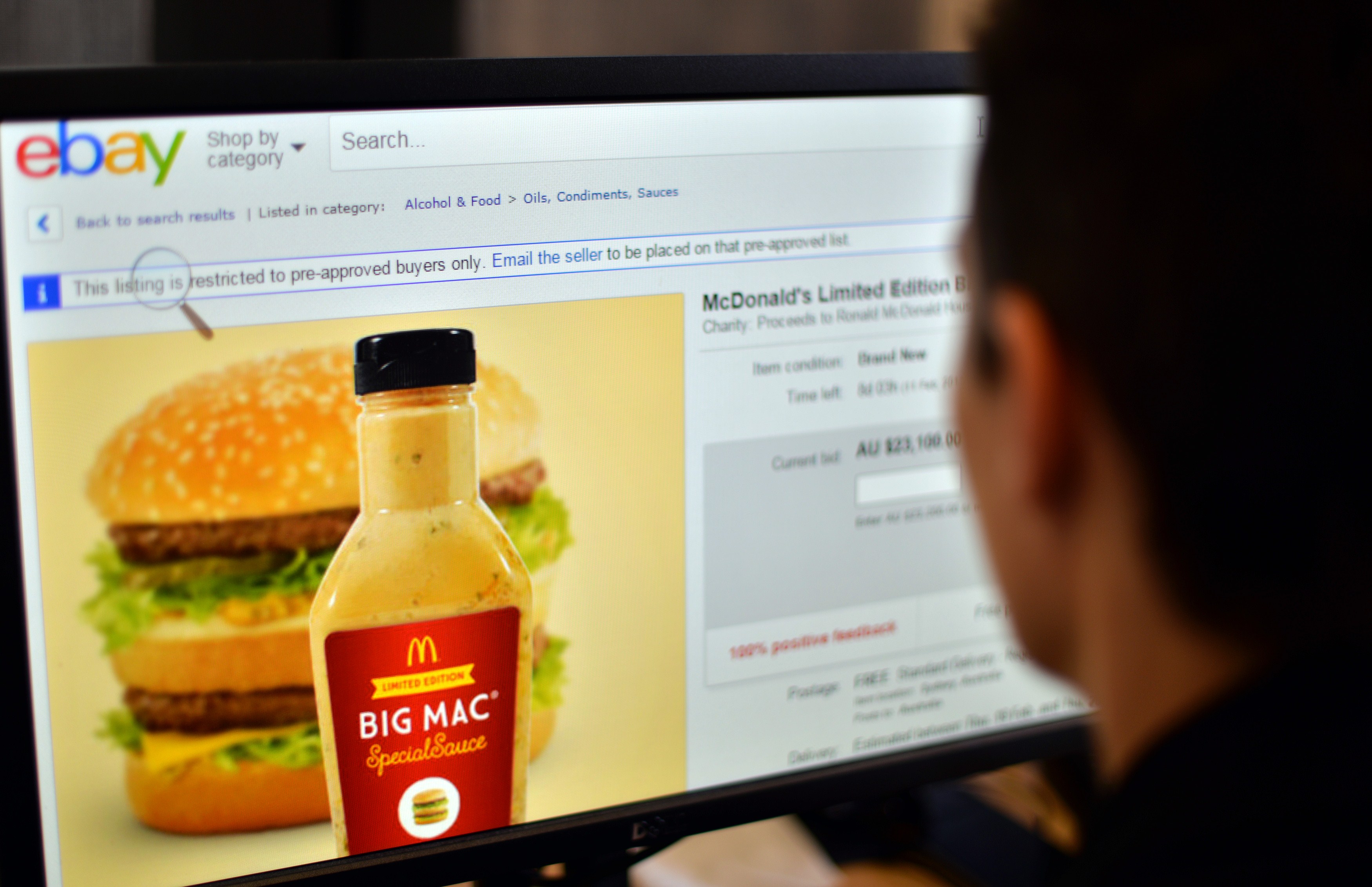 Around the end of March, McDonald's Canada announced that they would be selling packaged sauces in grocery store, including Big Mac Sauce, Filet-o-Fish Sauce and McChicken Sauce. Outside of a limited run in the United States, this was the first time these sauces would ever be available to the public for purchase. The relevant social media posts were filled joy and excitement, but also anger that it was only going to be Canadians that had access to this product. The sauces were not immediately available, and no information about when they would hit the shelves was mentioned.  The biggest mystery perhaps was cost, at the time of the announcement no pricing information was listed.
I've read many stories online where people capitalize on situations like this and make a bit of money— think Tickle Me Elmo, Beanie Babies and even Fidget Spinners of today. Entrepreneurs capitalize on an in demand product by finding buyers that either can't buy the product due to location, or don't have time to wait in line. This time around, with the McDonald's sauces I thought 'Why not me?'. I had some time to think about the side business since the sauces weren't yet available in stores. The general idea would be to buy sauces in grocery stores, then package them and ship them around the world. Pretty simple, right?  The following is my journey through starting (and closing) an e-commerce business.
As time went on, I kept thinking about my plan, trying to make it perfect. I finally put together a website which initially had a simple form to gather emails with the basic message 'We'll notify you when they become available." I paid for some Facebook ads, targeted people that had shown interest in Big Macs and/or McDonalds (yes those parameters exist). After spending just over $20 on Facebook ads, I managed to get 6 people sign up. This was underwhelming but I persisted. As this Facebook ad was running, the sauces became available in stores and I rushed to put together a store front.
Without any real web developer experience, I searched for tools that could help. I set up a WordPress site and used the Elementor plugin. Both are super simple to use, and I highly recommend them for anyone looking to put together a site (you don't need to be a pro, I certainly am not). For the e-commerce back end I used Shopify. Shopify is a great product that helps with everything needed to run an online store. I opted for the $9/month plan that allows for just the use of the 'Buy Button' that I placed on my site. At this point I loaded up some more Facebook ads and started taking orders.
The first and second day I maybe had $100 in orders each day. I was happy and started to think this might work. On the third day, I woke up in the morning and had $800 in order notifications on my phone. I didn't stop to think why people would be ordering McDonald's sauces at 3am, however I would soon find out that Australians really like McDonald's and the orders weren't overnight, just from a different time zone! So I capitalized on this interest and targeted some Facebook ads to Australians and the orders kept coming in.  At this point, dollars signs are flashy in my head.  Every entrepreneur probably gets to a point when they think their project will turn into a success.  My moment just seemed to come 3 days in when I found a hungry customer on the other side of the world.
Day 5 comes around and orders drop considerably back down to around $100 and continue to drop day by day. After a bit of research, I realize that people were getting turned off by the shipping costs and shipping times. Shopify is great because it does all the shipping costs and calculations for you. When checking out, it shows the customer the cost of various shipping methods (using CanadaPost) and an estimated shipping time. For one bottle of McDonald's sauces (cost $10 to the customer), the cheapest shipping method was $12 and estimated to take between 28 and 84 days to get to Australia!  Realizing that not many people would want to wait this long (or pay more for shipping than the product) I started to target American and Mexican Facebook users (remembering that the sauces were only available in Canada). This didn't lead to any appreciable increase in sales. After a week or so, orders had basically stopped and I decided to shut down the ads and try to sell the remaining bottles I had in stock. Here are a few notes on the whole operation and final costs and incomes.
Facebook Ads
Facebook Ad manager has improved greatly over the past while. It takes a bit of getting used to, but once you know what you are doing, you can get some good traffic. My totals, for the various ads I placed were 2,987 clicks and 113,670 people reached. My cost per click was $0.08 and I spent a total of $236.48 on ads. My click through rate was 2.39%.
One takeaway from Facebook Ads is that it will take up a lot of time if you plan to be present on the ad boards. You'll get a ton of people commenting on the ads (sometimes good stuff, sometimes bad stuff).  Don't be swayed by all the people that talk about buying your product.  Some will comment with 100% certainty that they will buy, but never do.  So don't expect the excitement of Facebook users to materialize into orders.
Google Adwords
With a Shopify account, you get a 'Spend $35, Get $135 Credit' with AdWords. I set up some Adwords, spent $75 (some my money, some credit). For this I got 68 clicks, 1,553 impressions and a good click through rate of 4.38%, an average CPC $1.11. The dashboard tells me the ads converted once, but I'm not sure I had it set up correctly the entire time. Spending a bit of time watching YouTube instructional videos would have allowed me to track conversions properly from the beginning.  Unless you have done online marketing before, I wouldn't suggest using two ad platforms at one time. Managing both became a distraction so I turned off the Google Adwords, even though it was using free credit.
eBay
While doing research, I noticed many people had the same idea as I and started to list the sauces on eBay to sell. Many were selling for substantially more money than I was. I decided I could list on eBay for $13 (to cover eBay listing fees etc) and undercut the others and sell a bunch. Shopify is great because you can manually enter orders and keep track of them in the same place, you can even buy postage at a discounted rate using the Shopify site. One thing to takeaway though, don't enter the email address when creating the customer contact in Shopify. If you do, Shopify assumes you want them to email them order details which can confuse customers when they get multiple emails from different stores.
Although I did get a bunch of orders from eBay, it created more work since I was managing both platforms. As well, eBay's UX is very outdated and, quite honestly, hard to use. I imagine there are add-on tools that people use, but the vanilla eBay platform is terrible. Like ad platforms, I don't recommend selling on multiple sites. Find one you like and stick to it.
Inventory and The End
Getting and keeping product is what lead me to close down the store. I didn't want to get stuck with a ton of leftover inventory, so I bought in small batches of about 10-20 bottles at a time. At first, bottles were easy to come by, and particular grocery stores always had stock. After a while other people started to realize the product was available and buy it up. I would go to a store to grab a bunch and it the shelves would be empty. So I would drive around the city trying to find more only to find one or two bottles left. I was spending more and more of my time driving around finding bottles.  This "side" business was becoming a full time job.
When I started this, I promised my wife it wouldn't take up too much time. "This was just a side project and it would only take a few hours a week," I told her. We have a toddler and a newborn at home after all, and one thing I don't have is spare time. I was spending too much time in the basement working on the site, preparing orders, and driving around. I wasn't seeing the profit I wanted, it just wasn't justifiable to continue on. About 10 days after I started, I logged into Shopify and set my stock levels to 0, effectively closing down the store.
I'm not walking away empty handed. I learned a ton during this whole process and it has opened my eyes to the possibilities online. I learned about online marketing, customer support, product fulfillment and inventory control. Although in the end I lost $7 and many, many hours, I gained a ton of knowledge that I'll use on my next project. An entrepreneur never stops. If I can give you one piece of advice, it's to start that next project. Chances are it'll fail, but it will get you that much closer to your successful startup.
Here is a final breakdown of all my costs and sales for true transparency.
Costs
Sauces $287.28
Facebook Ads $321.89 (above amounts were in USD, this is CAD)
Shipping $748.40
Adwords $35.00
eBay Fees $44.09
Shipping Supplies $15.00
Domain $9.84
Shopify Fee $12.24
Total Costs $1,473.74
Income
Sales $1,466.32
Profit -$7.42
Craig works full time in healthcare and enjoys reading about entrepreneurs and startups, sometimes trying to cross over and make a living on his own.  He can be reached at craigpearce5@gmail.com.