Voters will be able to cast ballots from 6 a.m. to 8 p.m. statewide on Tuesday in the primary elections. There's a lot on the line this year, with the governorship and all 120 seats in the Legislature up for election, as well as down-ballot contests at the county and local levels.
After eight years of Gov. Chris Christie, it seems like Garden State voters are ready for a change. But perhaps not too much. The front-runners in the race to replace Christie are his lieutenant governor, Kim Guadagno, for the Republicans, while a former Goldman Sachs banker on the Democratic side, Phil Murphy, brings back memories of former Gov. Jon Corzine. We will find out tomorrow if one of their challengers pulls off an upset.
New Jersey has approximately 2 million registered Democrats and 1.2 million registered Republicans, and only those voters are able to cast ballots in their party primaries. Unaffiliated voters — New Jersey's largest voting bloc, at 2.4 million — are only eligible to participate if they declare a party affiliation at their polling place.
Here's some critical information for those doing last-minute cramming.
Where do I vote?
Find your polling place at the NJ Division of Elections website.
Who are the major candidates on the ballot?
Democrats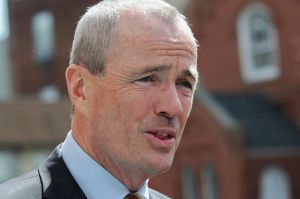 PHIL MURPHY
The former ambassador to Germany and ex-Goldman Sachs executive is considered the Democratic front-runner. He has the support of virtually the entire Democratic Party establishment and has gotten high-profile endorsements from the likes of Al Gore and Joe Biden. And he has spent handsomely on the race, around $20 million at last count.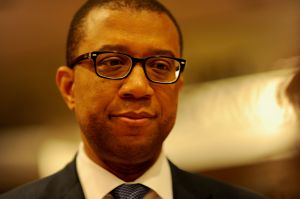 JIM JOHNSON
Johnson is a former undersecretary of the U.S. Treasury who has emphasized ethics and election reforms. His campaign has caught some momentum despite the fact that Johnson has never before held elected office.
JOHN WISNIEWSKI
The Middlesex County assemblyman was the chair of Bernie Sanders's 2016 presidential campaign in New Jersey. He also played a critical role in uncovering the Bridgegate scandal that helped tank Gov. Chris Christie's approval ratings and presidential aspirations.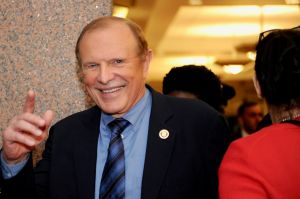 RAY LESNIAK
The Union County state senator is one of the longest-serving members of the state Legislature. He has a strong record on environmental advocacy, criminal justice reform and LGBT rights.
Republicans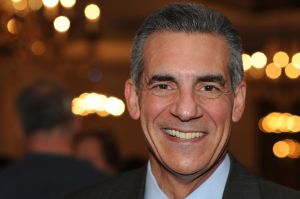 JACK CIATTARELLI
The Somerset County Republican is a certified public accountant who has made millions in the medical publishing business. He received endorsements from the editorial boards of the Bergen Record, Star-Ledger, Philadelphia Inquirer and the New Jersey Hills chain of newspapers.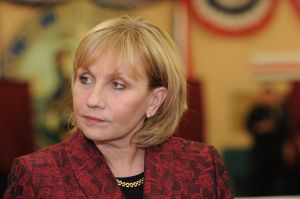 KIM GUADAGNO
The former Monmouth County sheriff has been Christie's lieutenant governor for seven years. Even so, the Republican has distanced herself from Christie on issues like the proposed State House renovation and last year's 23 cent per gallon gas tax hike. She has led in fundraising, in the polls, and in the race for endorsements from GOP officials across the state.
What do the experts say?
A poll conducted by Stockton University last month showed that while Guadagno and Murphy led in their respective primary races, the majority of voters were still undecided as of May 25. On the Republican side, Guadagno had 34 percent of the Republican vote to Ciattarelli's 18 percent. On the Democratic side, Murphy had 34 percent while Johnson was the only other candidate to crack double digits at 10 percent. That poll had 31 percent of Republicans and 33 percent of Democrats still undecided.
Some experts theorize that those people simply won't show up at the polls. Primaries are often low-turnout events.
There has been a dearth of public polling on the races. The next most recent poll was released by Quinnipiac University on May 3. It gave Murphy 26 percent among Democrats and Guadagno 23 percent among Republicans. In that poll, 52 percent of Democrats and 51 percent of Republicans were still undecided.
Seton Hall University political science professor Matt Hale says Murphy's lead will be hard to overcome on the Democratic side.
Did these candidates debate?
Did they ever! And we've got you covered if you want to read up on that. The debates were held at Stockton University and at the NJTV studios last month.
First debate
Democrats Agree a Lot; Murphy Takes Some Heat
Ciattarelli and Guadagno Face Off in Fesity, Tax-Focused Debate
Second debate
Taxes, Taxes, Taxes at GOP Debate
Rivals Gang Up on Murphy in Final Democratic Debate
Are there any endorsements?
The Star-Ledger endorsed Murphy and Ciattarelli.
The Bergen Record also went with Murphy and Ciattarelli.
The Philadelphia Inquirer also also picked Murphy and Ciattarelli.
Observer NJ takes no position on the affairs of mortals.