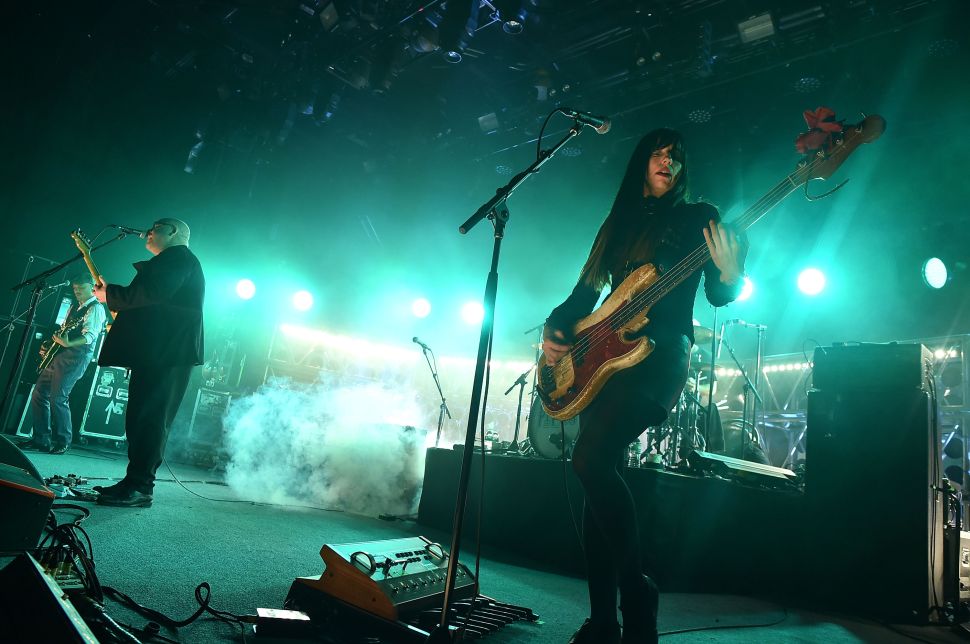 Williamsburg, Brooklyn, lures visitors on a regular basis, thanks to a variety of different attractions, ranging from kale salads to kale smoothies. Despite its continuing corporate buildup (hello, Apple Store!) which has seen the neighborhood speed away from its independent roots faster than a Citi Bike rider barreling down Kent Avenue, one facet of the community has remained: music is still a major part of Brooklyn culture. And with so many venues of different styles and sizes spread around the borough—many of them either new or newly refurbished—the sound of live music coming from Brooklyn has never been more deafening.
Coming off of Flatbush's renovated Kings Theatre, and the recent restoration of Bed-Stuy's Billie Holiday Theatre, the centerpiece of the latest melodic revolution to hit Brooklyn is the recent opening of East Williamsburg's Brooklyn Steel. It's run by The Bowery Presents, the folks behind venues like Manhattan's tiny Mercury Lounge (whose headliner is always the smell of stale beer no matter who's actually playing) to Terminal 5 (the larger venue over on the West Side's 11th and 56th; so far away from public transit I believe that area is actually considered New Jersey). However, word on the street is that Brooklyn Steel is like Terminal 5, but better! (At least according to this Gothamist article entitled "Brooklyn Steel: Like Terminal 5, But Better.")
To figure out if Brooklyn Steel could indeed turn into one of the classic venues of New York City, I went looking for answers from John Moore and Jim Glancy, two partners with The Bowery Presents who spearheaded the space. "We have been looking for a larger capacity venue in Brooklyn for several years and when we came across Brooklyn Steel, we knew we had found it," says Glancy of the venue's origins. "East Williamsburg is expanding so rapidly and we are thrilled to be part of the fabric of the community."
Boasting a design that harkens back to the building's days as a renovated steel fabrication plant, The Bowery Presents seems to have outfitted the former space with as many bells and whistles to please even the most entitled hipster. A moveable stage allows the 20,000 square foot venue to shrink and grow, maxing out at a capacity of 1,800 fans, making it the largest general admission room in Brooklyn. There's also unrestricted sight-lines, three bars, and twenty stalls in each restroom.
As for how the space will fit into the already crowded scene lineup wise? So far, that's hard to tell. While the venue kicked off with a splashy multi-night run courtesy of LCD Soundsystem and includes other dates courtesy of Father John Misty, The Decembrists and Two Door Cinema Club, Moore notes that was a "dream lineup for opening a new venue." In other words, there's no telling if bookers would be able to keep the momentum up. However, Moore does tease that names would continue to be a least semi-big. "Up and coming bands and artists can play Rough Trade [another The Bowery Presents venue], and as they develop larger fan bases they can play our larger capacity venues like Music Hall of Williamsburg and eventually Brooklyn Steel."
On the flip side of a venue like Brooklyn Steel—deep pockets, polished, and run by a conglomerate—are the many in the borough which, well, hold none of those attributes. Take Bed-Stuy's '70s-inspired C'Mon Everybody for example. "The space was born out of the desire to create an inclusive environment for all walks of life and be a haven for artists to create in and showcase their work," explains Eric Sosa, the co-owner and director of programming for the venue, the charm of which comes from its unique 1970s aesthetic, disco ball and all. "The theme came out of our love for that time period," Sosa explains. "We really wanted the space to have this feeling of NYC in the 1970s and '80s." Ah, yes, the period when the Big Apple was a crime-infested dump on the outside, but a groovy party mecca inside. C'mon Everybody serves to deliver the latter quality. "It was important to us to be cognizant of the fact that our space was opening in a community that had a strong identity and it was our goal to respect that identity and attempt to graciously become a part of that identity," says Sosa of their rapidly gentrifying Bed-Stuy surroundings. "We hope to fulfill that goal through our programming and also our general vibe as a space that is creative, open, and inclusive."
Of course there was that Brooklyn era post-seventies, before gentrification kicked into full swing,when DIY venues reigned supreme. From Glasslands (which shut its doors in December 2014) to Death by Audio (which was recently immortalized in the documentary Goodnight Brooklyn), DIY venues, with their guerrilla attitude and rough around the edges aesthetic, seem like nothing more than a vestige from the past. If you look hard enough in current day Brooklyn however, you'll still be able to find some. Like, for example, in a tiny watch store.
Brooklyn's Throne Watches, run by three friends from Maine who spent their younger years in punk bands, have made DIY shows as big a part of their existence as well, selling watches. "We figure while we have the space, why not offer it up to the community?" explains Travis Alexander, the co-founder and director of marketing for Throne Watches, which was originally based in a nondescript building on North Williamsburg's Wythe Avenue, but recently moved to 200 Morgan Avenue in Bushwick.
"Usually bands or artists will visit our shop for an event and reach out a few weeks later to see if we'd be interested in hosting one of their ideas," explains Alexander, whose shop has hosted everything from acoustic sets courtesy of Clap Your Hands Say Yeah and Silversun Pickups, to the comedy series Future Forms, featuring Saturday Night Live writer Julio Torres, which all pack in the masses, there after-hours to enjoy shows in the midst of watch displays. "We're very lucky that we've been able to be involved with so many cool projects without having to really hunt them down, says Alexander. "Our shop has always been super communal and welcoming, I think it sticks with people after they leave."