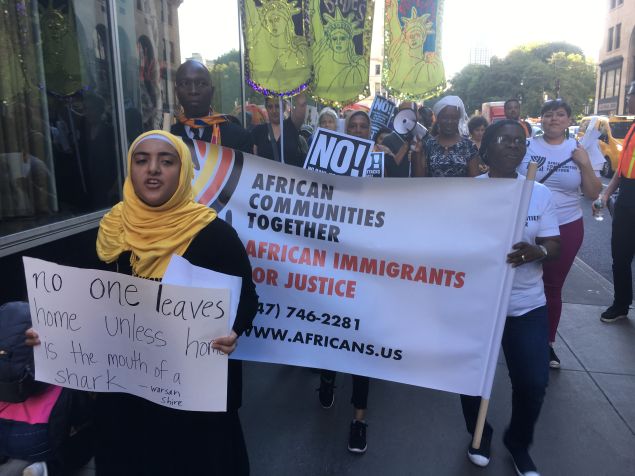 Hundreds of immigrant New Yorkers, refugees, advocates and allies marched from the Upper East Side to Dag Hammarskjold Plaza in Midtown on Tuesday to celebrate World Refugee Day—and to object to President Donald Trump's nationalist policies.
The action, organized by African Communities Together and the New York Immigration Coalition, condemned the administration's efforts to bar refugees from war-torn Syria and other Muslim lands and defended Temporary Protected Status, which gives arrivals from nations enduring an armed conflict or natural disaster deportation immunity and work authorization. The march kicked off on 59th Street and Fifth Avenue and concluded on 47th Street between 1st and 2nd Avenues, where demonstrators held an interfaith iftar—the evening meal breaking the daytime fast during the Muslim holy month of Ramadan.
Also infuriating to protesters are Trump expanded detention and deportation of undocumented immigrants, and his calls to construct a wall along the Mexican border.
"We are celebrating the heritage and existence of refugees in this country and throughout the world," Fatou Waggeh, a civic organizer for African Communities Together, told the Observer ahead of the march. "But we're also coming together as a community to say that we stand against the refugee ban.
Waggeh recalled "feeling very sad and depressed" when Trump was elected in November but that she is now feeling "mobilized and hopeful."
"I've been to a number of recent actions and even iftars throughout this year and I've been able to see people come together as a community," Waggeh said. "I've been seeing our resistance result in stuff where one, there's a temporary hold on the refugee ban. There's a temporary hold on the Muslim ban. I see people showing up for one another. I've seen a difference with just our movement overall."
Along the way, marchers chanted "From Palestine to Mexico, all these walls have got to go!" "Say it loud, say it clear, Muslims are welcome here!" and "Say it loud, say it clear, refugees are welcome here!" A pair of marchers held posters that said, "Liberty knows no borders"/"La libertad no conoce fronteras."
At one point, the procession stopped in front of Trump World Tower, yelling "No hate, no fear! Refugees are welcome here!" and "No ban, no wall! Sanctuaries for all!"
Amaha Kassa, founder and executive director of African Communities Together, took a moment to compliment the crowd's diversity.
"I just wanna tell you all how beautiful you look today, collectively, in your many colors, in your many creeds, in your many genders and your many national origins," Kassa said during the rally that followed the march. "You're a beautiful, beautiful group of people and this is the New York that we're standing up for."
Zainab Abdullah, a 16-year-old refugee from Yemen and a student activist with the Arab-American Family Support Center's Youth Program, walked at the front of the march, shouting passionately as the crowd repeated the chant in response. Yemen, the epicenter of a brutal regional conflict between Sunni and Shi'ite Muslims, was among a handful of Middle Eastern and African countries that Trump sought to bar travel from in two thus-far blocked executive orders.
"My journey was really risky from Yemen but I had to take it because it was a better option than risking my life every day," Abdullah told the crowd during the rally. "I'm one of the lucky ones. In Yemen, the war started, shooting started on the street and everybody was screaming, traumatized by what had just happened and I remember that day because it was my friend's wedding. I was supposed to be happy."
The event was sponsored by more than 30 organizations, include the Black Alliance for Just Immigration, the Arab American Association of New York, the Arab-American Family Support Center, Minkwon Center for Community Action, Make the Road New York, Queer Detainee Empowerment Project and the Working Families Party.
Carlene Pinto, campaign manger for the New York Immigration Coalition, called for a "serious conversation" around migration and what causes it, particularly "why we have 11 million undocumented people" and "3.5 million citizens in Puerto Rico who also feel as if they are undocumented."
And she expressed solidarity with a vigil hosted by Women's Initiative for Self-Empowerment for a 17-year-old Muslim girl who was beaten to death in Sterling, Va. after she and other teenagers left a mosque to get breakfast. She noted the violence that Muslim refugees have experienced since the election with the uptick in hate crimes.
"We're completely in unison with our Muslim brothers and sisters that are hosting the action at Union Square for that young 17-year-old sister Nabra and it's about applying pressure and asking for accountability at every corner, whether it's for the senseless crime committed against her during Ramadan or right now waiting for the Supreme Court to decide [on] the Muslim ban, refugee ban," she said.
Diaraye Diallo, a Guinean immigrant, told the Observer that she came to the march to let the Trump administration know that they are not here "to steal jobs or to con people or do bad things" but rather "just to seek a better life." She urged to Trump to "just put himself in those people's shoes."
"No one wants to leave their families or their countries to go somewhere else they don't know, they don't speak the language," Diallo said. "It's just very courageous for a person to seek that help or to seek better life for their families. You have to ask yourself, if it was you in their place, what would you do?"