When it comes to celebs, there are plenty of people you'd want to eat a meal with (ahem, Chrissy Teigen) and others that you'd prefer to shop with (that would obviously be Bella Hadid). But could you imagine going to the beach with an A-lister who has a physique that is almost too perfect, a non-makeup makeup look that doesn't even smudge after a dip in the ocean and who doesn't even bring along snacks? Yeah, us either.
That's why we think Zoey Deutch might be the very best celeb to take on a beach trip. We're basing that estimate on a recent photo series from Tory Burch, which features the former Disney star and offspring of Hollywood royalty (her parents are actress Lea Thompson and director Howard Deutch). In addition to these photos, which were created in partnership with creative director Margaret Zhang, Deutch provided some insight into her beach-going habits that are truly awe-inspiring.
"I do not mess around when it comes to bringing beach snacks. I'm the one in charge to bring a plethora of shenanigans. I like things that take a long time to consume so that I'm not left snack less at the beach (which would be a tragedy, of course). I like goldfish, grapes, pretzels, lime Lays, peanuts, more goldfish, giant bottles of sparking water, candy… you know… all the healthy stuff," she joked. In addition to her large feasts, Deutch likes to enjoy a glass or two of wine, between her frequent dips in the oceans and a few cat naps in the sun.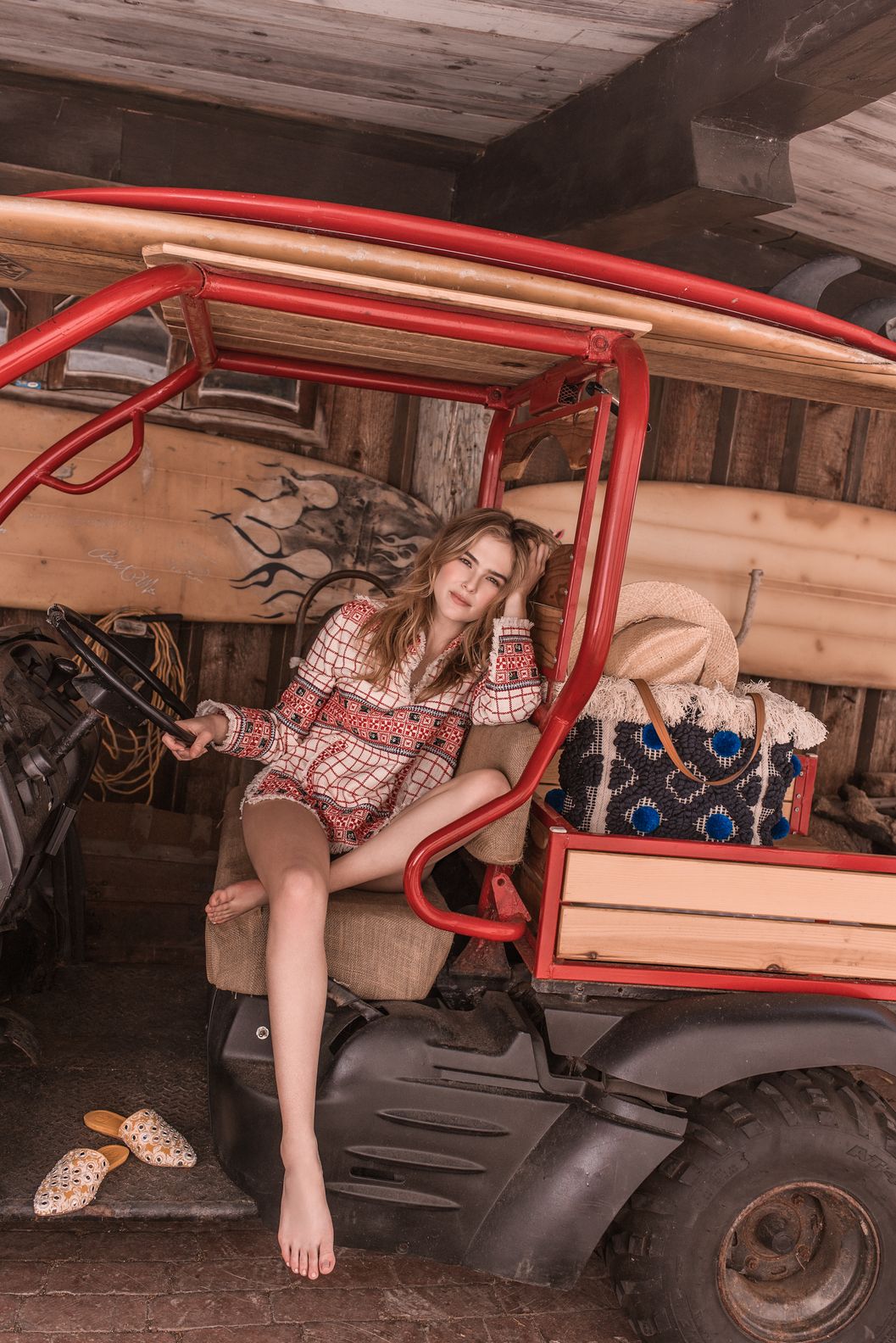 But what does she wear to attend these seaside snack sessions: a bikini or a one-piece? As it turns out, neither. "I own quite a few tunics because of how much time I spend on the beach…[They are] both comfortable and chic (plus I can eat whatever I want in it and not worry about it.) What more could a girl ask for?" Clearly, that answer is nothing.
Though Deutch can usually be found sunning, swimming and snacking at a private beach near her home in Malibu, she does admit to having a favorite seaside destination on the East Coast.
"I've been going to the same spot every summer of my life since I was born, and have known all of my friends there since we were little kids. It's so special and I cherish that experience and oasis so much. There are no cars, only bikes, boardwalks not roads, and no one wears shoes," she mysteriously explains. Based on her hints, it sounds like she might be vacationing on Fire Island in New York or Monhegan Island in Maine, so keep an eye out for the star on one of these secluded beaches this summer.