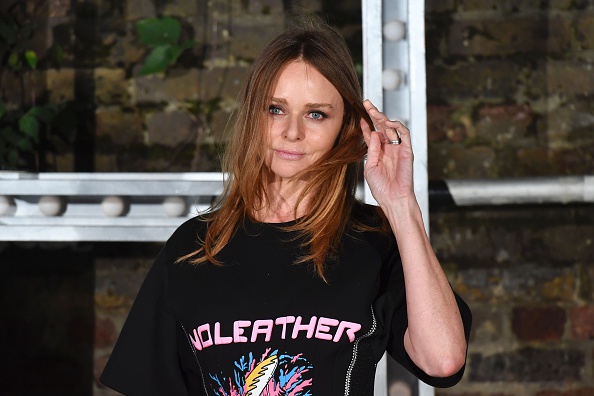 Stella McCartney is doubtlessly the green-lovin' queen of all things sustainable, stylish and sleek. But the notoriously publicity-shy British designer decided to open up a bit, during her recent interview on hit-Brit radio series, Desert Island Discs. Not only does she exude style and grace (even when making clothes from recycled ocean pollution), but her voice really is the most mellifluous you will ever hear. As though we needed any more reason to love her, here are five facts that we learned about McCartney from this must-listen show (which can be listened to as a podcast).
She interned for Christian Lacroix at the age of 15
It was her first time away from home, she was living in Paris and it was her first foray in to luxury fashion. "Couture is deadly posh," she explained. The experience shaped who she is as a designer today, as not only was she allowed into the fittings with top clients, but she also laced shoes and was ordered to make vast amounts of tea and coffee.
She changed her name when she started college
When she first started her Fashion Foundation course, she went by the name of Stella Martin, in a bid to disguise the fact that her famous father was part of the Beatles. She found it horrendously embarrassing when it dawned on people who her father was.
"You could tell people in the corridor were looking at you differently. It was always a bit, 'Oh, God, they know,'" she recalled.
She is all about girl power, and her company reflects that
Women make up 80 percent of her business and McCartney stands behind the notion that behind every great man are many, many great women. "It is rare, but there is a lot of really impressive women in the fashion industry, working behind the scenes."
She is embarrassed of her graduate fashion show
She hugely regrets having Kate Moss, Naomi Campbell and Yasmin Le Bon walk in her degree fashion show, as she now sees how it could've irked some of her contemporaries. In her eyes though, they were her best friends at the time, so she thought nothing of it.
She chose an unpublished memoir by her Dad as her Desert Island Book
Japanese Jailbird is the unpublished memoir of her Dad, Paul McCartney. It details his experiences in Japan in 1980, after he was busted and jailed for possession of marijuana. He wrote it and then put it in a safety deposit box to be read by his children when they were old enough to understand what had happened.