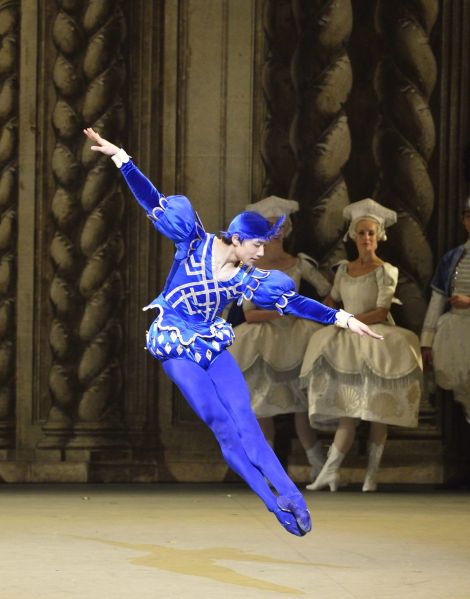 The recently deceased A.B.T. spring season at the Met was like all A.B.T. spring seasons—exhausting and exhilarating. Just the prospect of all those weeks of Corsaires and Giselles and Don Q's and Swans and—worst of all, Onegins—was enough to give one the vapors. And yet if the show insists on going on, the critic is obliged to go on as well. Nobody appreciates just how heroic we are!
There were big compensations, though—first and foremost, two fine New York debuts in Swan Lake. That Devon Teuscher was heading for the top has been obvious for some time now, but as Odette-Odile she proved she was not just principal material but ballerina material—something far rarer. She's a dark beauty with a gorgeous body and legs, and she carries herself like one of those glamorous dancers of the forties: Lupe Serrano, Toni Lander. And, of course, Tamara Toumanova. She also happens to have steely technique—up to and including those inevitable Odile fouettées, which she dashed off almost disdainfully. And she has dramatic power. Her repertory isn't wide yet, but it will be…particularly since she's just been promoted to the principal ranks. As has Sarah Lane (at last), who also made a distinguished debut as The Swan, substituting for the injured Maria Kochetkova. (Her loss, our gain.) Lane lacks Teuscher's glamour (so does everyone else), but she has the smarts and the chops, even if she did fumble a fouettée or two. I was moved by her Odette and excited by her Odile, and anyone who can make a good impression in Kevin McKenzie's unsparingly irritating production of Swan Lake deserves a bronze star and a purple heart. In all fairness: He's cleaned up Odile's exit at the end of the black act—she now vanishes in a burst of smoke rather than sneaking off upstage, no doubt to thank the help. On the other hand, Siegfried is still left pounding on those big doors, rather than rushing through them in pell-mell pursuit of Odette. And nothing short of a rethought last act can rid this production of all the other swans galumphing through the woods in search of their queen instead of huddling in despair back at the lake. Sorry, Kevin, but there goes the ballgame.
Ratmansky's new Whipped Cream returned to the stage after its brief appearance at the start of the season, and it was no better or worse than it had been—it remains finely tuned and visually impressive fluff, and it's dancer-proof, which may not be a good sign. As for Onegin, I recused myself, and so missed the farewell performance of that glorious dancer Diana Vishneva. Veronika Part has also departed—the Russians are going, the Russians are going! Guess which departure I'm sad about.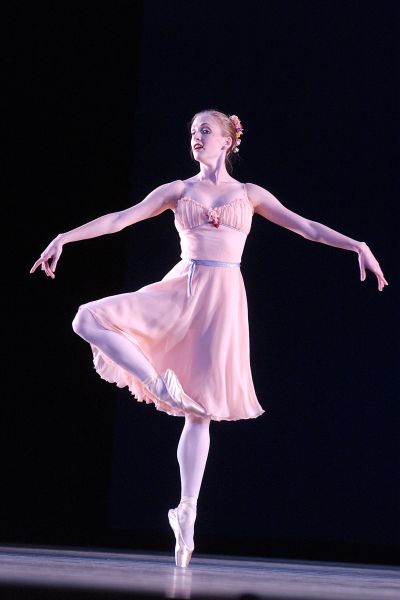 For the final week of the season we were offered an interesting but not really successful oddity: a "Tchaikovsky Spectacular," on top of Swan Lake and Onegin. Seven ballets to Peter Ilyitch's great music. To no serious person's surprise, the best of them was Balanchine's non-fail Tchaikovsky Pas de Deux. Gillian Murphy, at full blaze, was a spectacular all by herself—why do we sometimes forget to honor her? She was both commanding and enchanting. James Whiteside, her partner, was another eye-opener: galvanized! A whirlwind! Who'd have thunk it? And he was just as strong later in the week when he subbed for Joseph Gorak partnering Isabelle Boylston. Tchai-pas, as it's lovingly called, is a splendid setting for her smiling brio. (Gorak was subbing for an injured Herman Cornejo later in the evening, in Aurora's Wedding. By the end of a long season, they're up, they're down.)
The Wedding divertissement from Ratmansky's recent restaging of The Sleeping Beauty—despite the elegant décor and costumes modeled on the famous Bakst designs for the Diaghilev production of 1921—is strangely flat. When the climactic grand pas de deux is just another element of the divertissement, along with the Bluebirds and the White Cat and Red Riding Hood and all the rest, it has no resonance. Happily, Ratmansky inserted into the mix a delicious pas de trois that Nijinska had made for Diaghilev, and a romp by Ninette de Valois for the Three Ivans that was a big audience favorite. Even so, the time for staging Aurora's Wedding on its own may have passed.
As to Marcelo Gomes's ambitious AfterEffect, let us be kind and quickly move past it. Souvenir de Florence, Tchaikovsky's ravishing sextet for strings, here orchestrated, is too long for an inexperienced choreographer who is determined to cram everything he knows into it. (It was too long even for a far more experienced choreographer, John Taras, who contributed his version to City Ballet's 1981 Tchaikovsky Festival.)
Ratmansky also gave us a perfectly acceptable and perfectly unnecessary piece he made for the Dutch National Ballet five years ago. It's called Souvenir d'un lieu cher, it's two couples in various degrees of romantic illusion and disillusion, it's dark, and it was beautifully danced by Teuscher, the terrific Cassandra Trenary, the mercifully restored David Hallberg, and a complete unknown, Tyler Maloney. There was a final Ratmansky offering: the big pas de deux from his complete Nutcracker. Hee Seo and Gomes gave it everything it needs, but to me it's somewhat fussy and over-elaborate. That, of course, could be because Balanchine's version, which I've been seeing for over sixty years, is so magnificent—and so profound a realization of Tchaikovsky's intentions.
Balanchine was also represented by his final major work, Mozartiana. It looks simple, but it's fiendishly difficult, requiring grandeur, charm, delicacy, and supreme musicality—in other words, Suzanne Farrell, on whom it was created. Christine Shevchenko, another new principal, was a touch too sprightly. Seo was beautiful, in charge, and—as usual—a touch too bland. The production suffers from deploying four girls in the demi roles who aren't tall enough in contrast to the four little girls who are their mirrors. Easy to fix, so let's hope someone fixes it.
So farewell to Peter Ilyitch, and farewell to A.B.T., until its brief City Center season in the fall. The company provided us with many pleasures, including the new male principal from Denmark, Alben Lendorf; the sparkling and strong Skylar Brandt (if only she'd rein in her smile); and my favorite boy in the corps, Zhiyao Zhang. What a Bluebird! What a boon to Gomes's AfterEffect! What an ornament to the Swan Lake pas de trois! And let's not forget the corps—in great shape and a major advertisement for the company, though not even they can make a case for those landlocked swans.