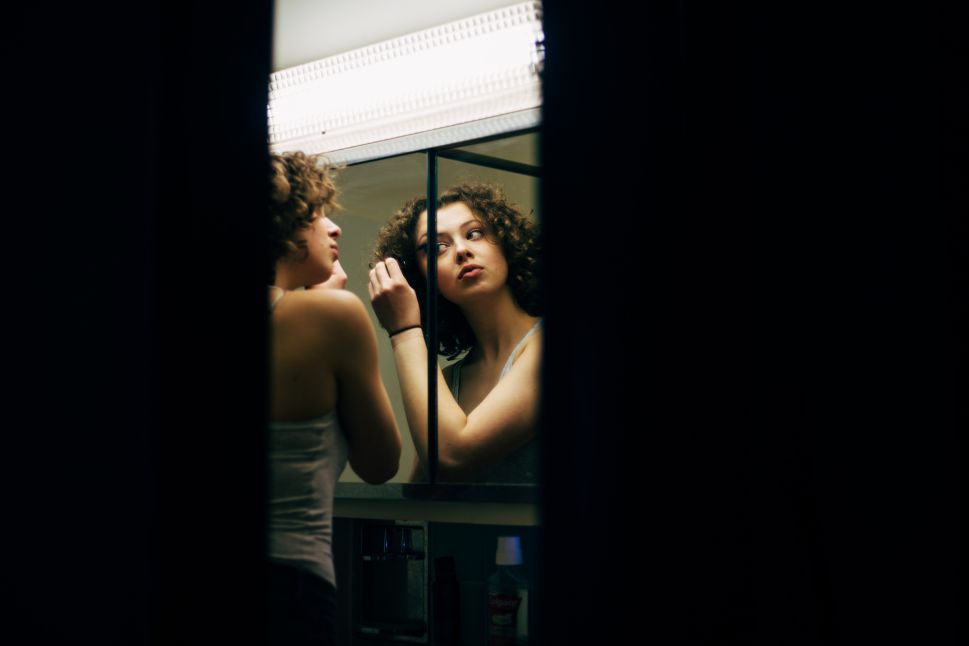 Those of us who suffer acne breakouts often have oily skin. We use foundation, concealer, and powder to camouflage the flare-ups and control shine. In a cruel twist of fate, the fix is most likely hurting our skin.
Dr. Sam Bunting, a dermatologist in London who goes by "Dr. Sam," knows firsthand how the seemingly innocuous contents of our beautiful compacts can wreak havoc on skin. On her popular YouTube channel devoted to dermatological issues, she candidly discusses how she prevents her own oily, acne-prone skin from acting up. She points out that "lady acne" usually only affects five to 10 percent of our faces at most and is largely concentrated in the U-zone around the jawline and chin. "Probably 90 percent of your skin looks great, and should be treated as such." Accordingly, Dr. Sam advises against the use of heavy coverage, long-wear products on the entirety of the face. She does recommend highly-pigmented, lasting concealers—but only if used as pinpoint coverage.
Perhaps the most surprising warning Dr. Sam gives is against the use of face powder as an everyday product. She says the particles that comprise powder's essential formula are almost certain to lead to breakouts. Dr. Dennis Gross, a New York-based dermatologist, agrees: "The powder granules get lodged into the pores and block the flow of oil. When this back-up gets infected, it leads to a pimple." Dr. Sam adds that mineral makeup is just as bad, as the minute particles common in both types of powder can cause zits.
A major attitude adjustment helps. Concentrating on achieving your best possible complexion so that you can use makeup sparingly and as a fun enhancement is liberating. Shedding that daily uniform—and attempt at shielding your skin from scrutiny—will make you feel more beautiful than you've ever felt.
Perspective is everything: One woman's shine is another woman's glow. The desirability of shine is why highlighters have become a multi-billion dollar product category. So don't even think about mattifying skin outside the T-zone or where you would typically apply highlighter: tops of cheekbones, anything outside the very center of the forehead, and the sides of the face.
For the rest of the skin, Dr. Sam recommends using blotting papers a few times a day. She uses them herself, usually starting from about four hours into her work day. "I like the plain blotting papers that just lift excess oil and shine," she says, instead of the ones that deposit a layer of powder.
But what about black tie events and other special occasions? Dr. Sam advises applying only a scant amount of powder to the T-zone and with a very precise brush that's about half the size of a traditional powder brush. That will help keep breakout-causing product away from areas where you don't need it. This is the method she uses when filming videos for her YouTube channel, only lightly dusting powder on the very center of the forehead, the upper lip, the chin, the nose and the small patches of skin on either side of it.
More importantly, women would benefit from getting out of the habit of wearing layers of long-wear products covered in highlighters and contour powders. "In my experience, acne-prone patients do much better with carefully formulated, non-comedogenic make-up products in a cream or liquid format," Dr. Sam says. "From an aesthetic perspective, this tends to deliver a more natural 'real skin but better' appearance. This is crucial to boosting the morale of women as their skin improves and they stop using make-up as a tool of concealment and start celebrating their fresh, new complexion."
The Best Products to Minimize Shine and Avoid Breakouts
Dr. Dennis Gross Clarifying Colloidal Sulfur Mask ($42) Worn overnight or as a spot treatment, this mask eliminates excess oil from pores. During the day, it can be applied in a very thin layer as a makeup primer that will absorb oil for hours.
NeoStrata Sheer Physical Protection ($37) This featherweight, mattifying formula gives SPF 50 protection with the smoothing properties of a makeup primer. It's Dr. Sams's favorite for everyday wear.
Giorgio Armani Luminous Silk Foundation ($64) Dr. Sam recommends this foundation, which she herself wears, to patients. It provides lightweight coverage that evens out skin without dulling natural radiance.
Kevyn Aucoin Sensual Skin Enhancer Concealer and Foundation ($64) This waterproof yet hydrating product excels as a pinpoint concealer for your most glaring blemishes. It's so effective that makeup artists often use it to hide tattoos on models and actors. Warning: The most minuscule dot of Sensual Skin Enhancer goes a very long way, so start off with next to nothing on your makeup sponge or concealer brush before adding more if necessary. You'll never run out of this product, no matter how small the container looks.
Laura Mercier Secret Brightening Powder ($26) For video shoots and other high-attention events, Dr. Sam uses this non-comedogenic, weightless powder that won't settle in fine lines or look cake-y.
DHC Oil Blotting Paper ($6) Dr. Sam's blotting paper of choice, these are made with hemp fibers and, unlike most such products, emerge one at a time rather than six at a time.
Giorgio Armani Luminous Silk Compact ($62) When you have a special occasion and want to allow yourself the security blanket of powder for one night only, Dr. Sam approves this lightweight beauty as a safe option.
Jackie Danicki created one of the first and most popular beauty blogs in 2004, and has consulted some of the world's most iconic brands on digital content strategy and innovation. Jackie blogs at http://burnedoutbeauty.com, and you can find her on Twitter, Instagram, and Snapchat as @burnedoutbeauty.