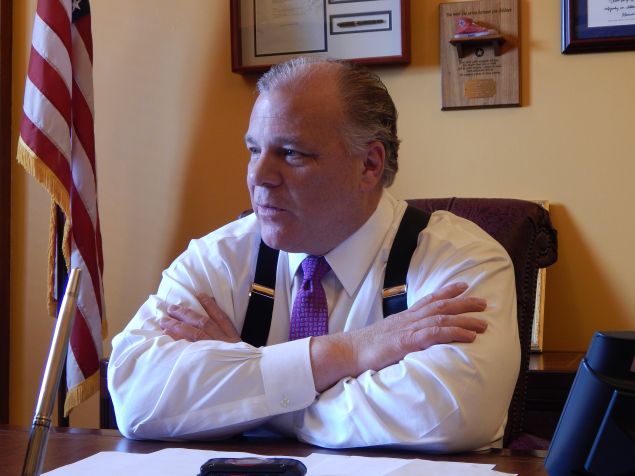 New Jersey's constitution is a wonderful document written in the august period of enlightenment after the Allies won World War II.
Today, it gives extraordinary powers to one man — acting Gov. Steve Sweeney — a Democrat who is usually the state Senate president but who on July 24 and 25, 2017, breathes the rarefied air that comes with being both the state's top lawmaker and the head of its executive branch.
The good people of New Jersey specifically voted to amend the constitution in 2005 to avoid reposing the awesome powers of the governorship in the Senate president whenever the actual governor left the state. They created the office of the lieutenant governor to avoid this constitutionally confusing scenario.
Alas, Gov. Chris Christie and Lt. Gov. Kim Guadagno are both out of state Monday and Tuesday, rubbing shoulders in Aspen, Colo., with their GOP brethren at a meeting of the Republican Governors Association.
The wise people of New Jersey voted for divided government, but this week, a Democrat holds all the cards.
There is nothing — nothing! — stopping Sweeney from signing 51 bills that Christie left on his desk before heading for ski country. That means Sweeney (who also blocked Christie from installing a Republican majority on the state Supreme Court, by the way) could sign some important pieces of legislation and instantly become one of the most efficient if not productive governors in history.
For instance, Sweeney could sign a bill allowing municipalities to establish civil penalties for smoking in public places. He could sign legislation allowing victims or witnesses in domestic violence and sexual assault cases to testify by closed circuit television under certain circumstances, instead of testifying in person. He could criminalize the possession and sale of alpha-pyrrolidinopentiophenone (alpha-PVP), or "flakka."
With his signature, Sweeney could legalize fantasy sports betting and institute new regulations. He could ramp up tax credits under the state's biggest incentive program, Grow New Jersey, run by the Economic Development Authority.
Sweeney could appropriate $32.8 million for several farmland preservation initiatives in three bills sitting on the governor's desk — again, his desk, so long as Christie and Guadagno remain in Aspen. He could appropriate another $32.5 million for a county planning program through the state's Agriculture Department.
The Senate-president-slash-acting-governor could revamp parts of New Jersey's student loan laws.
Amazingly, there is legislation he could sign declaring "Garden State" the official state slogan. That's how much power Christie surrendered to a Democrat this week.
Sweeney could also sign a bill designating the striped bass as the official state saltwater fish; that bill would redesignate the brook trout as the state's freshwater fish. The more you know.
Indeed, Sweeney's power over the state government is so total and indiscriminate, he even has the option of expanding the powers of the office of the governor (which, again, is but one part of his domain). One bill on his desk would grant New Jersey's governor "veto power over the Waterfront Commission of New York Harbor's meeting minutes" and expand the governor's oversight over that government body.
The last time Christie and Guadagno both left the state was in 2010. Sweeney was in charge during a big snowstorm while Christie took his family to Disney World and Guadagno was in Mexico.
However, in an incredible show of restraint, a Sweeney spokesman, Rich McGrath, said Monday that the ubermensch of New Jersey government has no plans to sign any of the 51 bills Christie and Guadagno left behind for him to consider. Sweeney has said before that the governor should be able to govern even outside New Jersey's borders.
Here's a list of all those bills, anyway:
S1731
Permits municipality to establish civil penalty for smoking in public places.
A1199
Permits a victim or witness of any age to testify by closed circuit television under certain circumstances in prosecutions for domestic violence, sexual assault, and certain other crimes.
A2176
Criminalizes possession and sale of alpha-pyrrolidinopentiophenone (alpha-PVP) commonly known as "flakka," or "flocka."
A3437
Designates "Garden State" as state slogan.
S1808
Designates striped bass as NJ State Saltwater Fish; redesignates brook trout as NJ Freshwater Fish
A3532
Provides for regulation of fantasy sports activities in New Jersey.
A4432
Provides increased tax credit amounts under Grow New Jersey Assistance Program for certain businesses that have collaborative research relationships with colleges or universities.
A4580
Appropriates $2,900,000 from "2009 Farmland Preservation Fund" for grants to certain nonprofit organizations for farmland preservation purposes.
A4581
Appropriates $22,385,743 to State Agriculture Development Committee for farmland preservation purposes.
A4582
Appropriates $32.5 million from constitutionally dedicated CBT revenues to State Agriculture Development Committee for county planning incentive grants.
A4584
Appropriates $7,500,000 from constitutionally dedicated CBT revenues for planning incentive grants to municipalities for farmland preservation purposes.
S2578
Revises New Jersey College Loans to Assist State Students Loan Program to require applicants first exhaust federal student loans, require income verification, and limit total student loan amounts.
S3074
Establishes gubernatorial veto power over Waterfront Commission of New York Harbor's meeting minutes; expands gubernatorial oversight powers over commission.
A445
Provides for voluntary contributions by taxpayers on gross income tax returns for the NJ World War II Veterans' Memorial Fund.
A1185
Requires State Comptroller to report findings of audit compliance reviews.
A1690
Allows fire district elections to be moved to November; eliminates certain fire district budget referenda; and eliminates certain fire district capital purchase referenda.
A1953
Allows installment payments for senior and disabled property taxpayers to repay overpayments of homestead credits and homestead property tax reimbursements.
A1955
Provides for voluntary discharge of personal representitives overseeing administration of estates by application to the Surrogate's Court.
A3056
Requires DEP to establish voluntary guidelines for K-12 schools and institutions of higher education to reduce, recover, and recycle food waste; extends "Food Bank Good Samaritan Act" immunity protections to public and nonpublic schools.
A3058
Establishes Farm to School Coordinating Council.
A3381
Authorizes municipal volunteer programs for free removal of snow from certain residential properties occupied by seniors or disabled persons.
A3386
Provides protections for children under the age of 18 with developmental disabilities and individuals with developmental disabilities ages 18-21 receiving services from Division of Children's System of Care.
A3896
Concerns sale of certain tires.
A3908
Establishes 9/11 Memorial Registry.
A3911
Provides that motor vehicle registration expires on registrant's numerical calendar day of birth.
A4164
Requires State Auditor to annually report on unspent State account balances.
A4206
Requires candidates for election to school board to file with their nominating petitions specific affirmation that they have not been convicted of crimes that would disqualify them from office.
A4230
Requires health insurance carriers; SHBP, and SEHBP to inform covered persons about organ and tissue donation.
A4542
Designates portion of State Highway Route 55 as "State Trooper Frankie L. Williams Memorial Highway."
A4630
Repeals law regulating charges assessed by a miller for grinding grain.
A4673
Concerns assessment of buildings or structures on real property located in certain counties following material depreciation thereof.
A4713
Designates building where NJEDA is located as "Caren Franzini Memorial Building" to commemorate her outstanding service to State.
A4895
Eliminates UI exemption for interns employed by hospitals.
S169
Allows certain emergency squad volunteers holding municipal elective office to vote on emergency squad concerns.
S452
Requires waiver of dealer obligation regarding necessary repairs impacting vehicle inspection to include description of known defects.
S678
Requires local government units to certify compliance with certain federal hiring requirements when filing annual budgets.
S726
Extends full protection of Law Against Discrimination to persons having liability for service in Armed Forces of United States; guarantees equal employment opportunity in State contracting to all veterans.
S1219
Requires reporting of suspected abuse of institutionalized elderly to police and that facility employees receive notice of reporting requirement annually; designated as "Peggy's Law."
S1359
Guarantees full and equal access to all housing to disabled persons who retain their retired service or guide dog as a pet, and who also obtain a new service or guide dog.
S1497
Designates Killed in Action flag as an official State flag; mandates it be displayed at certain public buildings.
S1640
Establishes requirements concerning necessary care of dogs, domestic companion animals, and service animals, and for tethering of dogs.
S1660
Provides for voluntary contributions by taxpayers on gross income tax returns for maintenance of certain State memorials honoring war veterans.
S1739
Establishes sexual assault training requirements for law enforcement officers.
S1750
Establishes special motorcycle license plates for veterans.
S2153
Requires NJTA to study impact of constructing rail stations at certain park and ride facilities.
S2214
Requires institutions of higher education and proprietary degree-granting institutions to improve transparency of tuition and fees.
S2369
Limits application of DEP shellfish habitat rules for certain dredging activities.
S2457
Enables collection of voluntary contributions for Jersey Fresh Program through gross income tax returns.
S2884
Declares that deed restrictions or agreements that prevent raising or constructing of a structure to certain flood elevation standards are unenforceable.
S2892
Exempts certain real estate brokers, broker-salespersons and salespersons from continuing education requirement.
S3244
Designates portion of Interstate Highway Route 295 in West Deptford Township as "State Trooper Sean E. Cullen Memorial Highway."
Update (5:04 p.m.): Christie and Guadagno will remain in Aspen on Tuesday, the governor's office said Monday evening, which will extend Sweeney's remarkable and near-absolute rule over the state of New Jersey by at least another day. This story has been updated.