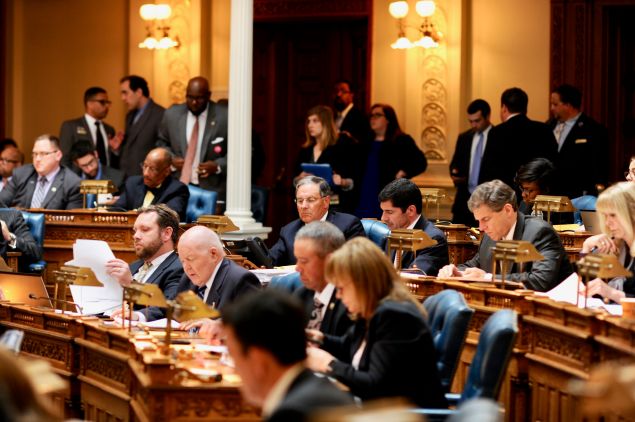 Assemblyman Vince Mazzeo asked Speaker Vincent Prieto on Thursday to bring lawmakers back to the state house to pass a bill that would pay state employees who couldn't work during the government shutdown.
Mazzeo (D-Atlantic) wrote a letter urging Prieto to call an Assembly session next week, before the Legislature goes on a summer break. He said the Assembly should pass a bill providing a paid vacation day for roughly 30,000 workers who could not show up for duty Monday during the government shutdown.
"Tens of thousands of state workers should not be penalized when they were ready and able to report to work and do their jobs," Mazzeo wrote.
His letter comes as the state told workers to apply for unemployment benefits to get compensated for the shutdown, according to a notice on the state Department of Labor and Workforce Development website. The notice says state workers must apply for unemployment benefits by July 8 or they won't be eligible to be compensated for the week of July 2.
After reaching a budget deal Monday night, Gov. Chris Christie said he would have to talk to the Legislature about back pay for state workers. The shutdown lasted from Saturday through Monday, but Christie noted most workers were only affected on Monday.
"We'll have to go and take a look at that and talk to the Legislature about it," Christie said.
In a statement, Prieto (D-Hudson) said Christie should use his executive authority to compensate workers for Monday.
"But if he doesn't, we will work closely with the public worker unions and consider all viable options," Prieto said.
In a statement, Senate President Steve Sweeney said Thursday that he'd call a Senate session to pass a bill paying state workers for time they missed during the shutdown, if "Prieto agrees to have the Assembly work in concert with the Senate." He added that the funding to do so is already included in the fiscal 2018 budget, so it would not cost any additional money.
"I believe that the state employees who were prevented from doing their jobs during the government shutdown should not be penalized by losing pay for the brief time that government was closed," said Sweeney (D-Gloucester).
Mazzeo is running for re-election in a competitive district that includes Atlantic City. He and his Democratic running mate, Buena Vista Township Committeeman John Armato, are facing two Republicans, Brigantine Councilman Vince Sera and former Margate Commissioner Brenda Taube.
Mazzeo also wants the Assembly to consider his bill that would force officials overseeing a state takeover of Atlantic City to offer police and firefighters early retirement buyouts before any layoffs. Negotiations between the state and public safety unions fell apart, and former U.S. Sen. Jeff Chiesa, the state's overseer for Atlantic City, plans to make deep cuts to public safety.
Mazzeo sponsored the takeover law and the new buyout bill is seen as an effort to make amends with the public worker unions whose members stand to be affected by layoffs.
Update (3:40 p.m.): This story has been updated with comments from Sweeney, who said he supports paying state employees who could not work during the government shutdown.