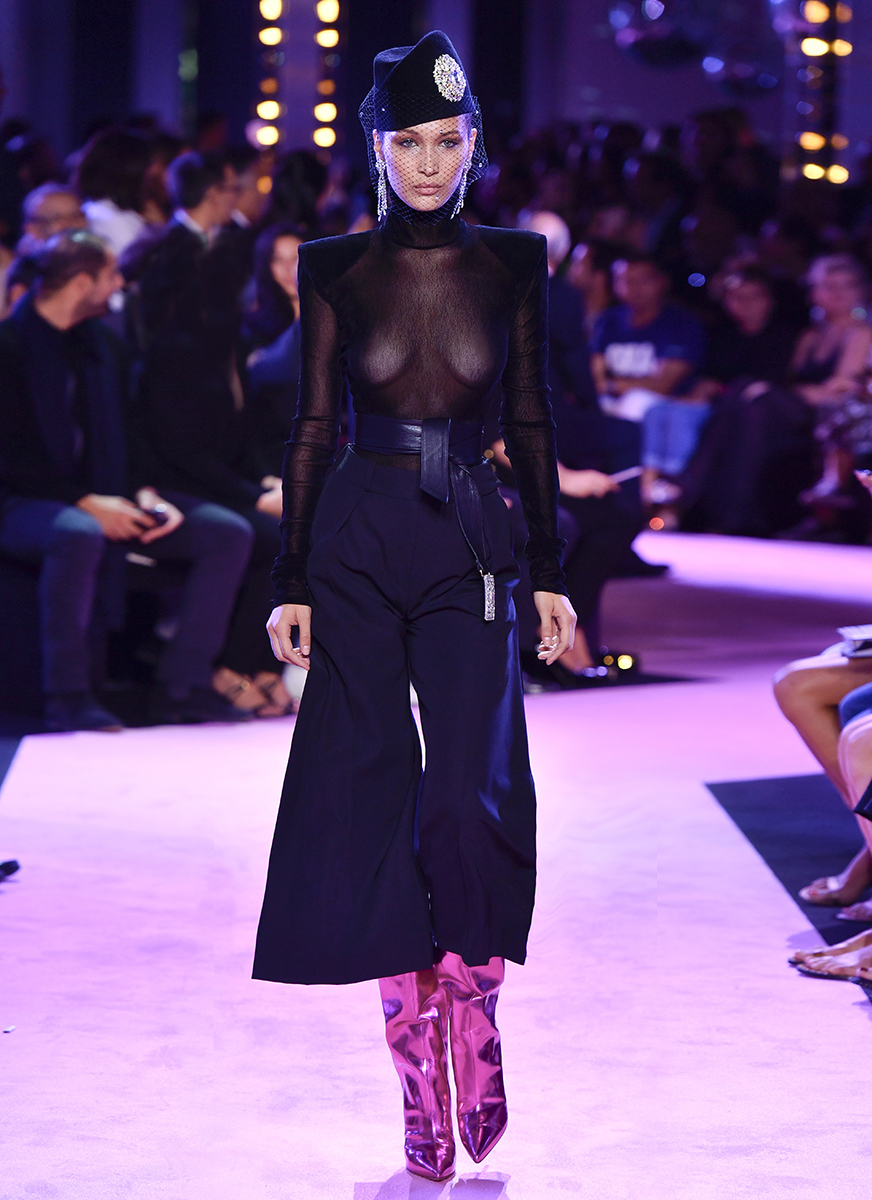 On a warm Paris afternoon, the day before Alexandre Vauthier's fall 2017 couture show, two models are taking their final sips of water and packing up their Chanel purses, in the kitchen of the designer's atelier. The duo are some of the last models to finish their fittings for Vauthier's show. This season, the designer has finished his preparations early and he's not riddled with the usual nervousness. "I want to see the results to understand why I'm not nervous," he says, in his thick Parisian accent. "Ask me one hour, two hours later and I might be."
Wearing a Supreme t-shirt and sitting at large table in his workroom, Vauthier is surrounded by racks of luxe alligator jackets, feathered coats, plush furs, knee-high metallic boots and Swarovski earrings almost as big as a model's face. The designer and his collection have an interesting juxtaposition aesthetically, but that's what the Vauthier brand is all about. Modernity and edginess contrasted by excess. Which is exactly what the women who wear his pieces—Cara Delevingne, Kylie Jenner, Taylor Swift, Rihanna, Bella Hadid and Ciara, to name a few—want.
One day later, Hadid opened the show, just as she did last season. The room glowed a deep shade of purple while disco balls glittered, strobe lights blinked and upbeat music blared. Feeling more like a club than a couture show, people danced in their seats to the music. This time, the entire runway had a decidedly '80s vibe, with plenty of low-cut gowns, high-slit mini dresses, textured outerwear and metallic gowns that moved like a dream. Turns out, one of the feathered coats had strands from the inside of a cassette mixed in ("for brilliance"), while the metallic dresses were actually made of jersey. Below, the designer talks about whether or not couture has staying power, how he met Rihanna and why he has a love-hate relationship with Paris.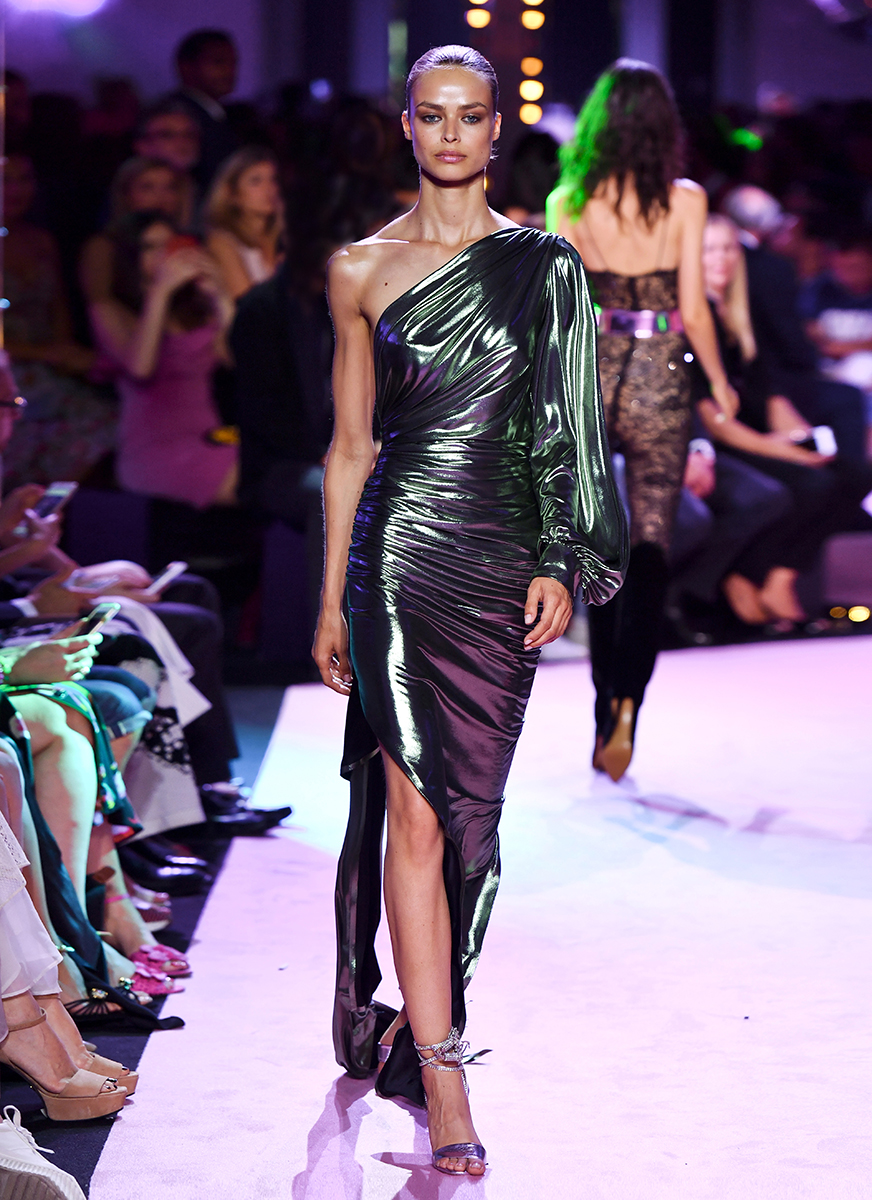 How would you describe your take on couture?
I don't know how or why, but at this moment, I'm a kind of mixed couture designer. I travel a lot. I'm super attentive to what's happening in the world, and what all the girls and women in the world want. Sometimes my collection is super personal and I have a DNA, but sometimes I forget I'm French. This season, I was super focused on all the best coats, the DNA of the Parisian Haute Couture. When you think about France, you think about all these cliché things.
We looked at it in a technical way. The rule of the game wasn't to do something super traditional and chic in a sense, but something more contemporary with all the French culture from the couture collection.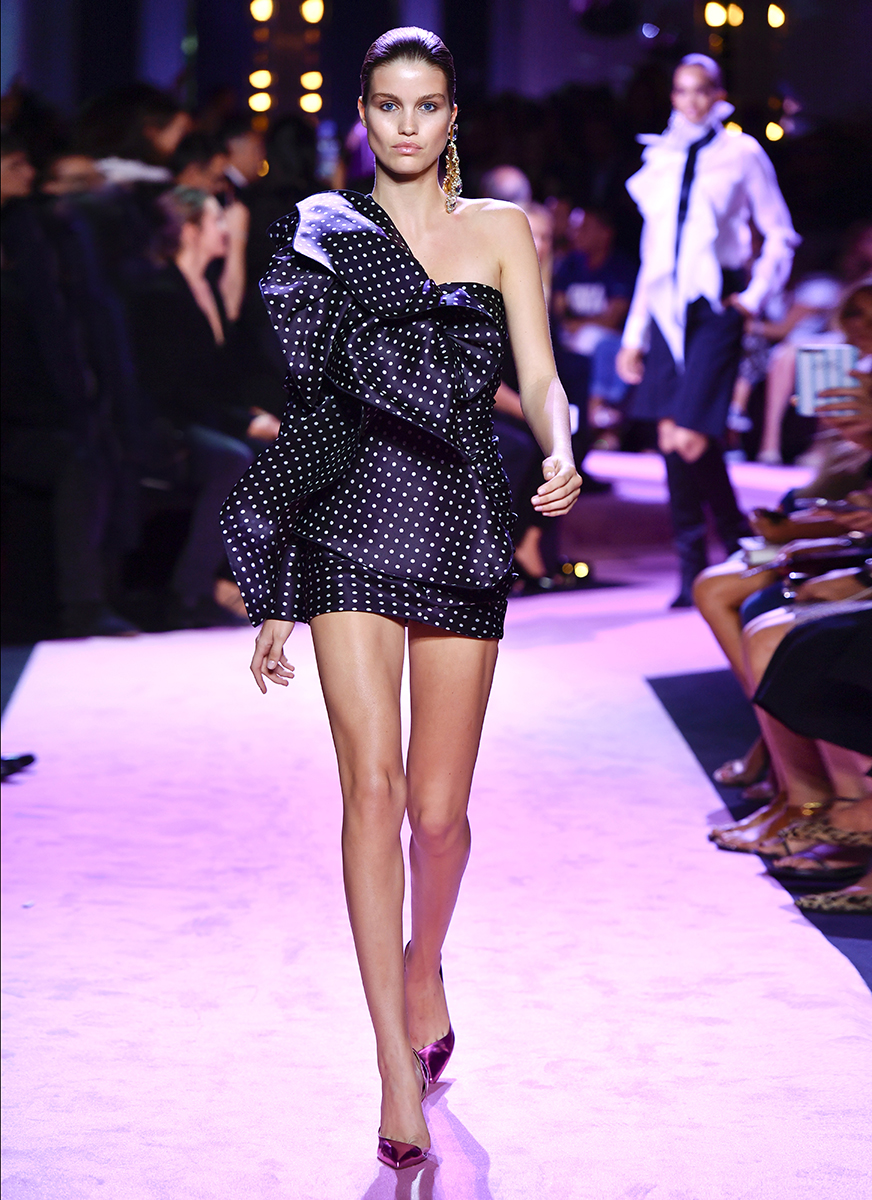 What are your codes?
First, it's the quality and luxury of things. When you buy an Alexandre Vauthier jacket, you know it's quality and you know it's luxurious. After that, creativity.
You work as both a ready-to-wear and couture designer. How does your process differ between the two categories?
In couture, there are no limits. But it's really a human relationship. We have this métier with all these people—the embroiderer, the feather guy, the leather specialists, the Italian and French suppliers for fabrics. This is a kind of laboratory, to try some techniques before we finally sew. We try to do something different: jersey that looks like liquid. I'm super precise in a classic way and the tailoring is very important for me. I try to put some funny things on the runway too.
Couture is super important for me because it's luxurious, with the work, the time, and having the best hands to do all things. That's why I work with Lesage for the embroidery. We did feathers this season, but inside, we put the inside of a cassette tape.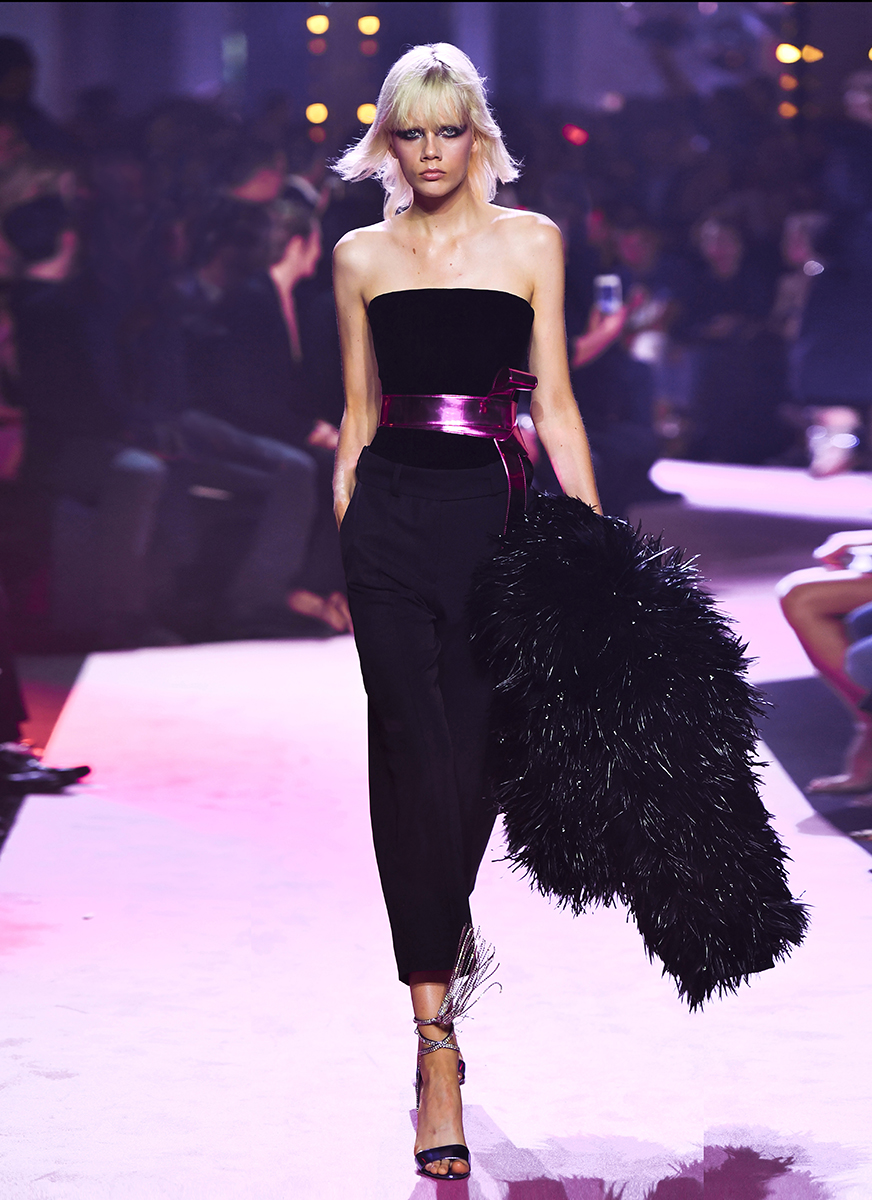 You've worked with some pretty exotic materials. What are your favorites to work with?
I love everything, but it depends on how you treat the material. I love silk, I love gabardine for the tailor, I love fur, I love leather, I love alligator. The more I can, I try to work with other fabrics in my collections. I'm happy when I see the girls in the fitting room saying they feel beautiful and super. I think when I hear that, I work very well. I have their validation.
Speaking of models, what are your thoughts on muses?
I have a lot of people who I love. My best friends, I can count on one hand, but all women inspire me. The women in my entourage inspire me. I'm not the kind of guy with an obsession or one muse. I love some actress for something, some model for something, some singer for something. It's not a question of age, it's not a question of style. It's a question of how they think. It's not a question of social things, you see their life and you feel it. It's important to have that emotion?
Is couture changing?
I [have been] in the system for over 20 years, because I started in 1993 with Mugler. People have said couture is dead, but you know what? I don't care. I don't care what's up. I don't care about the opinion or the 'see now, buy now.'
When I started my own business, everybody said, 'Don't do that, you are in the middle of the crisis.' But in fact, now my house is eight years old. We're happy with that. In the beginning, of course, I was thinking about whether it would be best to stay on the couture calendar or ready-to-wear calendar. My business grew and I think this system is nice for me at the moment. I'm a small luxury couture house and I sell more of my ready-to-wear than couture. But it's the right balance with everything.
Do these industry changes scare you?
I see some waves in the fashion world, but I feel a bit different, I don't think about it. I want only to make women the most beautiful I can, and I want to do what I do best. I love that. There is no other way to work. It's difficult speaking about it because it's my work and I love it. I love the professional family around me, I love my casting director, my PR agency, I love all the things—the models, I love this instinct and approach about the work and I'm super happy. I'm not a stupid, happy idiot—it's a hard way to earn money. The business is quite difficult. For the moment, everything is green for me.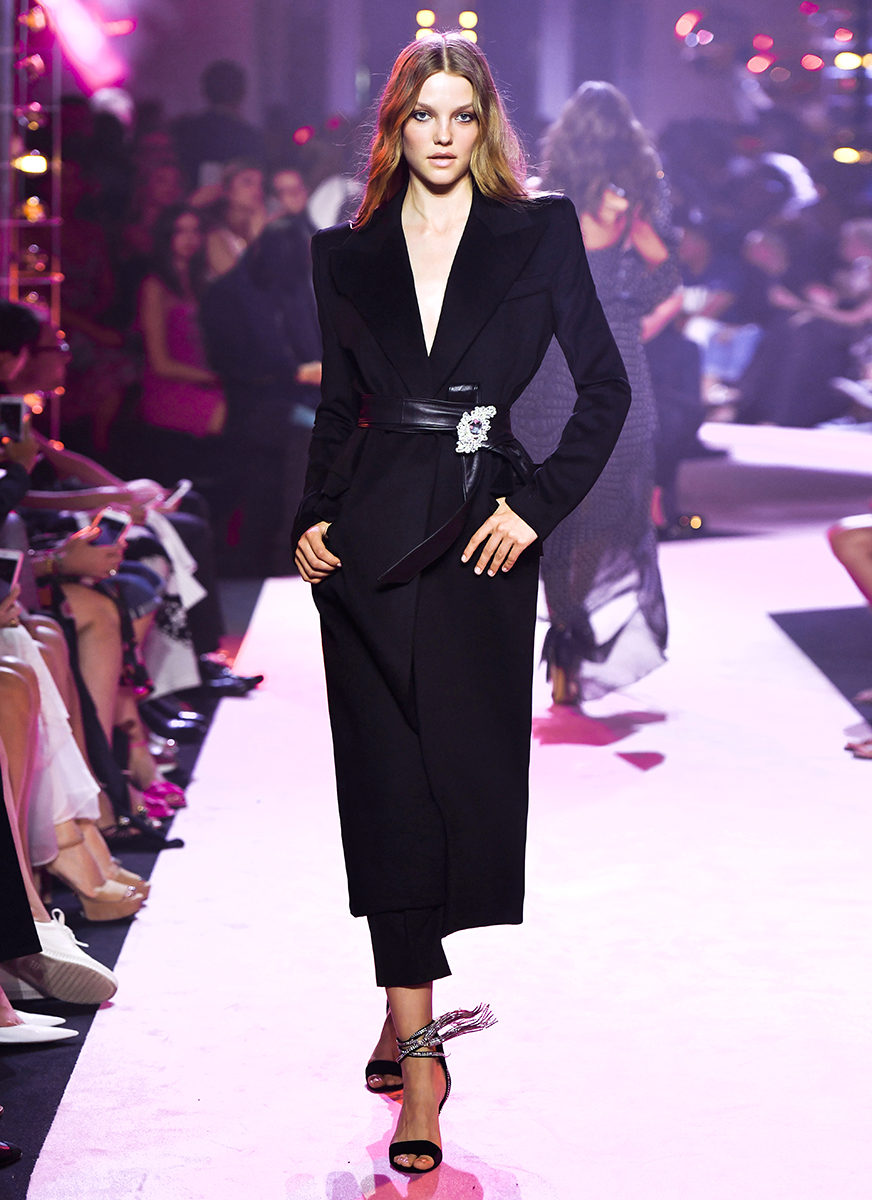 Besides the celebs that wear your pieces, who are the women that buy your couture pieces?
Daughters and mothers love the same clothes in the same moment. There's all a common point in what they do. They are all strong. I'm not a feminist but it's because I'm a guy. To be a woman, it's hard work. Without women, men are dead, so think about that.
Rihanna supported you from the beginning. How did you meet her?
I first met her in 2009. It was incredible because I only did one collection and she asked me to send 20 pieces of clothes from Paris. It was a magic moment. After that, I saw her again on the video set in L.A. but I was always in love with her. I don't know if it's bad or good, or right or wrong but I'm super loyal. Loyalty is super important to me.
Now what is your like relationship with her?
You know, it's super special with Rihanna because when I started my first collection, she was there. I'll never forget those loyalties. Since the second collection, I did so much work with her. I did videos, concert styling and wrote the preface of her book. I love her style, her mind and she's such a beautiful person. I don't see her a lot, because she's very busy, but I'm always here for her.
How does living in a city like Paris influence your work?
Sometimes I hate Paris, sometimes I love Paris. This is my hometown and also my work town. It's one of the most beautiful cities in the world with its history. It's quite romantic. Sometimes the energy is not so good. Now it's different because we changed our president. There is something super fresh in the air and I'm falling in love with Paris again. You can breathe in the history of fashion in Paris and it's important for us to be here because of that.
You worked with Thierry Mugler for your first job and then left for Jean Paul Gaultier. What did you learn from each of those ateliers?
Its like your first love, when you work with someone like that. My first three months at the studio were on the fourth floor. Mugler saw me arriving and asked me who I was and to see my work. Then I went with his assistants on the seventh floor and he loved everything. He took me under his wing and I was like his little brother. He taught me everything: how to be in the system, the precision of the tailoring, the sense of the luxury. It was like training for me, before going to Jean Paul Gaultier. It was cool and generous and he was one of the best in the world. I know he looks at my work.
All the things I learned at Mugler I applied at Jean Paul Gaultier. It was different. I stayed at Jean Paul Gaultier for eight years and I worked on the couture collection but also ads, movies, clients, ready-to-wear. I worked so much with him and I learned so much.
In the atelier at your own label, what's the most time you've spent working on one garment?
It depends! Each season, we try to break a new record. Last season, the final dress on Kendall Jenner had 17,000 Swarovski stones and it took 1,400 hours of work. It was a crazy piece. We challenge ourselves. But for tailoring, it's about three weeks of preparation for the couture collection. With a garment and embroidery it's always between 400 and 500 hours of work, always. That's why it's luxurious. It's like when you eat at a three Michelin star restaurant. I love cheap food and super sophisticated food, but you can love both. [They are] different things.