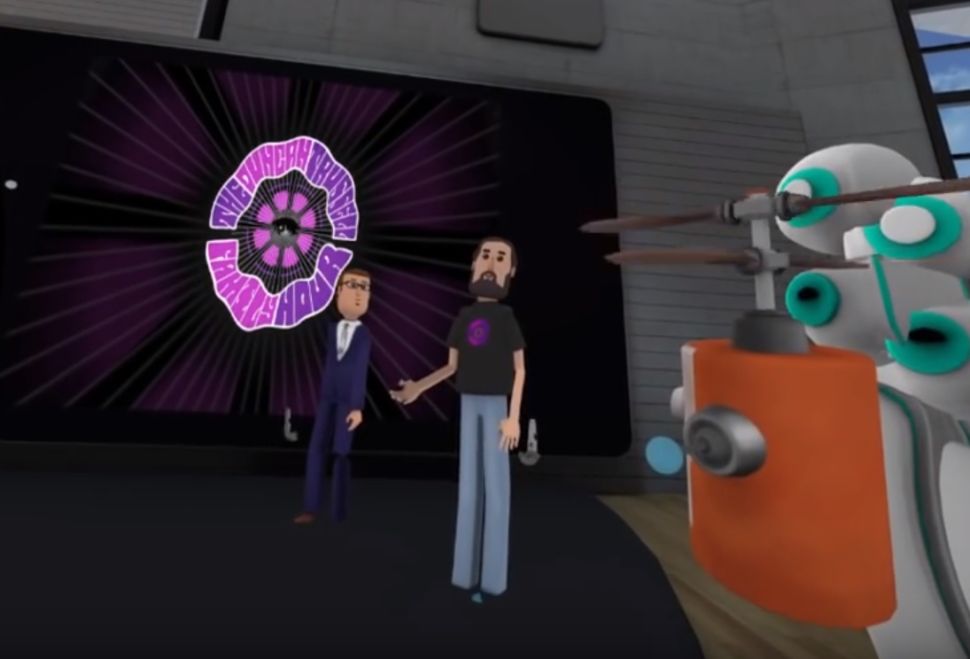 When we can really party in virtual reality, who will need meatspace anymore?
"I'll always remember the night I interviewed Drew Carey, and then hung out in a virtual tavern with folks who came to the show.  It felt like 'the future,'" stand-up comic and podcaster Duncan Trusell told the Observer in an email.
Trussell's enthusiasm for doing comedy shows in VR informed our prediction that 2017 would be the year that hanging out in virtual reality would go mainstream—or at least cross over to normal, and there have been some good signs. Hardware makers appear to be happy with sales, UploadVR reports. Facebook launched a digital rec room, called Spaces.
'I don't know that I'm in a good position to be able to predict'
So all that seemed positive, but last night the company that hosted Trussell's all-digital gigs announced it would be shutting down. AltspaceVR posted a goodbye blog post last night. The company ran out of money, it said:
We had a supportive group of investors that last gave us money in 2015. It looked like we had a deal for our next round of funding, and it fell through. Some combination of this deal falling through and the general slowness of VR market growth made most of our investors reluctant to fund us further.
Trussell first told us about his VR shows when we spoke about taking podcasting shows on the road. VR was another way to reach his fans, but he found it still had kinks to work out.
"Doing shows in VR really underlines how important sound is for live performance.  It's probably more important for a performer to hear an audience than to see them," he wrote. In place of applause, fans could express their reaction by releasing emoji which floated into the air and made their own little noises.
"It was cool," he wrote, but "someone is going to have to figure out a way to combine the microphone input of all the people in the crowd in a way that creates a unified organic sound." Porting facial expressions into VR has been underway, too, which will also improve performances when it's ready.
Trussell's not one to let the perfect be the enemy of the good, however. "What impressed me about Altspace is that it still produced a sense of being there.  It felt like a show," he concluded.
Comedian and musician Reggie Watts also did lots of events on the platform. Watts and Trussell were the two comedians AltspaceVR Eric Romo credited as his platform's comedy pioneers, though others would follow.
"I think the comedy stuff was where we had the most run," Romo told the Observer in a phone call, meaning that funny events had the most AltspaceVR users participate, stick around and have a good time. The platform didn't limit itself to humor, though. It recently hosted an event with science fan Bill Nye and it did many with broadcast media brands such as the SyFy channel, ESPN and, in particular, NBC News.
All that programming was building up the user base. "We've had a habit of not really talking about user numbers," Romo said, because much fewer people regularly use VR as opposed to mobile, so any VR app's numbers will sound weak compared to those on phones and tablets. But in announcing its closure, AltspaceVR reported it had 35,000 monthly active users, which Romo is confident puts it in the top echelon of any VR app.
AltspaceVR had a specific strategy especially built around the next phase of VR gear, Romo explained when we discussed Google's latest creative VR application, Blocks. The HTC Vive, the Oculus Rift and Playstation VR are each expensive pieces of equipment on their own, and none of them work without a pricey computer or game system. AltspaceVR bet that the sector would really blow up when VR had its equivalent of the tablet computer—cheaper goggles with all the necessary processing built in.
That day has been getting close, too, with Google creating the Daydream. In fact, on the same day that AltspaceVR announced its closure, HTC announced the first standalone VR headset would be available in China. The pieces were starting to fall into place, but not quite fast enough.
"I think what's going to happen is you're going to see those standalone headsets come out this year, and I think people are going to be surprised by sales of those," Romo predicted. At that point, he expects venture capital firms will be more ready to invest again. Another six months of runway might have been enough.
Rothenberg Ventures led AltspaceVR's seed round, according to CrunchBase, and also backed its $10.3 million series A. Rothenberg has been the most active venture firm in VR, according to CB Insights.
Deal volume has been strong in 2017, though total funding was down slightly in the first quarter. CB Insights projected total investments in augmented and virtual reality would approach $3 billion this year, the largest year yet. A VR simulations company, Improbable, closed a $502 million Series B round, which it disclosed in May.
AltspaceVR stands behind its code's importance, and Romo believes he needs to do whatever he can to maximize its value as the firm winds down. Asked if that meant he'd be more likely to sell the codebase rather than release it as an open source project, he said, "I don't know that I'm in a good position to be able to predict."
The farewell party will take place on August 3. Of course, it will happen in VR.