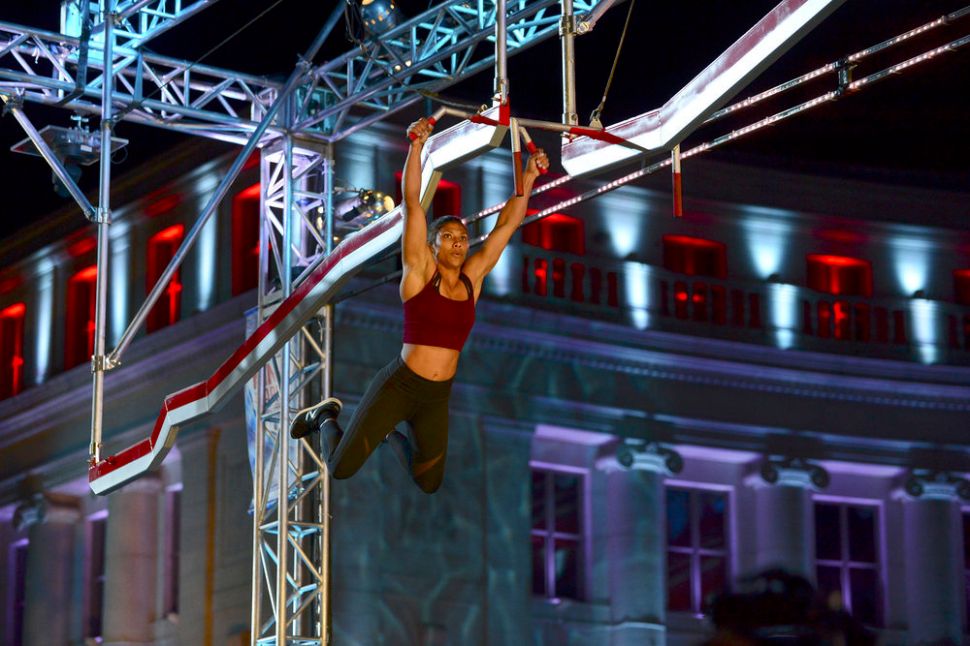 A mom who lost her five-year-old son to brain cancer, a student who overcame a crippling a flesh-eating bacteria, and a man honoring the brother he lost to suicide. All of these people have one thing in common: They are competitors on NBC's ninth season of American Ninja Warrior.
At its core ANW is an obstacle course on steroids. Set in cities across the country—Los Angeles to San Antonio, Daytona Beach, Kansas City, Cleveland, Denver and Las Vegas—the series features competitors taking on an outrageously difficult physical course. And, in keeping with any great reality show format, the personal backstories of the participants and what they've overcome to be a part of the competition play a large role in each episode.
"If it weren't for the stories, it would still be two hours of people doing amazing, athletic things, but I think the reason this show resonates is because of [them]," says host Matt Iseman. "When you watch these people, they're not NFL players or great baseball players. These are everyday people who have jobs and families. You get invested. You want them to do well."
Kent Weed, an executive producer of ANW adds, "It's what motivates them to do it. It's not about us searching for [these stories]. They come to us. They want to show people that what they're doing is for a purpose."
Citing a particularly moving example, Iseman related, "One of the competitors revealed something he'd never talked about in public, and that was that he was sexually abused as a child. What's amazing is not what he does on the course; it's the difference he's making by sharing his story. I think that's the power of this show."
As for the numbers, executive producer Arthur Smith says interest in competing is on the rise. "Last year we had 70,000 [applicants]. This year, I think we've had about 77,000."
There are only 120 out of those potential candidates selected per city, and Weed says there's a very complicated methodology for determining who will be chosen. "It's a whittling‑down process. We basically look at thousands [of submission tapes]. A lot of people think they're good enough to do it, and they're just not. [Athletic ability] is the first [thing we look at], then their story—it's a mixture of those things."
In addition to the submission tapes, the production team auditions walk-ons in each city as well. "When we show up and you see the lines of people who've been sleeping out there for weeks to get their shot on the course, we always try to get as many of them on as possible," says Smith. "We love the idea that is a show that you can watch and then drive to your local Ninja course and be on the show."
He adds that often the production team is shocked by the performance of one of the contestants that comes through this channel. "Every year we get surprised by a walk-on, someone who we've never heard of. Usually they just turned 21, because that's the age limit, and they've been watching the show for six years and they've been training for those six years."
From these ordinary people, ANW has genuinely created some stars, says Smith. "One of them is Jessie Graff, who reached a milestone last year as the first woman to complete Stage 1."
Graff was runner-up in the Los Angeles competition last year with the second fastest time. "She wasn't the second among women. She was the second overall," clarifies Smith.
He added that applications from women rose 20 percent this year.
Watching women tackling the exact same obstacles as men adds another level to the series, says Kristine Leahy, who also hosts ANW. "What other sport can you watch where they're competing on the same level and on the same course? Everything else, it's the WNBA and the NBA, or the PGA and the LPGA. How cool is it that [these women] have the unique ability to show that they can do the same thing the guys do, and sometimes do it better?"
The competition courses are constantly in development, explains Smith. "It's a year-round process. As soon as the show completes taping, we're already planning stuff and testing it out in warehouses. We have to outsmart the Ninjas because they keep getting better and better."
Akbar Gbajabiamila, the third host of the ANW, says, "We have a great group of experts who design these obstacles. This season, actually, we're going to be revealing the obstacles inspired by the fans. Last season we gave the fans an opportunity [to design obstacles]."  Weed adds, "Well, we hoped we'd find one good obstacle out of those submitted, and we actually found six. So there's going to be a new obstacle in every city this year that is actually a viewer-submitted obstacle."
Iseman admits that there was one serious injury in recent history. "An unbelievable athlete attempted Stage 1 and dislocated a bone in his foot and had to have surgery. That was me. Which made me realize those who can, do, and those who can't, host. I should stick to hosting."
The idea of a celebrity version of the series has been discussed, but as Iseman points out, "It would be hard to find celebrities who are willing to put themselves out there. The reality is you risk failure."
But, Gbajabiamila does have one famous person in mind that he'd love to have on the show. "Can I just nominate [a contestant] if there was [a celebrity version]—it'd be Michelle Obama. I love her arms. I know this is totally random and everything, but sometimes I just stare at her deltoids. Upper body strength is required."
Iseman sums it all up by saying, "On American Ninja Warrior, if you have any success, it's hard earned."