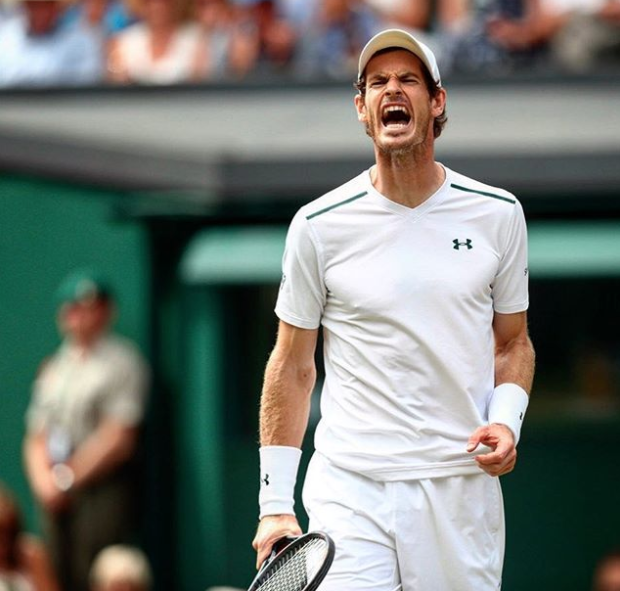 For those of us unable to make it over to London to watch Wimbledon, living vicariously through the chic photos will simply have to do.
There are still quite a few days and matches left until Wimbledon, the oldest tennis tournament in the world, ends on July 16, but there's already been plenty of action—and luckily, the celebs (including the actual players) there are sharing the best moments via Instagram.
While there hasn't been any Bradley Cooper and Irina Shayk-esque drama like last year (after all, the new parents just returned from a relaxing, glamorous trip to Tahiti), there's still lots going on.
An injured Andy Murray may have lost to Sam Querrey, but the number one tennis player in the world did make his way over to the royal box. Speaking of royals, the Middleton family is loving their favorite time of year per usual, and Kensington Palace shared a few snaps of Kate Middleton. The Duchess of Cambridge is a longtime fan of the event, but this is her first year as the official Patron of Wimbledon.
Players Caroline Wozniacki and Rafael Nadal both posted from the tournament, while Ellie Goulding and Dakota Fanning shared snaps from the sidelines. The winner, though, might be Sienna Miller and her selfie with Roger Federer.
Below, see the 10 best Instagrams snaps thus far from Wimbledon this year.
Derek Blasberg 
Sienna Miller
https://www.instagram.com/p/BWcX-I7jG9K/?taken-by=siennathing
Andy Murray 
Kensington Palace 
Rafael Nadal 
Dakota Fanning
David Beckham 
Caroline Wozniacki
Ellie Goulding
https://www.instagram.com/p/BWauLjXlU8s/?taken-by=elliegoulding
Lauren Santo Domingo 
Via visual intelligence platform Dash Hudson.