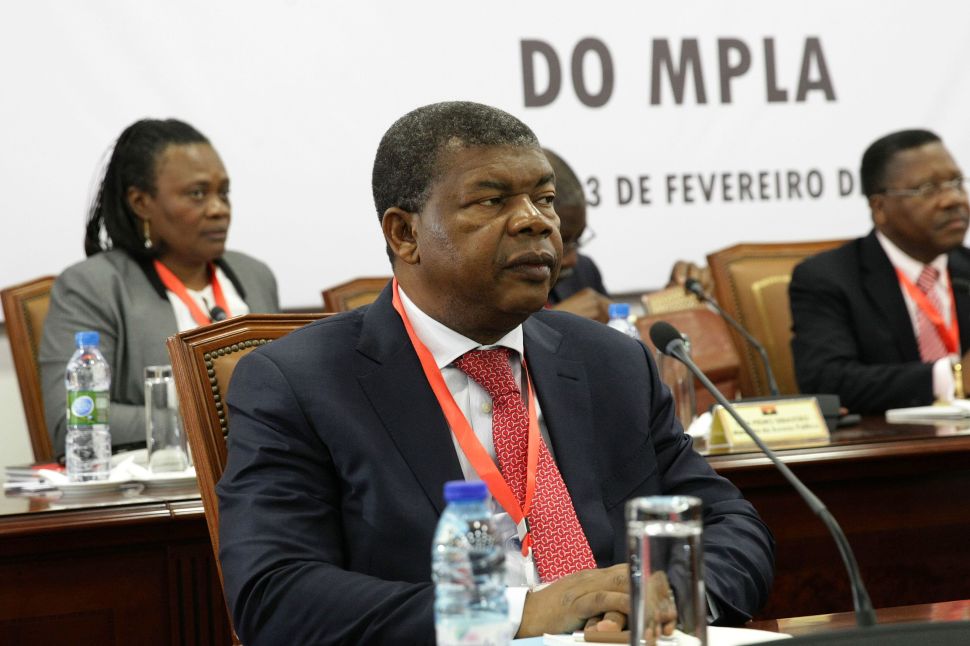 Despite decades of chaos stemming from a protracted civil war, Angola, Africa's largest producer of crude oil, has had just two presidents since gaining independence in 1975. This August, the second-longest serving president in Africa will pass the mantle to an unlikely successor in the midst of the country's worst economic crisis. For the country's elites, the timing couldn't be worse.
President José Eduardo dos Santos, who turns 75 in August, is stepping down after 37 years in office. He has guided the diamond and oil-rich nation through some very tough times, including a protracted 27-year civil war that claimed upwards of 500,000 lives and displaced over a third of the country's population. Since taking office in 1979 (following the untimely and still mysterious death of the country's first president and founding father, Agostinho Neto), dos Santos has proven to be an adroit political survivor, carefully balancing the competing interests of the country's military, political and economic elites through a lucrative and revolving patronage system that has rewarded loyalty and kept any one person or faction from mounting a challenge to his power. "Against all odds, [dos Santos] has remained in power since 1979, overcoming challenges of war, elections and at the same time displaying a highly-refined political craftsmanship," said Alex Vines of British think tank Chatham House.
The president's deteriorating health (he has been battling complications stemming from prostate cancer) has left a power vacuum in Luanda. The inside joke in the country's capital is that the seat of government has effectively relocated to Spain, where dos Santos receives his cancer treatments at a private clinic. So it was no surprise that dos Santos and his MPLA party had been mulling a succession plan for some time. Among the presumed favored candidates were current Vice President Manuel Vicente and several of dos Santos' adult children.
Thus, it was met with a mix of consternation and surprise when MPLA selected Defense Minister João Lourenço to head the party's ticket in the August presidential elections. MPLA party loyalists, local media, as well as the general population had anticipated that dos Santos, who many in the country somewhat affectionately refer to as Pai Grande ("Big Father"), was priming one of his children to take over. His oldest daughter, Isabel dos Santos, is a celebrated businesswoman and Africa's richest woman. His eldest son, Filomeno dos Santos, has also been stepping up his public profile ever since his father tapped him to chair the country's sovereign wealth fund, a multi-billion dollar investment vehicle aimed at building up the country's strategic reserves.
The decision to choose Lourenço, age 62, shocked the country's elites, many of whom had grown fabulously wealthy in the post-war years of the early 2000s as the country experienced double digit annual GDP growth amid a global commodities boom and waves of massive foreign investment. Lourenço, despite being a product of the country's military and a staunch party loyalist, is widely recognized as an independent thinker and is known for his frugalness—a practice at odds with many of his military and government counterparts. His wife, Ana Dias Lourenço, is an accomplished woman in her own right. A former minister of planning in Angola and National Assembly member, she also recently concluded an assignment in Washington, D.C. as an executive director of the Board of the World Bank Group, representing the interests of Sub-Saharan Africa's largest economies: Angola, Nigeria and South Africa.
The country's elites fear that Lourenço will make good on his promises to govern in a more transparent fashion and clean up the country's systemic culture of corruption and graft. Currently, Angola ranks 168th out of 178 countries on Transparency International's Corruption Perceptions Index.
A crackdown would not be good news for Angolan elites who have already been feeling the squeeze of the country's devastating economic crisis, driven by the dramatic fall of crude oil prices in 2014. With the recession now entering its fourth year, government spending has come to a virtual halt and Central Bank currency rationing has limited the amount of dollars circulating freely in the economy. And just as the country braces for a historic transition from one president to another, a host of internationally-led corruption probes are nipping at the heels of the country's elites at the very top of the Angolan food-chain.
Angolan Vice President Manuel Vicente, who for years helmed the country's state oil giant Sonangol, is now in the crosshairs of prosecutors in Portugal who have charged him with multiple accounts of corruption and money laundering. General Manuel Helder Vieira Dias, who heads the Security Intelligence Bureau of the Presidency and is considered the country's most powerful figure after dos Santos, has his own set of legal issues to contend with in Portugal, where he is currently being investigated for economic crimes and obstruction of justice charges. Another recent international probe receiving significant media attention is a joint French-Brazilian investigation known as "Le Coq," which recently conducted a high-profile raid in a luxury condominium in Rio de Janeiro. Brazilian Federal Police agents were looking for physical evidence to support corruption allegations involving a kick-back scheme between several Brazilian businessmen operating in Angola and the former Angolan Central Bank president in a deal revolving around a French company's contract to print the Angolan currency, the Kwanza. Additional investigations and inquiries into a slew of former ministers, members of the extended dos Santos family, and other connected elites dot the Portuguese language headlines in Lisbon as well as the opposition newspapers in Luanda.
Although he is stepping down from the presidency, dos Santos—as long as his health permits—will still have his hand on the levers of power. He has given every indication that he intends to stay on as the head of his MPLA party. But for good measure, on his way out, dos Santos is making sure that he and his Vice President, Manuel Vicente, will be immune from any future allegations of wrongdoing. Parliament recently pushed through a measure that confers onto dos Santos the lifelong title of Presidente Emeritus—a title that, among other things, will protect him and his Number Two from any future local prosecution by granting them lifetime immunity.
For Lourenço and the MPLA party, there is, of course, a formality on the Angolan political calendar known as the national presidential election, slated for August 23 of this year. However, with the party's iron-clad grip on the country's major institutions, including the National Election Commission, it will effectively be an exercise in state propaganda geared towards engaging international audiences longing to marvel at an evolving democracy in action. The real transformation will happen in the days and months after Lourenço takes over and the multiple investigations in Europe and Brazil come to a head. Angolan elites are bracing for the worst.
Arick Wierson is a six-time Emmy®Award-winning television executive and former political and communications adviser to New York City Mayor Michael Bloomberg. He is the founder of NYC TV and NYC Media Group, the largest publically-owned broadcast entity in the United States. Currently, Wierson is a political strategist and branding consultant to clients in U.S., Latin America, and Africa. You can follow him on twitter @ArickWierson.
Richard Hecker is the CEO of Traction + Scale, an investment holding company that builds companies and transforms their industries. He is also the co-founder of SeedingX.org. You can follow him on twitter @RichieBlueEyes.