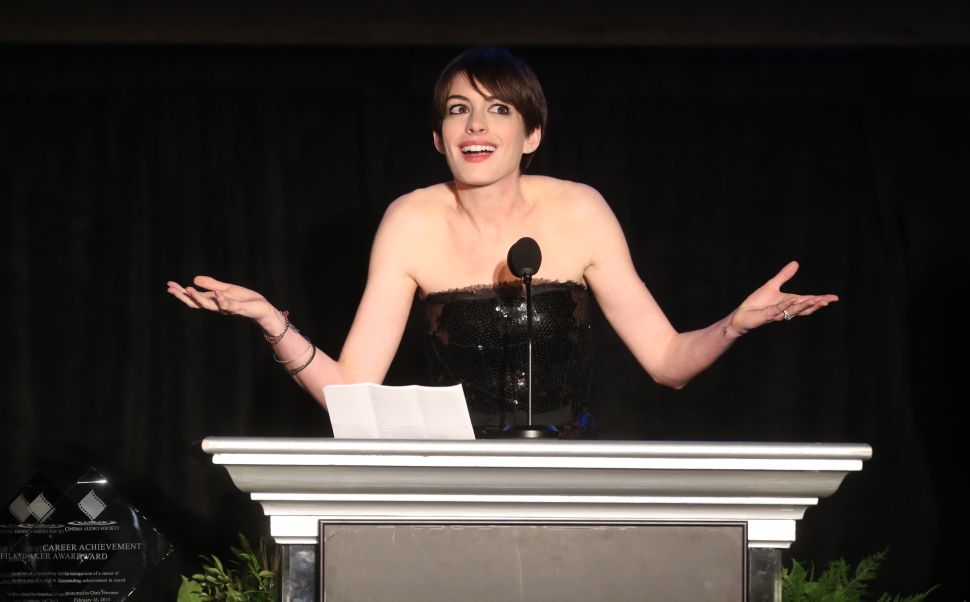 Sony Pictures just went from statement to surrender real quick.
The Ankler reported that Anne Hathaway is in talks to star in the studio's live-action Barbie movie after Amy Schumer walked away from the project in March. Schumer would have been great not only because she's hilarious and talented but also because she's a nontraditional choice that would run counter to the Hollywood norm. Hathaway, who is also remarkably talented and will no doubt do a great job, looks just like what you think a real life Barbie looks like. Casting her is the expected move.
A spokesperson for Sony noted to Entertainment Weekly that Hathaway is yet to officially sign on to the film. Should the deal get done, though, she will play the best-selling Mattel character and Australian filmmaker Alethea Jones (Fun Mom Dinner) would direct.
Sony has long been trying to get a live-action Barbie movie off the ground. They are hoping they can use the 50-year-old brand to explore themes such as "female empowerment and what it means to be perfect," EW reports. Schumer initially joined the project back in December but left due to "scheduling conflicts."
Hathaway is very clearly the bigger movie star of the two who brings in more moviegoers than Schumer, but it's still a disappointing turn of events. It's not Sony's fault that Schumer walked away from Barbie, but one was hoping they might go after another under-the-radar choice as a lead.
Hathaway won an Academy Award for 2012's Les Misérables and was nominated for 2008's Rachel Getting Married. She was most recently seen in last year's Colossal and can next be seen in Ocean's Eight and Nasty Women. Schumer most recently starred in this year's Snatched and will next pop up in Thank You for Your Service.
Barbie is scheduled for a June 29, 2018, release.