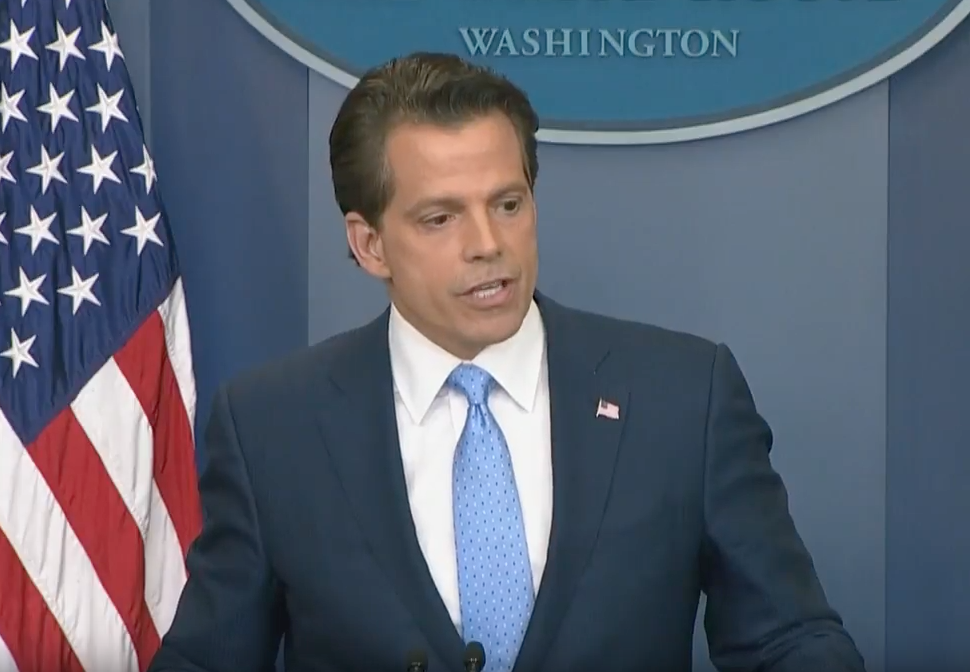 The smooth-talking new communications director for amateur President Donald Trump wore a dark blue suit decorated with an American flag lapel pin. His white shirt displayed a perfectly knotted light-blue tie with little white polka dots.
Anthony Scaramucci, with his well-coiffed hair and his expressive body language, opened his maiden nationally-televised news conference from the White House Friday with a special announcement: Sarah Huckabee Sanders is replacing Sean Spicer as White House press secretary.
Reporters immediately grumbled. Scaramucci's voice didn't carry through the room.
"Oh, you can't hear me?" he asked, fiddling with the microphones on his lectern. "Better?"
It wasn't better. He tried again.
"You still can't hear me?" Scaramucci said, tapping a mic. "No sound?… I'm going to start over."
As the warden told Cool Hand Luke, what we had here was a failure to communicate. The communications director eventually communicated his point and then went on for about a half hour about Trump.
"We love the president," Scaramucci said. "… I love the President… (again) …I love the president… I love the mission the president has… The president has really good karma. He is genuinely a wonderful human being… (again) …I love the President… (again) …I love the president… The President loves Sarah… I agree with him… The president is really well loved."
In some ways, this was the final spastic episode of the Spicer soap opera, a hit show in the afternoon that began on the first full day of the Trump administration. Back then, Spicer, in an ill-fitting suit, performed a shrill tirade in this very room to push the fantasy that Trump's inauguration crowd was larger than it really was.
The spinoff from this tantrum was a withering, multi-week spoof on Saturday Night Live in which Melissa McCarthy mocked Spicer by dressing up as him and screeching at reporters, shooting them with gag weapons and running them over with a motorized lectern.
More than any president, Trump believes in television—but not that kind of TV. He gradually cut Spicer's camera time. Then he brought in Huckabee Sanders in his place and forced him to leave. The new guy came off on Friday as relaxed and glib. He even wished Spicer success in his future endeavors.
"I hope he goes on to make a tremendous amount of money," Scaramucci said.
This is about the nicest thing that can be said by a Wall Street hedge-fund guy, which is Scaramucci's background. He's a New York sharpie—Trump's kind of guy. Like several White House employees—Sebastian Gorka, for instance—he was hired because Trump liked him on TV, first on one of those Fox money shows, later in shouting heads panels.
"I've never been a journalist," Scaramucci told the journalists, "but I have played a journalist on television."
Some of the real journalists on real TV were skeptical about his appointment. In the hours before the news conference, people like Chris Wallace of Fox News wondered how Scaramucci can do a job he's never performed at any level. Scaramucci's new job, Wallace warned, is "a lot more than just punching back on a cable TV show."
"He's a tough guy," Wallace said. "He is fast on his feet. He's an able defender of the president. I hope he'll come on Fox News Sunday this week."
Shortly after this, it was announced that Scaramucci, Spicer and Chief of Staff Reince Priebus will appear Friday night on Hannity, a nightly infomercial for Trump on which Fox host Sean Hannity provides a sanctuary clubhouse for Republicans, right-wingers, and Trumpists of all stripes.
Too bad they won't go on CNN, where Dana Bash noted that the departure of Spicer and entry of Scaramucci means "the New York wing is growing and expanding and closing in" on Washington professionals like Spicer and his patron, Priebus.
On MSNBC, Nicolle Wallace told Andrea Mitchell that Trump "has no understanding of the basic functions of the White House staff."
She continued, "It should make people very nervous. There is now, clearly, not a functioning White House staff."
The Friday scene ended "Made in America" week at the White House, which included Trump's long interview with the New York Times in which he attacked Attorney General Jefferson Beauregard Sessions III and tried to intimidate the investigation by Robert Mueller, the special counsel looking into the Russian espionage scandal and its possible ties to Trump and his cronies.
On CNN, Nia-Malika Henderson summed up Trump's dump of Spicer and hiring of Scaramucci.
"He picked somebody who's been good on TV, right?" she said. "Not necessarily somebody who's good at the ways of Washington… You wonder, again, if it's going to get worse or it's going to get better."