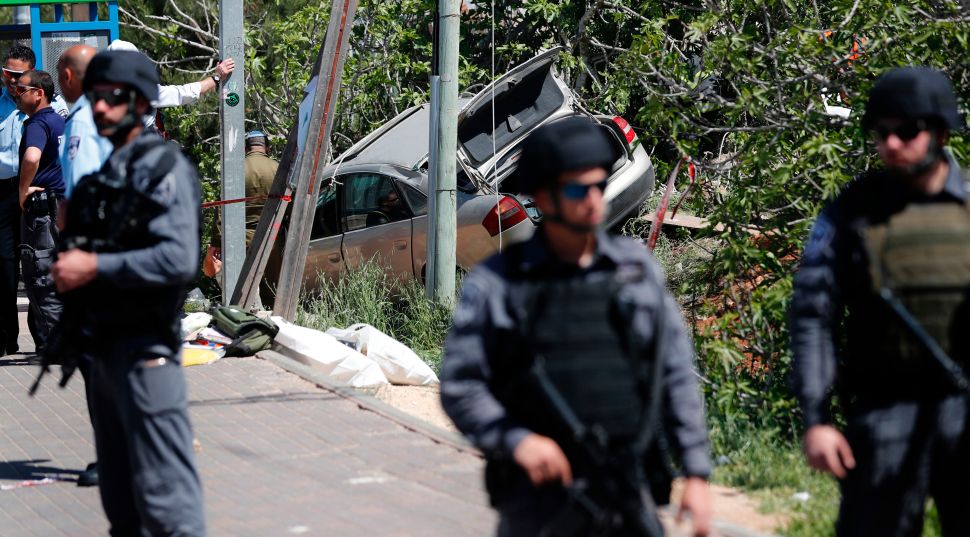 A group of Jewish and Arab leaders in the West Bank are working together to address a mutual problem: deaths in car accidents.
Horrific driving has caused 10 deaths in 10 days on a single road in the West Bank. In Israel and the West Bank, vehicle collisions are tantamount to a plague.
Roads and infrastructure are degraded in the West Bank. Drivers are erratic and go way too fast. They pass each other in dangerous places and tailgate at high speeds. The result is rising incidences of fatal accidents.
The most dangerous road, the one that claimed 10 lives in 10 days, runs near the settlement of Ofra in the region Samaria. The section is officially called Highway Route 60. Running inland from Beersheba through Hebron and then on to Bethlehem, Highway Route 60 is also known as the "Road of the Patriarchs." From Bethlehem it runs to Jerusalem, Ramallah, Nablus, Jenin, Afula and ends in Nazareth.
Highway Route 60 has been given telling nicknames: "the road of death" and "funeral casket road."
Ofra, which is north of Jerusalem and south of Nablus, is home to approximately 3,500 Jewish residents. Seven Arab villages surround Ofra, and they all connect to Highway Route 60. The most dangerous stretch is 15 miles north of Jerusalem.
Yossi Dagan, head of the Settlement Council of Samaria, was so upset by these driving related deaths that he called for a meeting with local Palestinian leaders. The Palestinians present at the meeting were tribal community heads and representatives of prominent families.
Gathering these local leaders together was an important and strategic move. National Palestinian leadership is impudent, but they are powerless on this issue—as they are on all other issues. In the West Bank, power is held by tribal and family organizations. They are relatively unknown outside their community but revered within it.
The leaders met in Yossi Dagan's office in Ofra at the Settlement Council of Samarian. In photos taken at the meeting, the faces of the Arab leaders have been blurred to protect their identities.
Arabs and Israelis have gathered to save lives, but the Palestinians are afraid to show their faces for fear of retaliation because they are sitting with Israelis. It doesn't matter that they are working to save lives: The fact that they are at the same table as Israelis could brand them as collaborators. And these are Palestinian Arab leaders—not people off the street.
In the end, the group came up with real suggestions to make that stretch of Highway Route 60 less dangerous. One of the steps that will be taken is the creation of an educational campaign to teach people the importance of driving with caution. The leaders correctly asserted that most of the accidents are caused by human error.
The group also decided to lobby the government to improve the infrastructure of the roads and road shoulders. They also erected a billboard: In Arabic and Hebrew, the billboard reads, "Jews and Arabs want to return home safely."
Finally, they decided to implement a program to eliminate dangerous cars from the road—a difficult battle. Often when Israeli cars fail their safety inspection, owners sell them to Palestinian mechanics, who resell them to Palestinian drivers. Thus, the roads are flooded with unsafe cars.
Changing this behavior will not be easy. Stopping the sale of unsafe cars will be even more difficult than re-educating drivers. However, though it will be difficult, it's necessary.
To accomplish their goal of making the road safer, the driving culture needs to change. But losing 10 people in 10 days might be the catalyst needed to get people to change their behavior. If a significant amount of people slow down, the death toll will drop.
And if Arab leaders and Israelis can work together to address this problem, maybe they will be able to confront other problems. Saving lives by making roads safer may become a paradigm for larrger issues.
One day, perhaps Palestinian's fear of retaliation for collaborating with Israelis will no longer exist. Maybe one day they will be proud that they helped save lives in their community.
Micah Halpern is a political and foreign affairs commentator, author the "The Micah Report," online and host of the weekly TV show "Thinking Out Loud w Micah Halpern." follow him on twitter: @MicahHalpern