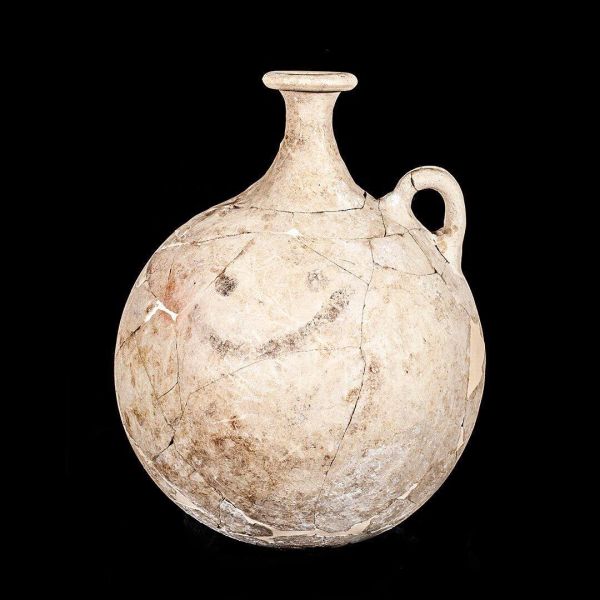 Sometimes new ideas aren't really all that new. Take for instance the smiley face. Today the symbol is most frequently used as an emoji—a digital illustration used for texting and emails. However, before that, the smiley face was an icon of the Hippie generation during the 1960s. But now it turns out, the universal symbol for happiness may go back even further than that.
A team of Turkish and Italian archaeologists excavating near the Turkish-Syrian border, at what was once he ancient Hittite city of Karkemish (an area first excavated by Lawrence of Arabia between 1911 and 1914) have discovered what they believe to be a 4,000-year old smiley face painted on the side of a ceramic jug, reports the Independent.
"The smiling face is undoubtedly there (there are no other traces of painting on the flask) and has no parallels in ancient ceramic art of the area," Dr. Nicolo Marchetti of Bologna University told the Independent.
Dr. Marchetti's team has been excavating at the historic site for seven years, where they've uncovered other artifacts used for preparing and serving food, but the painted pot which dates to 1,700 B.C. is the only item of its kind they've recovered thus far.
The jug's expressive decorations were only revealed after researchers began to restore the item in the lab, where it was also determined that its original color was off-white and that it was likely used to serve "a sweet sherbert-like drink," writes the Independent.
The Gaziantep Museum of Archaeology in Turkey has plans to exhibit the jug, and in 2018 Karkemish will be opened to the public as an open air museum, according to the country's culture and tourism ministry.