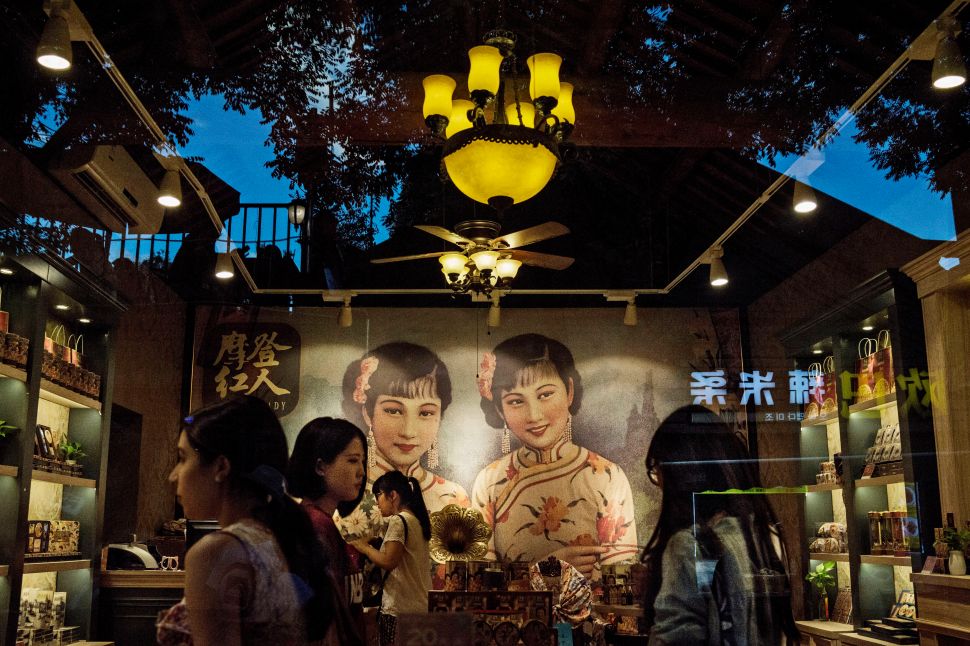 Since our last column, the bricking of Beijing's hutongs, the jumble of quirkylanes that have represented Beijing culture and street life for centuries, has continued apace. Foreign observers, like Foreign Policy's James Palmer, worry that these measures—in which small businesses in Beijing's city-center hutongs are having their street-facing entrances sealed shut by bricks—are tantamount to forced eviction and will lead to an "economic hollowing." Meanwhile, efforts by local artists and the independent media to document the bricking process have been swiftly censored.
The justification for this one-size-fits-all approach to cleaning up the hutongs is to standardize their appearance, to make them look cleaner and more orderly as Beijing buffs its image for the world stage. This motivation aligns with another recent government edict calling for the elimination of "Chinglish," humorously awkward Chinese-to-English translations that a prominent culture website calls "a source of embarrassment for Chinese officials" and a possible hindrance to China's intended image of modern sophistication.
But for young Chinese who have actively sought inspiration from the earthy, raw energy of hutongs, the current program of renovations is almost universally seen as a tragedy. While wider, cleaner alleys might please bureaucratic planners and wealthy tenants, they're seen by ground-level artists as a blow to the hutongs' key role as incubators of bleeding-edge culture in the heart of old Beijing. After a recent concert, Shouwang, one of the most influential members of Beijing's thriving underground music scene, complained to us privately that it was hard for anyone to know how to respond because discussion sites on Wechat were almost immediately taken down.
To counter this perceived attack, a handful of individuals have recently attempted to respond to the current wave of hutong renovations in creative, constructive ways. AOTU Studio, a hip hutong hair salon that also hosts a regular program of contemporary art, was forced to shut down after the renovations hit their alley in May. Reduced to a pile of rubble, AOTU last month launched a live-streaming performance series, inviting local artists to "rethink and rebuild" a sense of "presence and tangibility" in the embattled hutong zone. The project, which doubles as a crowdfunding campaign aimed at getting AOTU back to financial stability, has attracted takers such as A Ke, a performer from Haikou in southern China who is deeply involved with Beijing's experimental Zoomin' Night. Her performance, entitled "A Ke Reads to Bricks," was a somewhat humorous, though hopeful, meditation on the process of change and rebuilding occurring around AOTU.
A more sustained project in this vein is being undertaken by Hutong π, a youth art collective and gallery started last year that is building an archive of photographs, videos, and artworks inspired by the hutongs. For their latest project, they organized an exhibition of work by photographers born between 1939 and 1982 to create a dialogue about how hutongs have changed from generation to generation. Their founder, who makes art under the pseudonym Zaizai, has been documenting the hutongs on a daily basis for more than a year, armed with a GoPro attached to his helmet and a scooter that he rides up and down the narrow, winding streets surrounding his makeshift gallery space. "We use our own method to record what we see in the hutongs and to engage in discussions with residents to understand something about our own country," Zaizai said.
Liu Qilin, a 19-year-old from Chongqing who just finished his first year at Beijing Normal University, is also responding creatively and positively to the hutong renovations. In April, he started a group on WeChat, China's primary social messaging app, called "Hutong Art Team," which called for submissions of visual art, video and writing about the changes underway in the hutongs. "I've been in Beijing for just ten months, but I really love the hutongs. I have so many stories here," Liu tells the Observer. Though he's majoring in finance, Liu says that he's an artist at heart and that he especially values the distinct character of hutong art galleries. "The art spaces in the hutongs are very alive, very innovative and avant-garde," he says.
Though Liu's project has attracted some interest, he's pragmatic about the limited impact it will have on the city's top-level decision makers. He had planned a launch event for next month at a hutong theater, but the venue canceled on him out of fear of political retribution. Liu worries about this too and also acknowledges that many hutong residents actually welcome the renovations. "You have to consider that many parties are involved. For the residents, the old Beijingers, I think most of them will be happy about this, because these shops did not originally exist in the hutongs. They created noise, garbage and bad smells."
Liu suspects that Beijing policy-makers view the renovation as an opportunity to gain control over the hutongs, in both aesthetic and political terms. The renovations will allow local authorities to "govern these households more easily," Liu says, while restoring the hutongs to their old look. "In China, practices of this kind offer fake novelty. I think it's better to xiu jiu ru jiu, "rebuild the old as if they are old."
Still, Liu will dedicate his summer break to organizing a series of events with the materials he's collected, which so far include work by 10 photographers, two original documentaries and several poems. While they won't do much to stop Beijing's march toward its own vision of progress, people like Liu and Zaizai's Hutong π collective can use the tensions wrought by growing piles of brick as raw material for their own creative interventions—at least for now.
In 2010, Josh Feola moved from the U.S. to Beijing, where he is a writer, musician, and former booking manager at two of Beijing's leading live music venues. He has written about Chinese music and art for a variety of foreign and Chinese publications, operates the net-label Sinotronics, curates Sally Can't Dance (China's leading experimental and avant garde music festival), and plays drums in Beijing band SUBS.
After 15 years on Wall Street as a trader and banker, Michael Pettis moved to Beijing in 2002, where he is an economics professor at Peking University, a senior associate at the Carnegie Endowment, and the owner of 20 Percent Picture House, a private art gallery.