In recent months, the conversation about sexism and harassment in tech has been heating up. Over the past few weeks, it's turned to VCs. Prominent Silicon Valley investor Justin Caldbeck resigned from his firm Binary Capital after six women he met with professionally accused him of groping them, sending them lurid texts late at night and harassing them with unwanted sexual propositions. In the days following, more than two dozen women spoke to The New York Times about being sexually harassed in tech, ten of them naming the investors involved. This included high-profile VCs such as Lowercase Capital founder Chris Sacca and 500 Startups founder Dave McClure.
Not everyone outside the tech world knows this, but Ashton Kutcher is a venture capitalist in addition to being an actor. On his own and through his firms Grade A Investments and his new endeavor Sound Ventures, he's invested in 61 startups including Uber, Airbnb, Casper, Path, Duolingo and more. In light of all that's happened, Kutcher's now attempting to understand the loaded sexism and harassment problems plaguing his industry. But he doesn't seem to be off to a good start.
Thursday afternoon, Kutcher took to LinkedIn to announce he and Sound Ventures partner Effie Epstein will host a live open dialog about gender equality early this week. He posted the following questions he wants to address in the panel and asked, "Are these the right questions?" Women in tech answered with outrage and a unanimous "no."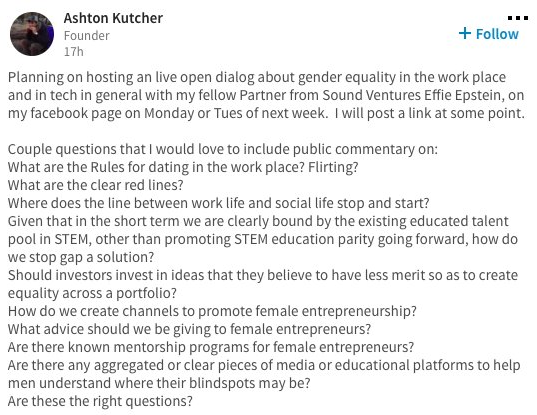 Women reacted swiftly with responses along the lines of "These are definitely NOT the right questions to be asking. What the fuck?!" and "Is he punking us right now?! He must be punking us." On one particular Twitter thread, he was torn to shreds.
There are a lot of problems here. Right off the bat, Kutcher is wanting to understand the rules men in tech should follow for hitting on women they meet on the job. When women are earning only 28 percent of computer science degrees, owning only 5 percent of startups, holding only 11 percent of executive positions at Silicon Valley companies and truly believe that sexism and harassment is part of the job, how men can continue flirting without offending their female colleagues should be the last concern.
Women in tech are really riled up about this first point:
They're shockingly not the right questions. All the stuff about workplace flirting: gross.

— Joelle Emerson (@joelle_emerson) July 7, 2017
And those came FIRST! First of all, what are the rules for hitting on women? Next let's get you a mentor! Ugh.

— Susie Ochs (@sfsooz) July 7, 2017
Ciara White, a tech support engineer, brought to light the fact that the answers to these questions wouldn't help women at all—they'd just allow men to keep doing the same thing but in a way that won't get them in trouble.
"Why are the two questions about dating? Would answering it benefit women? If he is trying to talk about sexual harassment, why not talk about that instead? And maybe that should be a separate topic?" she told the Observer.
Next, Kutcher implies the reason men can't treat women equally in tech is that there aren't enough because of the gender gap in STEM education.
The stuff suggesting women's under-representation has only to do with the educational pipeline: not accurate.

— Joelle Emerson (@joelle_emerson) July 7, 2017
While this gap certainly exists, he has it all backwards—there is a gap in STEM education because sexism deters women from going into these fields (just look at Uber's drop-off rate of female employees). From a young age when girls are given (or at least marketed) dolls and boys are given LEGOs, the message is being sent that math and science are for the boys.
The next question seemed to enrage people the most: "Should investors invest in ideas that they believe have less merit so as to create equality across a portfolio?"
WTF, no? Find women with kickass startups and invest in them—there are plenty. Don't do it because they are women; do it because they are business owners with great ideas that deserve the same consideration, which they currently aren't getting. (Last year, VCs invested just $1.46 billion in women-led companies while male-led companies earned $58.2 billion in investments.) The notion that you have to lower your bar to invest in women is so utterly insulting and literally the root of this entire problem.
OMG. The mere notion that creating equality requires investing in worse ideas. How completely offensive.

— Dina Bass (@dinabass) July 7, 2017
The stuff about investing in worse ideas to create equality: I can't even with this lowering the bar ish.

— Joelle Emerson (@joelle_emerson) July 7, 2017
This entire thing is beyond insulting... "should investors invest in ideas that they believe to have less merit.." I'm speechless.

— Niamh Kellett (@miambo) July 7, 2017
"The wording of that question implies that the only way to achieve diversity is to lower the bar, which has been proven to be an implicit bias with no grounding in reality," Leslie Pajuelo, a software engineer, told the Observer.
"Even asking if people should invest more in ideas that they believe have less merit just to create diversity is insanely flawed," Allison Esposito, founder and CEO of Tech Ladies, told the Observer. "Of course investors shouldn't invest in something that isn't valuable to them, but that's not what anyone's asking. We're asking to take women's companies seriously, to take meetings with women and to invest in them more. The problem is not that our ideas aren't good enough or valuable enough—it's that we can't get in the door, and when we do, we're held to a different (much higher) standard to get funding."
Kutcher then gets into some more sexist questions about what advice we can give to women and how to teach and mentor them. News flash: when it comes to sexism and harassment in tech, men are the ones who need to listen. Women are very aware of it and can even tell you how to stop it.
"What advice should we be giving to female entrepreneurs" hahaha "plz how to mansplain so it works out like in my head?"

— G. Willickers (@GWillicker8) July 7, 2017
feels like: pic.twitter.com/YGJTsnCtN5

— Tom Wang (@womtang) July 7, 2017
"What advice should we give to female entrepreneurs [about not to be discriminated against and harassed]?" HOW ABOUT WHAT ADVICE TO MEN?!

— Cynthia Lee (@cynthiablee) July 7, 2017
Kutcher's final question asks if these are the right questions, and people were quick to tell him they're not. We talked to some women who work in tech to ask what they think he and other men should be asking. We heard a lot about pregnancy discrimination, paid family leave (for both men and women), the mental load women caring for kids outside of the workplace carry, the wage gap, finding bias and how it's on women to prove their oppression.
Iris Xie, a self-taught coder who recently wont the Udacity & AT&T Aspire to Tech Scholarship, gave the Observer a comprehensive list of alternate questions Kutcher and other men should be asking:
How can we as men hold other men accountable for subtle and direct examples of sexism?

What are the barriers for women, women of color and non-binary folks that prevent them from becoming managers or executives?

How does sexism and racism impact retention efforts?

What are the biases that prevent men and their colleagues from wanting to give funding on equal parity to female entrepreneurs?

How can we do more than just diversity initiatives? Because when we recruit marginalized people, they keep leaving and the reports are that "they just couldn't hack it" when it may be more symptomatic of an entrenched misogynistic culture.

Can the men in the crowd and panel admit to when they were misogynistic in the workplace and how that has impacted promotions, taking ideas seriously and reinforcing the boys club?

What would you do when you see or witness misogyny, such as a male colleague talking down or mansplaining to a female employee, sexually harassing her or using power dynamics to remove her from positions? What have you done?

How can we support women/queer/non-binary spaces and give resources to them?

How can we create a culture of trust and accountability instead of seeing men give lip service to supporting marginalized women, people of color and queers and then taking advantage of their labor and career success? AKA walk the talk?

What are distinct deliverables we can give to support these goals that men can carry the physical, financial and emotional labor for?
Let's see men come face to face with these questions. Then maybe we can start confronting the problem for real.