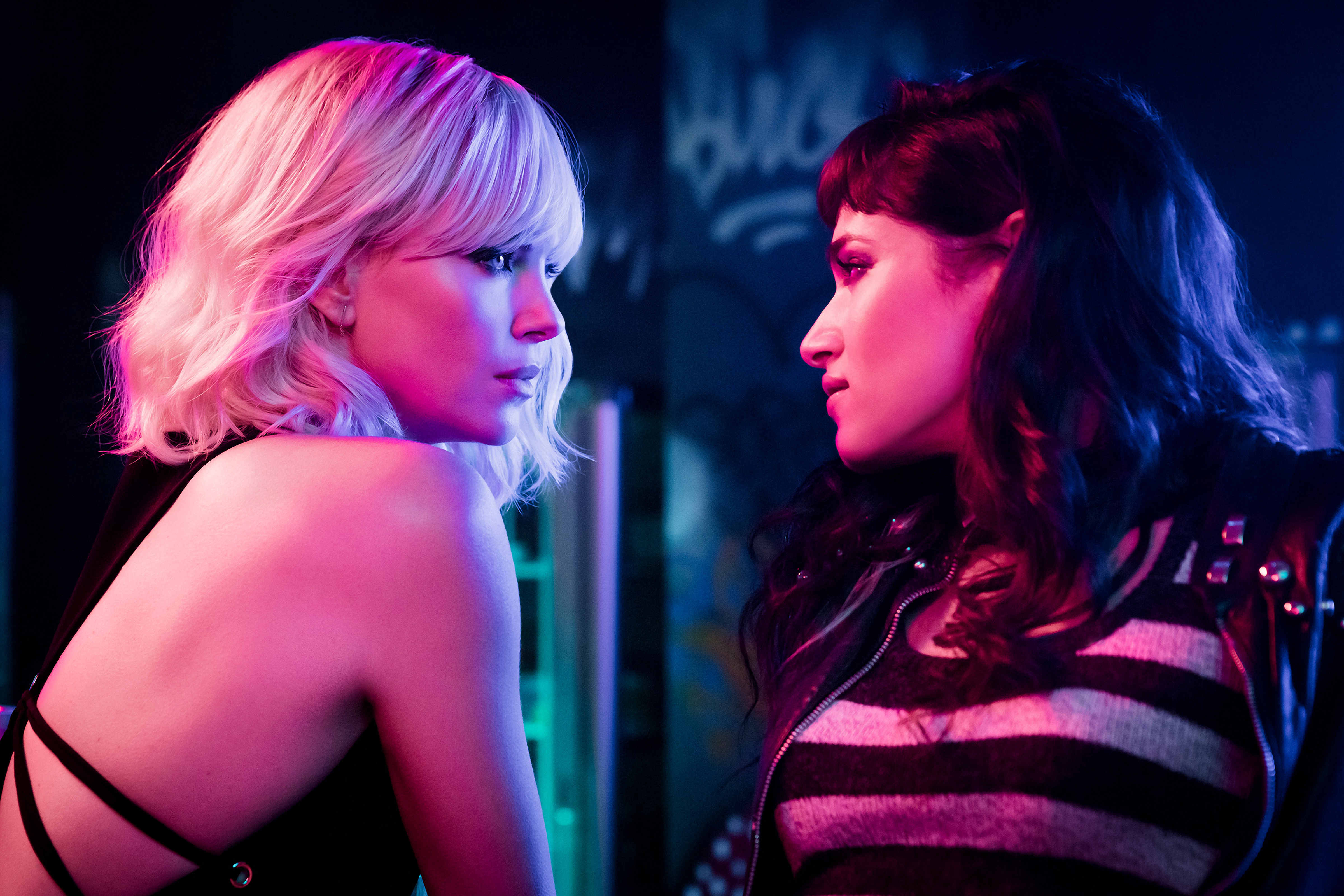 Can a woman step into James Bond's shoes? Duh, says Charlize Theron as she performs the cold-as-ice secret agent shtick backwards, and in red patent-leather stilettos, in the hugely engaging spy-vs-spy thriller Atomic Blonde.
Theron rivets the audience's attention in nearly every frame of David Leitch's film, written by Kurt Johnstad and based on Antony Johnston's graphic novel The Coldest City. She enters naked, in a bathtub full of ice, emerging like some supermodel Venus DeMilo, her face and body badly bruised, leading to the question: what the hell happened, honeypot?
Eric Gray (Toby Jones) and Emmett Kurzfeld (John Goodman), of MI6 and the CIA respectively, have the same question for their rogue agent Lorraine Broughton (Theron). The purpose of their interrogation: to the bottom of a mission to Germany that went FUBAR in the Berlin Wall's final days.
The convoluted plot flashes back to ten days earlier, beginning with the desperate murder of an American spy. What ensues is some John LeCarre-style double-dealing involving the unconventional spook John Perceval (James McEvoy, kicking it), a mild-mannered German spy (Eddie Marsan) who is willing to trade a McGuffin of a list of secret agents to come in from the cold, and the sizzling French agent Delphine Lasalle (Sofia Boutella), who looks hot on a motorcycle.
---

ATOMIC BLONDE ★★★1/2
(3.5/4 stars)
Directed by: David Leitch
Written by: Kurt Johnstad and Antony Johnston  
Starring: Charlize Theron, James McEvoy, John Goodman, Toby Jones and Sofia Boutella
Running time: 115 mins.

---
At the top of her star power, Theron performs cardio-intensive stunts with an admirable sang-froid. Apparently she's on the Stoli-on-the-rocks diet, which explains how she remains so thin. In a fight sequence set in a deserted Berlin apartment, her character battles a team of Polizei with nothing more than a bright yellow hose—clocking, choking and lassoing her attackers into submission. She then uses the length to leap a few stories out the window— voila!—with her garter belt still in place.
For repeated breathless sequences involving hand-to-hand combat, assassination attempts, and a wicked climactic car chase, shout out to Director Leitch. He was Brad Pitt's stunt double in Mr. and Mrs. Smith and knows his way around choreographing action. Although I watched a portion of the R-rated violence through my sweater's weave.
What keeps Theron's blonde from appearing too brittle is the dynamic McEvoy. The Scottish actor oozes charm, bounding athletically through his scenes with a cat-ate-the-canary grin a smart riposte. (He's an actor who seemingly can't be bad. Exhibit A: M. Night Shyamalan's schlocky Split.) He also has a talent for playing the foil for actresses who may take themselves too seriously, a danger for Theron.
Loving Berlin like I do, the backdrop of the once-divided German capitol freshens up the visuals; these aren't the overfamiliar streets of Toronto standing in for Manhattan. And the playlist—from Depeche Mode's "Personal Jesus" to Queen's "Killer Queen" to Blondie's "Atomic"—has me shopping the soundtrack. What can be said about the smoking girl-on-girl action between Lorraine and Delphine? We'll leave that for you to decide, but if there's any doubt that Theron's franchise has legs as long as those of its star, the final coda suggests that, to quote Arnold Schwarzenegger, "I'll be back."