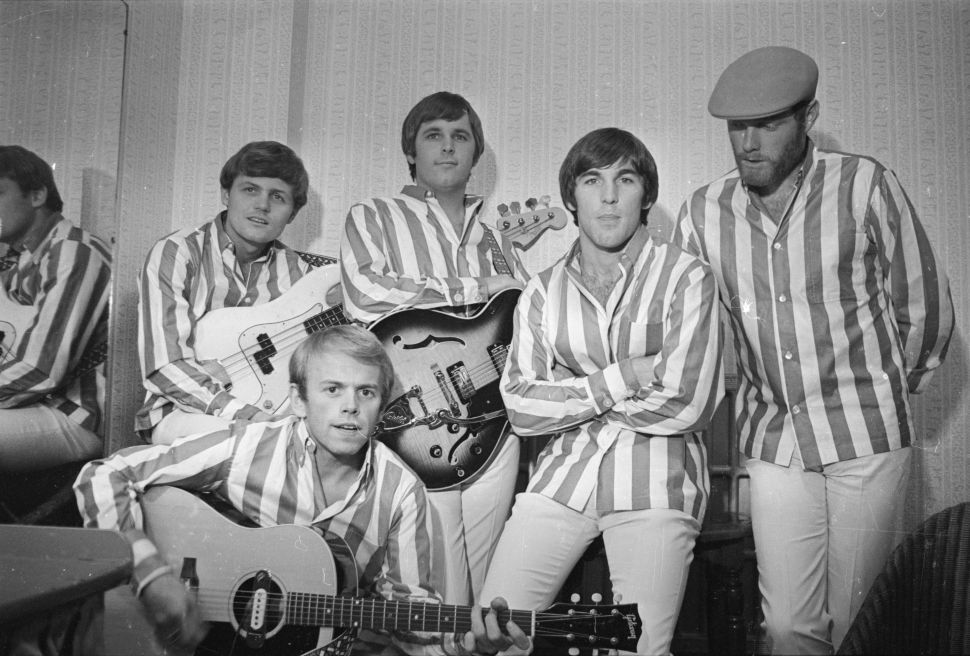 When The Beach Boys made Pet Sounds in 1966, it confirmed Brian Wilson's genius as a creative mind and the band's uncanny ability to see his vision through (with some help from the Wrecking Crew, of course). The following year, Brian was intent on creating an even more expansive expression of his art with SMiLE, a wildly experimental masterpiece of avant-AM pop that remained shelved in the Capitol Records vault until it was released as a box set in 2013.
Yet SMiLE was but a fraction of the Beach Boys' 1967, arguably the most prolific year the original lineup of the group ever enjoyed together. Now there's a great new compilation entitled 1967—Sunshine Tomorrow, which covers the remainder of those banner months that saw them reconfigure SMiLE into the more easygoing Smiley Smile and dive deeper into their love for the new soul sounds of Memphis and Detroit with the R&B-driven Wild Honey, the product of an unexpectedly brilliant collaboration between Brian and the band's polarizing foil Mike Love.
"That was an underground album, I figure, for us," Love said in the liner notes to the 65-track collection. "It was completely out of the mainstream for what was going on at that time, which was all hard rock/psychedelic music. It just didn't have anything to do with what was going on, and that was the idea."
Among the treasures to be found on 1967—Sunshine Tomorrow include the very first true stereo mix of Wild Honey, a famously abandoned "live" album called Lei'd In Hawaii, some other live tracks from the band's 1967 tour, and a ton of rare studio material from both the Wild Honey and Smiley Smile sessions. For fans of this particular period of the Beach Boys, this set is the motherlode.
Here are 5 selections that caught our eye:
"I Was Made To Love Her (Long Version)"
The best song on Wild Honey is actually a cover of this Stevie Wonder gem with Carl Wilson on lead vocals. It was the title track to Wonder's seventh album, released in August 1967, and it was only the future front man of Carl & The Passions who made its transition from urban radio to suburban ears so absolutely seamless.
"Little Pad" (Backing Track/Instrumental)
In the more streamlined Smiley Smile, one can hear the future sounds of Harry Nilsson, Elvis Costello, Stereolab, The High Llamas, Olivia Tremor Control, and Father John Misty like they're all swirling above the speakers like a bunch of goddamn dementors. And if there's one piece of music from this new collection that ties that influence all together, it's this gorgeous instrumental backing track of album highlight "Little Pad," an excursion into Hawaiian music that's one of the great lost treasures in the Beach Boys canon.
"Country Air" (Live in Detroit, 1967)
Mike Love is such a dick. But you cannot deny his brilliance in the archival material highlighting his gifts to the Beach Boys formula. "Country Air" was one of the more underrated selections from Wild Honey, but this excellent live version from their 1967 Detroit show really punches up the strength of songwriting between Brian and Love, as if they crafted the song to be heard better in the concert setting.
"The Letter" (previously unreleased, from Lei'd in Hawaii)
Perhaps the most intriguing discovery from Lei'd in Hawaii is the cover of "With A Little Help From My Friends" the Beach Boys bust out as the closing number, which was recorded at Brian's playground/house not even four months after the release of Sgt. Pepper. But for that special kind of music nerd, the idea of the 1967 Beach Boys performing a song sung by Alex Chilton is simply beyond comprehension.  
"Surf's Up" (1967 Version)
An embryonic journey through one of Brian Wilson's finest post-Pet creations, this nascent version of the title track to the Beach Boys' 1971 LP is just the creator and his Chickering piano recorded before Van Dyke Parks' strings came in. This version, recorded during the Wild Honey sessions, is haunting in its sparsity. It reveals a whole new side of itself by whittling it down to just Brian's otherworldly voice and 88 keys. It's breathtaking.