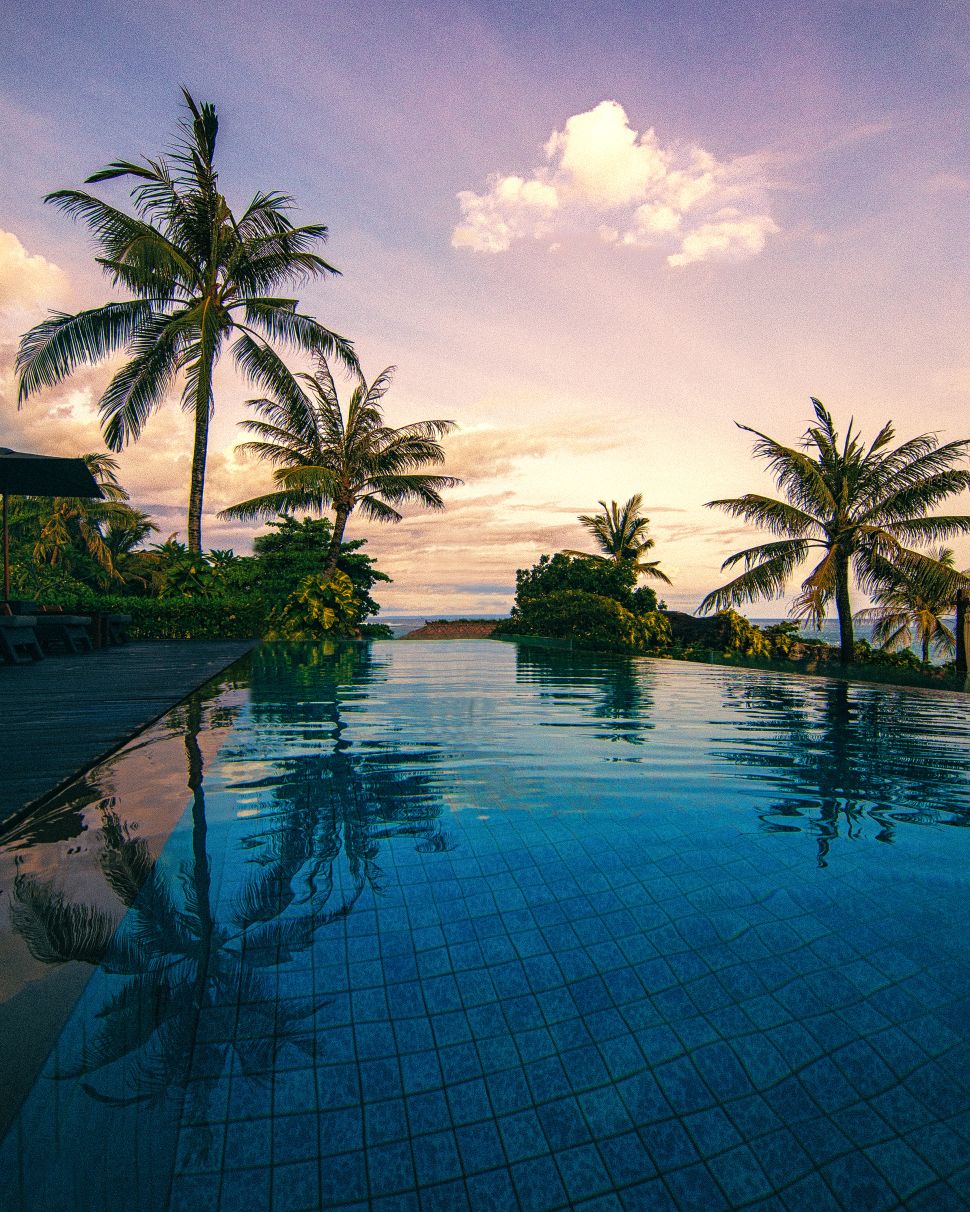 If you went on vacation and didn't post a scenic Instagram of a breathtaking sunset or a lavish seaside resort, did you even go at all?
That seems to be the general consensus among everyone who is currently on their summer holiday, at least according to our social feeds. It's no secret that people are seeking out beautiful destinations to escape to, for both the serenity and the social media brownie points.
With that in mind, we thought it would be best to call in the pros, to get some in-depth information on the best spots that will get you tons of likes—and will result in an unforgettable getaway in a far flung location. And there's no one better than Jeremy and Tom Jauncey, the founders of Beautiful Destinations. The brothers have built a massive following, based on their incredible snaps of the ocean, drone videos high above cities and jaw-dropping sunsets; their following now hovers somewhere around the 14 million mark. So, needless to say, they've got some in-depth knowledge on the best vacation destinations around the globe. 
In fact, the Jaunceys have even partnered with Orelebar Brown on a trio of swimsuits that bring their favorite destinations to life—and directly to your next dip in the ocean. "Beautiful Destinations curates wonderful imagery and content and OB creates the perfect products to enjoy these stunning locations—it was a complete natural fit for both brands to work together," said Orelebar Brown founder Adam Brown.
Here, the Jeremy Jauncey breaks down the five destinations you need to visit this summer—including the restaurants to visit, the hotels to stay in and, of course, the spots you must Instagram from.
Malta
What's so special about this destination?
Malta provides the perfect mix of history and vibrant nightlife, so you can soak in culture during the day and party in style at night. Lamp lit by night and referred to as "the silent city," Mdina is said to be a former residence of the Apostle St. Paul and is filled with medieval and baroque architecture dating back 4,000 years.
Ideal itinerary?
For those looking to live their Game of Thrones fantasy, grab a selfie at the Wied il-Mielah rock formation, which is growing in popularity since the collapse of Azure Window, featured on the show. Shadow Lounge and Level 22 will keep partygoers out until morning when you can witness a beautiful sunrise on the Golden Bay.
Must-stay hotel?
Corinthia Hotel St George's Bay.
Where to eat?
Order the Pappardelle Veal Ragout at The Harbour Club before heading to St. Julian's, the main hub for nightlife on the island.
Best Instagram opportunities?
Epic shots of cliff diving! Malta is a cliff-diver's dream with lagoons, bridges and even castles you can jump off from great heights.
Must-pack item?
Sturdy beach shoes, as you will find rocks and stones at the beach.
Macao
What's so special about this destination?
Originally settled by the Portuguese in the 16th century, there are Portuguese influences throughout the city's architecture and local cuisine. Macao is host to more than 20 ancient monuments known as "The Historic Center of Macao," inscribed on UNESCO's World Heritage List in 2005.
Ideal itinerary?
Visitors can spend their days exploring the Ruins of St Paul's, Coloane and Taipa Villages and Mount Fortress before hitting up lavish casinos around the city.
Must-stay hotel?
The new $2.9 billion Parisian Macao is a must-visit, with its own half-scale Eiffel Tower. Card sharks are eagerly awaiting the opening of MGM Cotai later this year.
Where to eat?
Head to Antonio's Restaurant and order the tenderloin steak, Portuguese-style. Local cuisine in the destination is known as "Macanese."
Most memorable experience?
Jumping off the Macao Tower was the most adrenaline-pumping experience I've ever had.
Best Instagram opportunities?
The diverse ancient temples and fortresses, plus the Suzhou and Southern European-inspired gardens and lavish hotels.
Must-pack item?
Local establishments may enforce a dress code in the evening, so pack at least one formal outfit.
Moorea
What's so special about this destination?
With eight mountain peaks rising from the lagoon, Moorea is one of the most scenic islands in French Polynesia. The island is roughly shaped like a heart from above, so it's very fitting that Moorea is one of the area's top honeymoon destinations. The island is easily accessible by ferry or plane, located only ten nautical miles from Tahiti.
Ideal itinerary?
The snorkeling, ray feeding and whale watching here is some of the best in the world, thanks to the transparent lagoons and amazing coral reefs.
Must-stay hotel?
The over-water bungalows at Hilton Moorea.
Where to eat?
Te Honu Iti, (which means The Little Turtle) has a classic French menu. Order the lobster and watch sharks and stingrays swim around the edge of the restaurant.
Most memorable experience?
Swimming with sharks and stingrays here produced some of our proudest drone imagery to date, which was an easy pick for Tom's shorts in our Orlebar Brown collection. It was a very special trip, as we got to bring our Mum with us.
Best Instagram opportunities?
Volcanic mountains, water villas, crystal clear waters filled with wildlife and seemingly endless pineapple plantations.
Must-pack item?
Your favorite swim shorts, as you'll spend most of your time in water!
Miami
What's so special about this destination?
With internationally renowned beaches, art, shopping, food and nightlife, Miami has it all. SoBe, the American Riviera, the Art Deco Playground, are all names given to the undisputed party capital of Miami, South Beach.
Ideal itinerary?
Ocean Drive is a must-visit for food, offering a beachfront melting pot of cultures. Collins Avenue, the upscale, cosmopolitan shopping district that boasts some of the best retail experiences in America, is the place in Miami to indulge in all things fashion.
Must-stay hotel?
Soho Beach House.
What to eat?
Gianni's at the Villa sits in the former Versace Mansion. Known for its blend of Mediterranean and Italian cuisine, you must order the burrata and gnocchi.
Most memorable experience?
New Year's Eve three years ago was the simultaneous highlight and retirement of my pool party days, so a much more low-key sunbathe is what I like to do when I visit now.

Best Instagram opportunities?
Wide stretches of beach, extravagant clubs, brightly-colored Art Deco buildings and backdrops of famous movies such as Scarface and Birdcage. The bright colors in our Orlebar Brown Miami shorts perfectly encompass the energy and aesthetic of the destination.
Bali
What's so special about this destination?
Bali's rich culture, amazing sights and friendly locals provide a tropical state of mind. It's no surprise that it's one of the world's most popular island destinations with picturesque backdrops of volcanic hillsides, mountains, beaches and rice terraces. I'm so happy we're able to feature the destination on my shorts in our Orlebar Brown collection.
Ideal itinerary?
Book a tour of the Tegalalang Rice Terrace in Ubud. Most tours visit other popular attractions, including Monkey Forest, Tirta Empul and Kintamani.
Must-stay hotel?
Four Seasons Resort Bali.
What to eat?
Dine in a private cocoon with views of the river at Kubu at Mandapa and order the Essential Degustation menu with wine pairing.
Best Instagram opportunities?
Beautiful rice fields, serene hotels surrounded by nature, the lively Monkey Forest and hidden island gems such as Nusa Penida.
Must-pack item?
More conservative clothing than beachwear for visiting temples and sacred spots. You should cover your knees and shoulders.