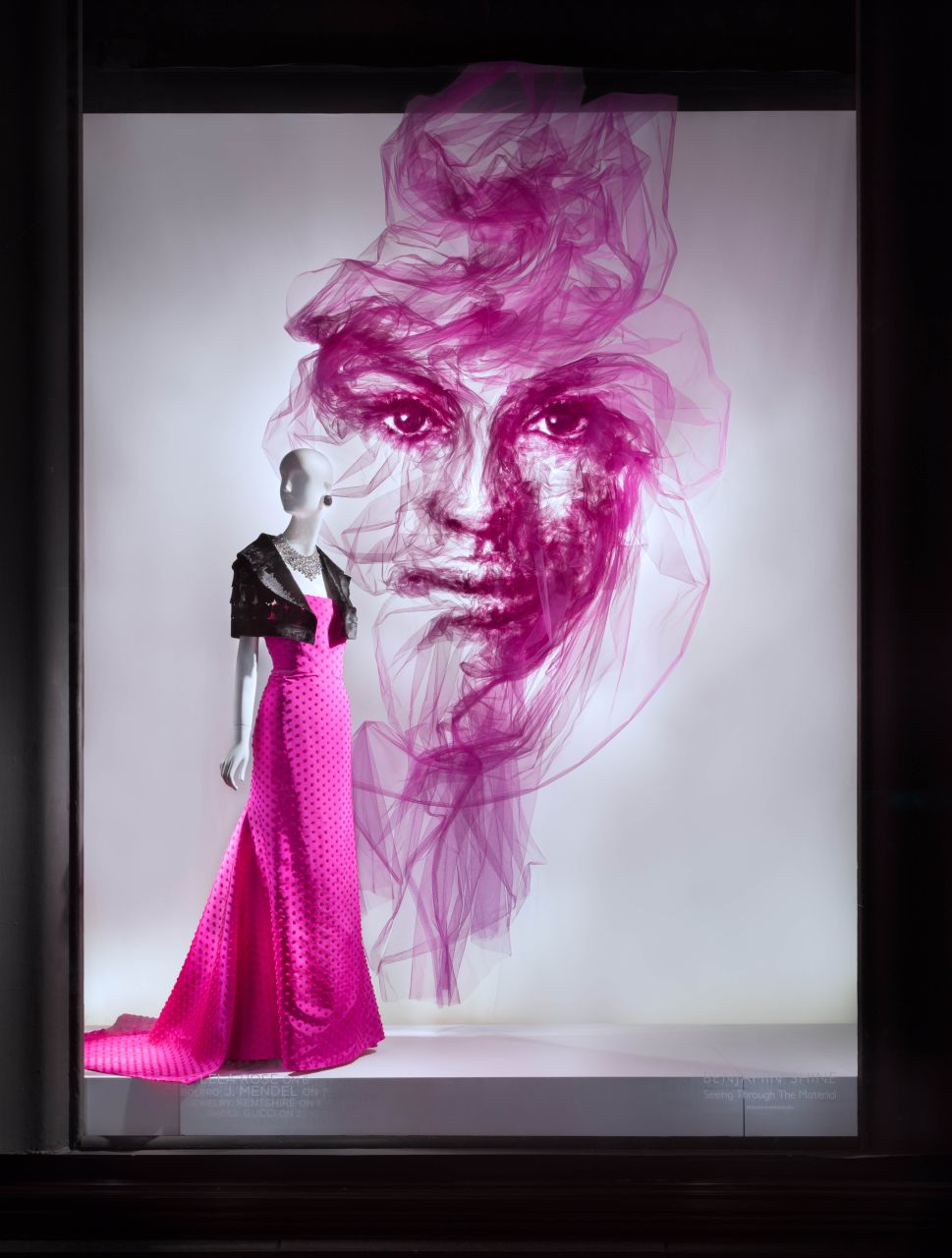 Linda Fargo, Bergdorf Goodman's leading lady, doesn't always share Instagram posts of the store's impeccable windows. But when she does, it's a big deal.
Her latest post read: "This was created with ONE length of ghostly tulle by a great artist @benjaminshinestudio DRAWING with fabric from memory! No photos. No technology. Impressed?? You should be! Quick! Come see for yourself." No further convincing was necessary, upon seeing the image of an otherworldly face, floating alongside a shocking pink Valentino dress.
Fashion followers who breathlessly click through runway images of the couture shows in Paris might already be familiar with Benjamin Shine's work. In fact, they might even be familiar with his name, as one of his intricate tulle faces adorned a white jacket in Maison Margiela's Artisanal Collection this past January. With striking cheekbones and smoky eyes, this black and white architectural piece (famously known as the Face Coat) was easily touted as the best piece in the collection.
"Working with John Galliano on that project was like a dream come true. He was wonderful. He gave me real free reign to basically create that piece as if it was one of the artworks I was doing," Shine explained to the Observer, over iced tea in Bergdorf Goodman's downstairs cafe. True fashion fiends might even remember that Shine's first fashion collab was with Givenchy's Riccardo Tisci, back in 2012, on a series of sweatshirts embellished with tulle icons of the Madonna and Madonna and Child.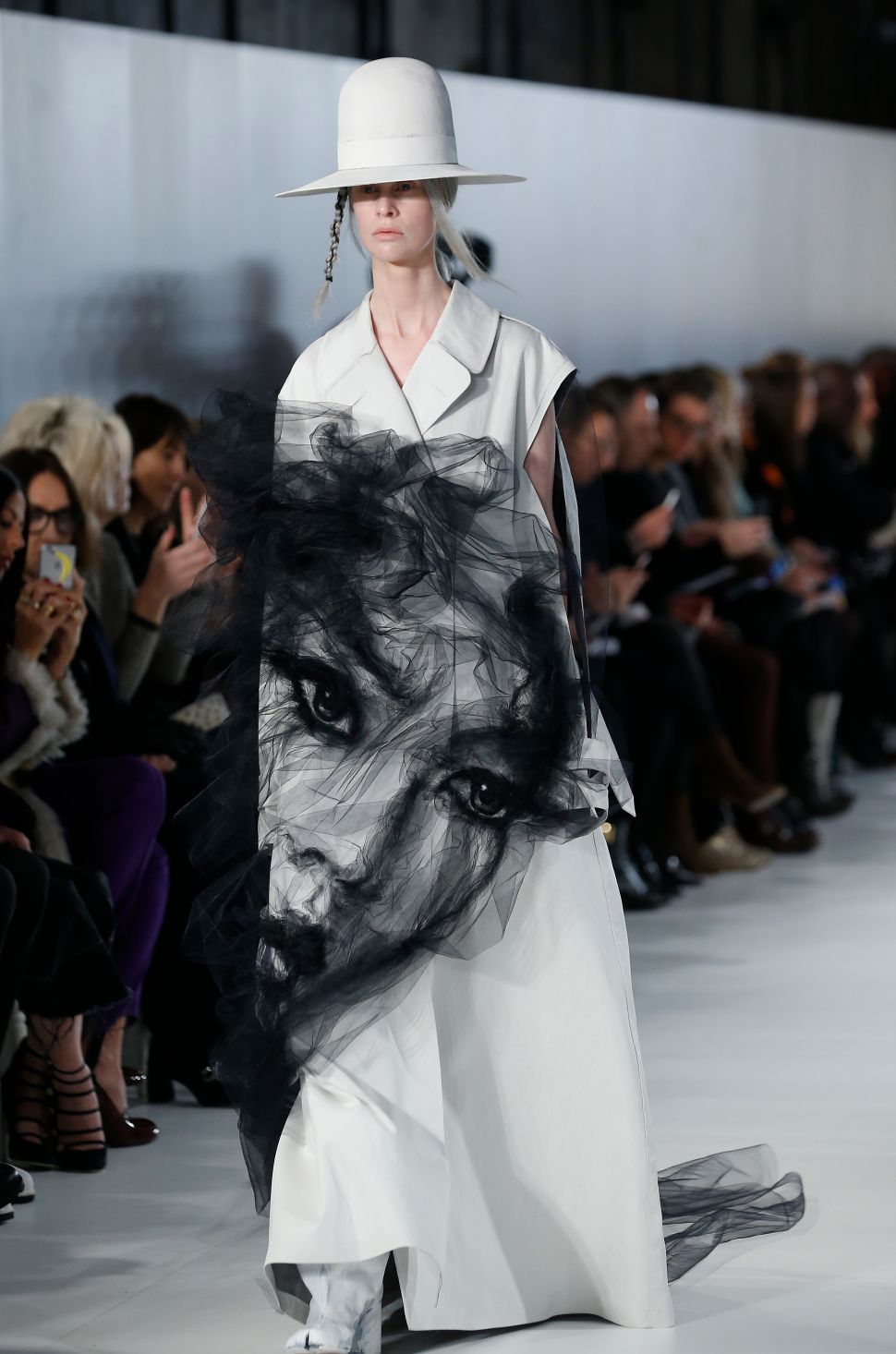 Shine crafts each of his portraits by hand, out of nearly 20 yards of tulle. "I use thousands and thousands of individual needles and threads to put them together. It's a bit like making a tapestry," he explained. His only other tool is an iron, which he uses to press intricate pleats and shape fine details. As such, each of these laborious pieces take about 40 to 50 hours to create. The pink face that Fargo Instagrammed was the most intricate of this series, taking Shine about 100 hours to complete in his London studio. She—as Shine refers to his anthropomorphic creations—is the only one of the five faces with her eyes open. He noted that the eyes tack hours onto the pleating and sewing process, but as the central vitrine of the storefront, her face certainly stands out.
But why does this hot pink face peer out on Fifth Avenue, while the others faces repose?
"[It's to] evoke the idea that there's a moment of awakening or realization," Shine told the Observer. "It's about trying to find order within chaos, which is kind of like everyday life. Trying to find that moment of clarity, peace, everything makes sense, everything's coming to you, and it's clear."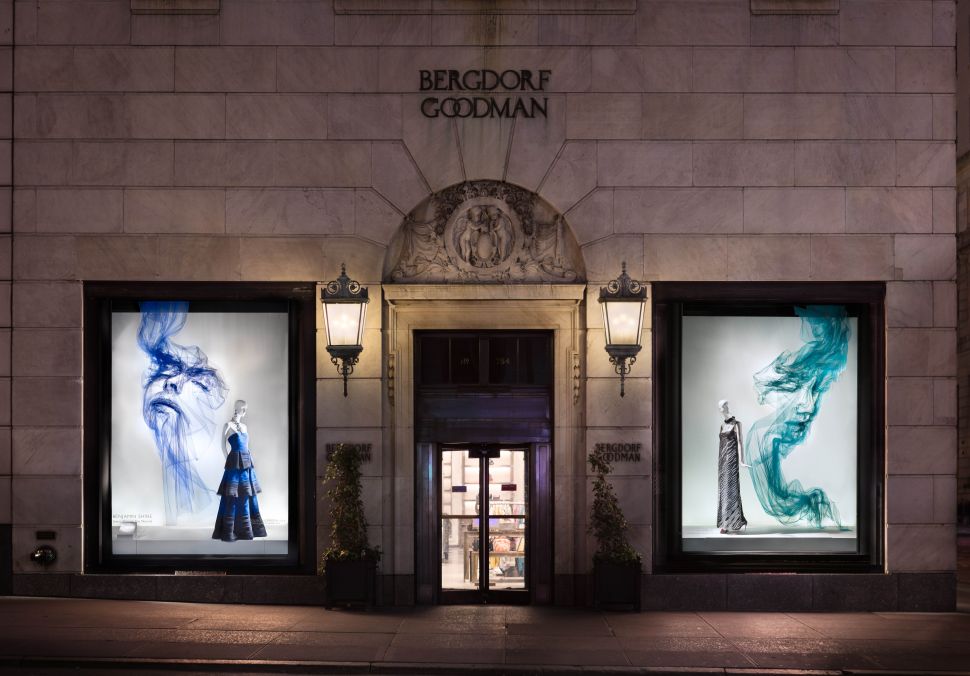 Contemplation on this level isn't often found within the hallowed halls of the shopping mecca. Usually, it's shoppers wondering if they should buy Manolo Blahnik stilettos or Gucci loafers (or both). But Shine wants Bergdorf regulars and passing tourists to consider deeper thoughts than just material acquisition.
"This is a high end luxury store, where your immediate first thought is 'what are the products that I'm going to be bettering myself with, by buying?' And then, at the same time, you see my work which is a bit more self-reflective. It references and resembles a spiritual sensation, really," he explained. It's rather ironic, considering Shine comes from a fashion background. He studied fashion design at Central St Martins in London, but found his calling after quite a few strolls past Brick Lane's many fabric shops. The multi-colored tulles spoke to him, but he wasn't sure what exactly he could do with the light and airy fabrics.
"A number of years later, I found myself playing around with some tulle on my studio floor and saw that it was pleated. I could just imagine those pleats becoming something recognizable," he explained. He really tested his skills on his first project: recreating one of Rembrandt's self portraits. The project took him nearly two months to complete, as it was so unbelievably detailed and he didn't have his technique down. But over time, Shine perfected his craft and can now create these portraits in a fraction of the time. He's since been hired for a number of commercial gigs, such as a shopping mall in Australia, plus projects for Google, Coca-Cola, Barnes & Noble and more.
Shine is currently based in New York for a three-month residency, so keep an eye out for some more of his ethereal faces, popping up around the city.
Head to Bergdorf Goodman to catch Seeing Through The Material until Thursday, August 3.