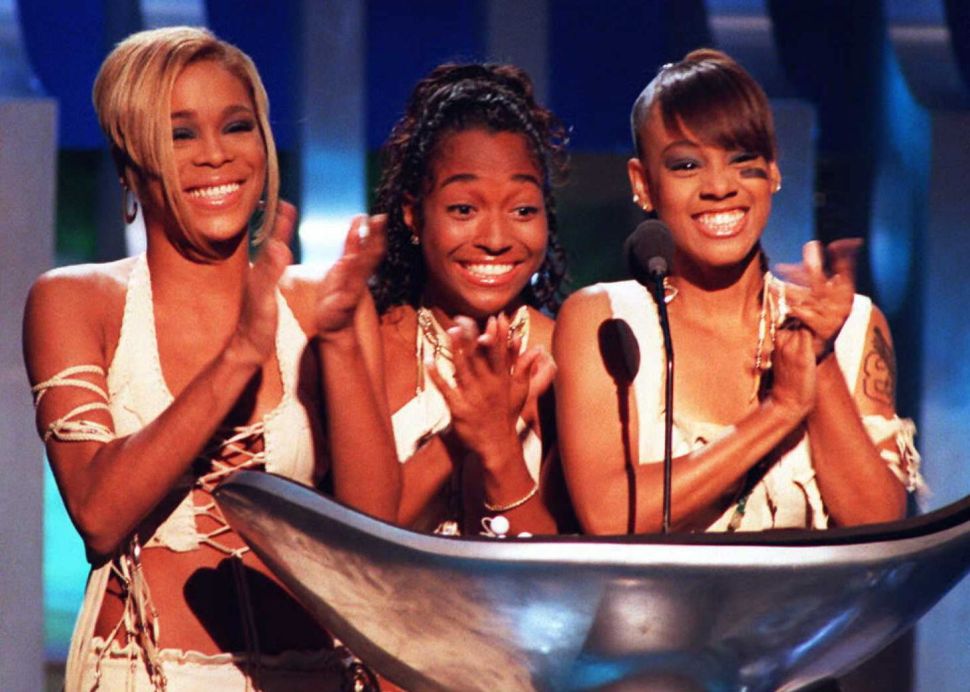 The 1990s were a great time to be a music fan. There has never been a decade in which so many diverse styles of music competed for the top of the charts. For example, in mid-1992, top quality albums by Garth Brooks, Billy Ray Cyrus, The Red Hot Chili Peppers, TLC, Guns N' Roses and Mariah Carey could all be seen competing on the upper tiers of Billboard's album chart during the same week.
Hip-hop spread from urban communities and exploded into the mainstream. Dance music once only heard in gay clubs was soon embraced by the majority. And what started off as "alternative music" in 1991 was selling out stadiums at the end of the decade. By 1999, all the different styles of music that were once "underground" rose up and conquered.
Because of the diversity and changes, it's a daunting task to make a list of the best albums of the decade. The albums featured on this list are not only excellent quality; they reflect their changing times and have had a lasting impact.
10) Bjork, Debut (1993)
By summer 1993, dance music was taking hold on the airwaves, second to only hip-hop and alternative rock. Bjork proved to be ahead of the times with her electronica-influenced album Debut. The album was so different that critics just labeled it as an "alternative" album. Songs such as "Human Behavior" and "Big Time Sensuality" predicted the late-1990s electronica sound that became mainstream.
9) Madonna, Ray of Light (1998)
It's very rare that an artist, especially one that was written off as "over with" earlier in the decade at least 1,00 times, can deliver the most critically acclaimed album of their career 15 years after they debuted. Madonna certainly deserved all the acclaim. Ray of Light was a risk-taking album that helped define mainstream electronic dance music. While hits such as "Frozen" and the title track received the most recognition, gritty tracks such as "Mer Girl" separated Madonna from the other female pop stars she was so often compared to.
8) TLC, CrazySexyCool (1994)
When TLC first debuted in 1992, many thought they were nothing but a bubblegum hip-hop group that would travel downhill like Kris Kross. But 1994's CrazySexyCool proved sceptics wrong and became one of the best-selling and most important hip-hop albums of all time. "Creep," the first single, became a theme for infidelity, and "Waterfalls," the No. 1 single from summer 1995, is one of the most important socially conscious singles ever made.
7) U2, Achtung Baby (1991)
When "The Fly," the first single from Achtung Baby, flopped, people thought U2 was heading into irrelevance. Not so fast! "Mysterious Ways," perhaps one of the best songs of the 1990s, zoomed into the top 10 in early 1992, and the Zoo TV World Tour cemented the album's success. The album's psychedelic sound helped it spread not only onto rock stations but in dance clubs as well. While 1987's The Joshua Tree is still considered U2's best, Achtung Baby is certainly their most creative.
6) REM, Monster (1994)
While early 1990s albums Out of Time and Automatic for the People received more critical acclaim, it was 1994's No. 1 album Monster that rocked the boat. The album was a departure for REM in that the band experimented with pure rock reminiscent of the 1970s, and, in some cases, even showed traces of heavy metal. The Dan Rather-inspired first single "What's the Frequency Kenneth?" hit No. 1 on Billboard's Modern Rock Tracks chart. REM followed the release with the Monster World Tour, the band's first since 1989.
5) Dr. Dre, The Chronic (1992)
The Chronic was released at the very end of 1992 and marked the point where hip-hop and what was referred to as "gangster rap" finally went mainstream. The first single "Nothin' But a G Thang," with Snoop Dogg, hit No. 2 on Billboard's Hot 100, and by the spring of 1993, rich white kids in suburbs all over the U.S. were emulating Dr. Dre and Snoop's style. Critics targeted Dr. Dre for his allegedly sexist lyrics, but controversy helped the album sell more copies.
4) Eminem, The Slim Shady LP (1999) 
Eminem proved he was no Vanilla Ice and broke ground in that he was the first major white rapper that was embraced by the hip-hop community. It helped that the album was produced by Dr. Dre, but Eminem's clever lyrics and clown gangsta style drew him a large audience. Although the album's most popular track "My Name Is" only initially peaked at No. 36 on Billboard's Hot 100, it has since become one of the most popular rap songs of all time. It also inspired the extremely politically incorrect (but popular) parody "Slim Anus" by the Insane Clown Posse.
3) Beck, Odelay (1996)
Odelay was Beck's second and most successful (2X platinum, U.S.) studio album. By 1996, Beck was already established as one of the most critically acclaimed alternative rock artists, but Odelay blew the top off this lid and remains one of the last "alternative rock" albums before Alanis Morisette (see below) helped take the category away. Odelay was nominated for Album of the Year at the Grammy Awards and won for Best Alternative Music Album.
2) Nirvana, Nevermind (1991) 
Nevermind is often considered the pivotal grunge record that ushered in the era of what would be known as "alternative rock." The album sold 30 million copies worldwide and led to groups such as Arcade Fire and Radiohead. Everybody who was older than 10 knows where they were when they first heard "Smells Like Teen Spirit," and the video, which won several MTV VMAs in 1992, was almost as important as the song.
Nevermind would go on to produce other memorable singles such as "Come as You Are" and "Lithium." According to Rolling Stone, Kirk Cobain was initially embarrassed by the final mix of Nevermind. He certainly changed his mind once album sales went through the roof.
1) Alanis Morisette, Jagged Little Pill (1995) 
To some, seeing Jagged Little Pill on a list ahead of Nevermind is a musical sin. After all, if Nirvana ushered in the era of alternative music, Alanis Morisette "ruined" it, according to some. There's a bad aftertaste to Jagged Little Pill for grunge purists and that has nothing to do with the quality of the album, which outsold Nevermind both in the United States (16 million copies sold) and internationally (33 million copies).
Jagged Little Pill, which had a run of successful singles lasting almost two years, became such a pop culture milestone that it became an easy target. Jagged Little Pill dealt with female angst long before it was considered cool to do so. Songs such as "You Oughta Know" "Forgiven," and "Hand in My Pocket" empowered a generation of women while providing an outlet for their anger at patriarchal repression. This mid-1990s masterpiece is the most successful international debut album of all time. It's also the best album that a female artist has ever recorded.