Welcome to our weekly comics column, Near Mint, where media guru Johnnie Martin discusses all the KaPOW that's fit to print. This Week: The best comics for July, 2017.
Harley Quinn #23 & #24
Amanda Conner, Jimmy Palmiotti, Paul Dini, John Timms and Bret Blevins
Score: 7.6
Harley takes her half-goat-half-human boyfriend to meet the parents for dinner on a yacht, but their nautical banquet is interrupted by a timely heist helmed by C-list villains Clock King and Sportmaster. Harl tries her hand at heroism with some help from her criminally inclined parentals, and there are some fun moments to be had involving a teleportation device lodged in Clock King's rectum. Husband and wife creative duo Conner and Palmiotti go for the emotional jugular with relationship building pages devoted to Harley and her mom, but I would have skipped out on a few of those panels to see more of Sportsmasters' goofy athletic weaponry. A back-up retro story sees Harley going head-to-head with the contractor who designed her secret hideout: Harley's racked up millions in debt for the swankiest pad and is in no mood to pay. The real estate premise gets points for originality, and Goat Boy recalls Tank Girl's furry marsupial beau, Booga. Plain old pulpy good fun.
Batman '66 Meets the Legion of Superheroes
Lee, Mike and Laura Allred
Score: 8.6
Perhaps the only thing that could make the TV Batman of the 1960s more bonkers is actual superpowers, and the futuristic teeny boppers from the Legion of Superheroes have those in wacky spades. Chameleon Boy morphs into a steel wall, Saturn Girl hypnotizes Alfred, and Robin smashes his head against the Batcave ceiling while struggling to master the Legion's trademark flight rings. Their mission? To track down villains Egghead and Universo, both of whom are dead ringers for horror actor Vincent Price. The groovy tone is well fit for the Allred family creative team's strange predilections; one page devolves into a Candy Land-style board game. This throwback also delivers something often craved in modern comics—a substantial stand-alone issue. Sight gags abound, but if you're after some emotional gravitas, you shouldn't expect to find it in this bat-time or on this bat-channel.
Iceman #3
Sina Grace and Alessandro Vitti
Score: 8.8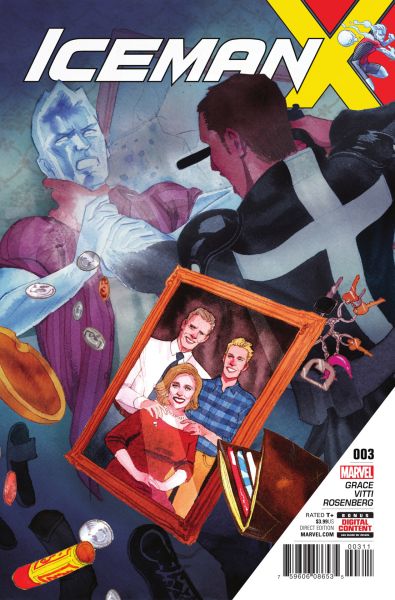 The greatest triumph of the new 3rd issue of Iceman is a small row of text boxes on the first page. Recently outed as a gay dude, Bobby Drake tries to "beat the grapevine" and tell his superhero friends he's gay before they hear it from someone else. We receive a collage of responses from familiar voices. "Flame ON! Literally, haha!" texts the Human Torch. "Huh…You think your fashion sense would tingle a little harder," quips Spider-Man. Two insensitive blurbs from two straight guys. But as I read these words standing outside the comic book store last night, a tear caught my eye. I was reminded of times when I came out. Reminded of the good friends who maybe didn't quite understand but wanted to be there for me. It was stunning to see, in this believable moment of casual support, that my childhood heroes were among those friends. Comics have a long way to go towards queer acceptance, but in the hands of writer Sina Grace, I'm excited to see that journey.  
America #5
Gabby Rivera, Kelly Thompson and Ramon Villalobos
Score: 9.1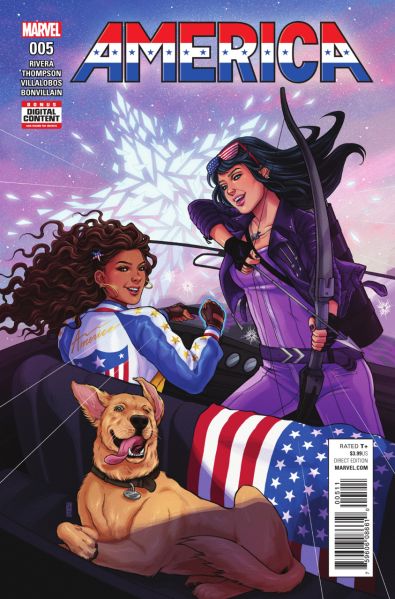 Issue #5 of gay girl superhero jaunt, America runs fast and loose with several motifs from feminist film-making. A desert road trip premise feels right out of Thelma and Louise. Thick dialogue boxes recall Gilmore Girls-style banter and convert the requisite twenty pages into a lengthy read. Novelist Gabby Rivera, a newcomer to Marvel, seems less pressured by the comics-to-movies-pipeline that often favors storyboard paneling with skimpy dialogue. The amount of text here is refreshing. There are two possible Carly Rae Jepsen references in this issue, and colorist Tamra Bonvillain's sunset palette gives America lighting that's right out of one of Jepsen's music videos. It's a perfect fit for this girl's trip, which concludes with a decent cliffhanger that might make less savvy readers worried for the book's future.
Calexit #1
Matteo Pizzolo and Amanca Nahuelpan
Score: 9.5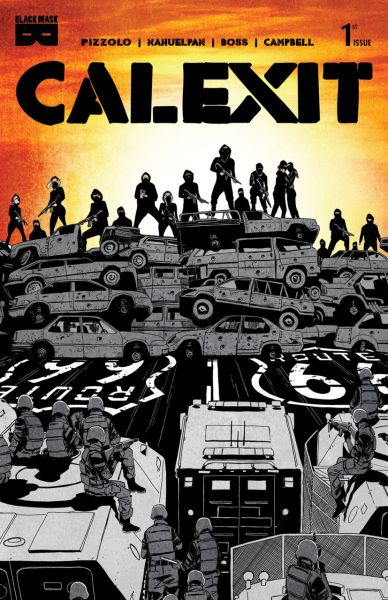 For those of you outside the sunshine state, a #CalExit would mean California's exit from the union. While the first issue of this speculative comic is more brutal than I'd like to imagine a California secession, the organizers who currently helming the real-life movement found writer Matteo Pizzolo's interpretation to be fairly accurate. Instead of a clean break from the lower 48, Calexit's California divides between liberal urban areas and the conservative rural zones that voted for a Cheeto to be president. Ironically, the Donald won after the first issue's completion. Instead of full out war, the Trump administration of Calexit enacts horror through bureaucracy—a girl adopted from California is forcefully excommunicated from her American parents. It's all fairly believable. Calexit seems to be taking a note from Image title Bitch Planet. Both books have several back pages dedicated to earnest IRL political writing, creating a platform to discuss the actual events, which these days seem stranger than fiction.