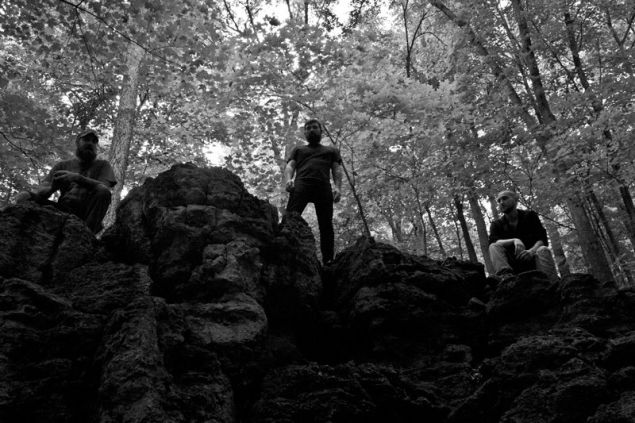 As we speed past 2017's halfway point, let's quickly recap: the world is a dumpster fire and this year has been a shit-storm of ginormous proportions. However, 2017 has this much going for it: it's been a banner year for the broad spectrum of metal. A mere six months in and this list of the ten best metal albums could have easily mushroomed to twenty-something. But we'll save doom, stoner and avant-metal gems like Pallbearer's Heartless, Oxbow's The Thin Black Duke, Mastodon's Emperor of Sand, and self-titled sets from Obituary, Succumb and Weeping Sores, Sacred by The Obsessed, and The Garden of Earthly Delights by John Zorn's Simulacrum—to name a few—for what promises to be an epic best-of year-end list. For now, dig into these outstanding releases culled from the metal cauldron.
10) Toby Driver, Madonnawhore (The Flenser)
Bassist Toby Driver has been at the forefront of Brooklyn's underground metal and experimental scene for years, leading avant-goth outfit Kayo Dot, and logging time in Bloodmist. After the synth-fueled noir of Kayo Dot's last two records (Plastic House on Base of Sky and Coffins on Io), Driver has dialed down the elegantly weird progressive rock stylings in favor of some simplistic fingerpicking. This solo album, titled Madonnawhore, is an understated, afterhours set that maintains Kayo Dot's shadowy ambience but is stripped of its wasteland-journeying weird grooves.
9) Artificial Brain, Infrared Horizon (Profound Lore)
The futuristic-leaning sonic ferocity that Long Island death metal shape-shifters Artificial Brain craft on Infrared Horizon is a mind-meld of brutal measures. A ten-song, industrial-strength epic, it is designed to snap necks. Tracks are serrated and twisted by twin-guitar ambient interludes in this robot and cyborg-obsessed, space-metal beast. Over this sound, vocalist Will Smith coughs up a blood-throated racket. Infrared Horizon is a delirious journey into the dystopian unknown, masterfully soundtracked by Artificial Brain.
8) Endon, Through the Mirror (Hydra Head)
Purveyors of catastrophic noise-metal for ten years strong, these Japanoise-mongers lay an ecstatic assault on the senses on Through the Mirror. Bone-crushing extreme metal and an industrial thrashing careen head on with Branca-esque symphonic dissonance and demonic bellowing. Endon goes for the jugular.
7) Luminous Vault, Charismata EP (Profound Lore)
Extreme-music composer Mario Diaz de Leon has been working on the fringes of drone, noise, electronics and contemporary classical in boundary-crossing groups like Bloodmist and Oneirogen (his own one-man-band). But the Charismata EP by Luminous Vault may be his most sonically menacing trek. As they did on 2015's Communion, Luminous Vault let loose with a drum machine-pounding industrial black metal hell—one that drips with ear-wrenching electronics, symphonic metal-scratching, crunchy guitars and bloodthirsty barks.
[bandcamp width=100% height=120 album=3996424620 size=large bgcol=ffffff linkcol=0687f5 tracklist=false artwork=small track=3861242331]
6) Cinema Cinema, Man Bites Dog (Dullest/Labelship)
The blistering punk-metal onslaught of Cinema Cinema has sometimes sent audiences filing for the exits due to their sheer volume. For their latest slab, the duo of guitarist and screamer Ev Gold and drummer Paul Claro have joined forces once again with super-producer Martin Bisi (Sonic Youth, Swans, Helmet, Unsane) on riff-heavy monster, Man Bites Dog. An aggro-metal punch to the gut of proggy whiplash, old-school punk rock fury and downtown jazz skronk, Man Bites Dog is batshit-crazy.
5) GRID, GRID (NNA Tapes)
The primitive rumble that GRID—comprised of sax shredder Matt Nelson of Battle Trance, Tim Dahl of Child Abuse, and drummer Nick Podgurski—belch out on their self-titled debut is a scorched-earth brew of doom metal and free jazz. With its hypnotic Sunn O)))-like death-drone and a firestorm of cymbal and snare crashes, GRID's cacophonous wasteland is the sound of the world imploding.
[bandcamp width=100% height=120 album=2776226345 size=large bgcol=ffffff linkcol=0687f5 tracklist=false artwork=small track=106555781]
4) Brandon Seabrook, Die Trommel Fatale (New Atlantis)
Freak-fingered speed demon Brandon Seabrook is an eviscerating overlord of metal, jazz and prog. It's been a few years since Seabrook's solo joint (2014's Sylphid Vitalizers), but he's finally following that banjo terror-trip with his most bonkers work yet. Die Trommel Fatale is an ambitious sprawl that features a two-drummer attack, cello, electronics, voice and upright bass. A classical music-damaged, prog-metal opera of sorts, Seabrook and his large ensemble—Marika Hughes (cello), Chuck Bettis (vocals/electronics), Eivind Opsvik (bass), and drummers Sam Ospovat and Dave Treut—have created a densely layered labyrinth that requires multiple listens to absorb its mind-numbing riffs, operatic wails and cymbals-less beats.
https://www.youtube.com/watch?v=sr2BvgLz5S0
3) Kelly Moran, Bloodroot (Telegraph Harp)
Virtuosic pianist and composer Kelly Moran has emerged as a top freethinking electro-acoustic voice in Brooklyn's experimental scene. On the ghostly yet melodious Bloodroot she crafts a majestic blend of black metal, classical and electronic music. Moran sculpts coiled and heartrending cinematic beauty from her piano keys, and an intense noise from also poking, scraping and plucking the piano's inner strings with a hodgepodge of metallic contraptions. Think Krallice under the influence of John Cage.
2) John Frum, A Stirring in the Noos (Relapse)
The surgical-like precision with which John Frum—a supergroup of sorts featuring luminaries culled from Dillinger Escape Plan, The Faceless, Cleric and the stable of John Zorn—deconstruct death and technical metal is a fantastical journey into the sonic otherworld. A Stirring in the Noos, John Frum's debut, is a stunning clinic in proficiency. The maelstrom of start and stop complexities is a menacing, meticulous blast of tech wizardry.
1) Aseethe, Hopes of Failure (Thrill Jockey)
The apocalyptic, heavier-than-thou dirges Iowa doom metal titans Aseethe lumber through on Hopes of Failure, their Thrill Jockey Records debut, is a sprawling downer of a record. Laden with heavy, bludgeoning riffage, it nods to both the Melvins and their TJ label-mates The Body. Aseethe bathe their slow-churning riffs in a glorious sludge of buzzsawing droning and plodding repetition. It's as nightmarish as it is hypnotic.