Brigitte Macron sealed her fashion fate the day her husband, Emmanuel Macron, was inaugurated as France's president. Clad in a cornflower blue Louis Vuitton suit, the first lady chose a double breasted jacket with bold silver buttons and layered it over a matching dress. Her shapely gams were on display, enhanced only by a pair of simple nude pumps that must have been at least four inches high. In just one outfit she projected the message that she likes fashion, she knows designers and that she's not afraid to wear something daring.
Since she became the first lady this past May, Macron has been able to shift the script (and the public's fixation) from the fact that she's 24 years older than her husband. And she's done all that by debuting her own signature style, one that works well for a schedule that's packed with public appearances and official events.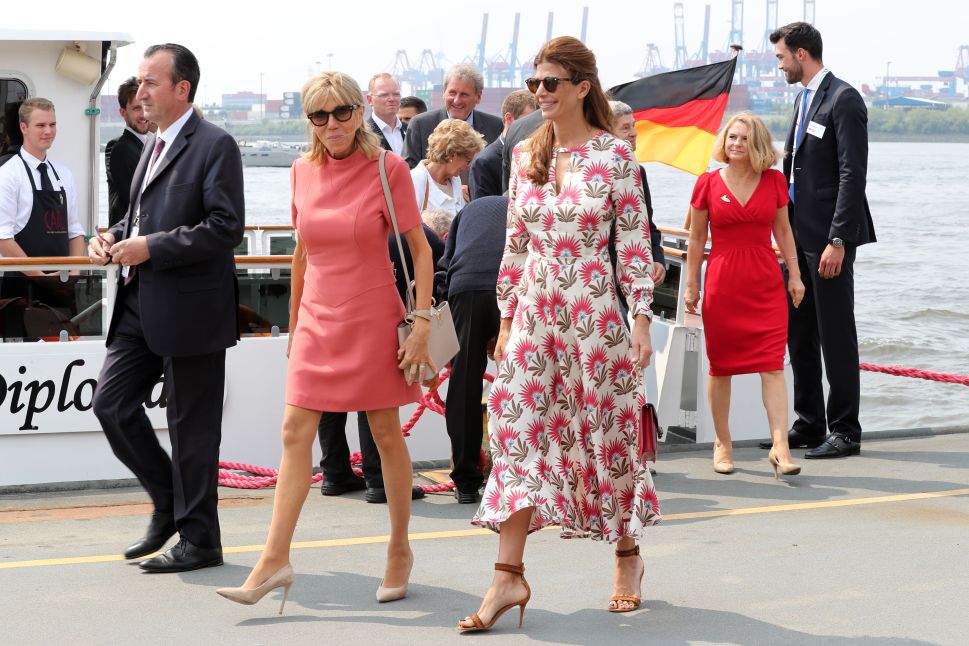 One half of that public uniform is her embrace of mini dresses. It appears that the first lady prefers something with a cap sleeve in a bold color, like at the G20 summit last week when she donned a short coral frock from Louis Vuitton with a mock neck which goes for $2,440—along with her trusty nude heels. She has worn dresses in similar silhouettes, once in white and then a $2,960 drop-waist version in black, also from her favorite brand, Louis Vuitton.
Remember how Michelle Obama's arms were once the subject of public fascination and the focal point of many workout classes? Well, Macron's legs have undergone the same limb-obsessed treatment. Just yesterday Vogue referred to them as "jaw-dropping" and claimed that "her willowy stems maintained a scene-stealing presence."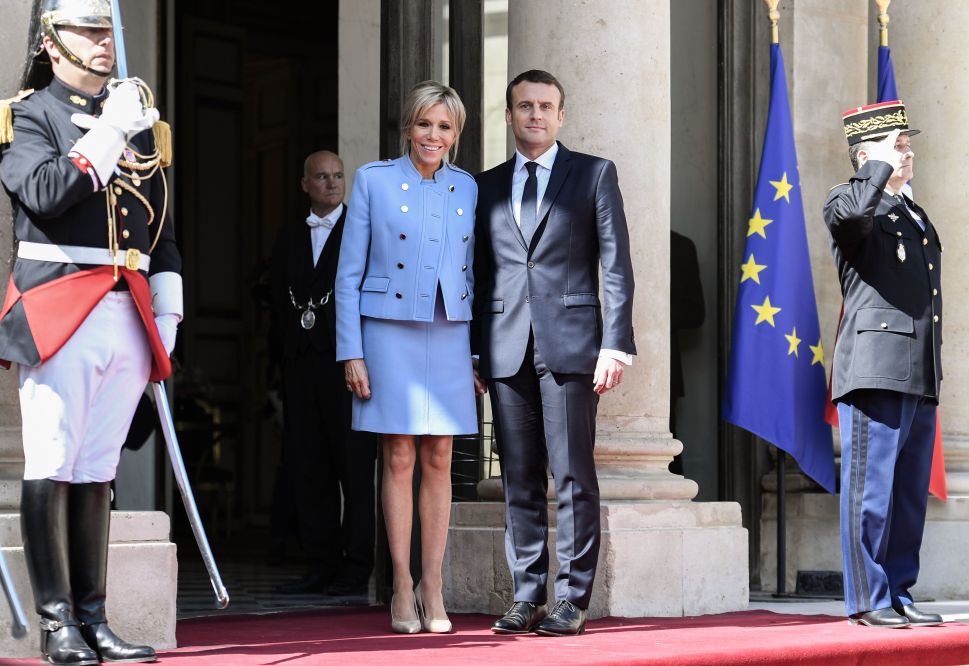 But when she's not showing off her enviable physique in a frock, Macron tends to envelope her frame in a big blazer. There was the crimson double breasted version from cool couturier, Alexandre Vauthier, at the launch of an autism diagnoses and treatment program; during Couture Week she donned an edgy Louis Vuitton blazer in grey, with straps that criss-crossed her midsection (never mind that she was attending Dior's fashion show); and an oversized white jacket, with the sleeves casually rolled up, for a celebration of Lyon's football team.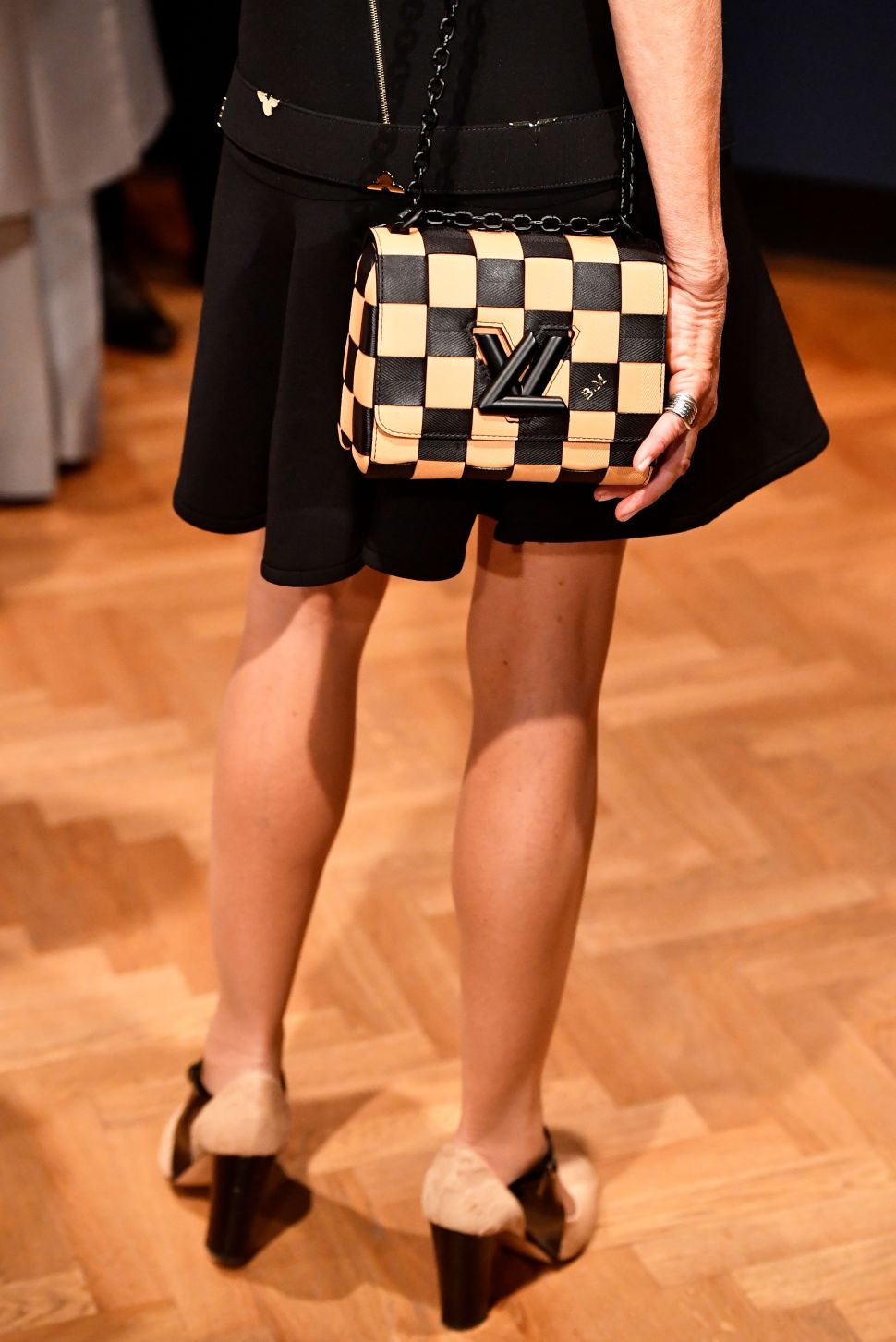 Unsurprisingly, Macron's favorite handbag designer is also Louis Vuitton. With a penchant for teeny totes, she's been photographed cradling quite a few Nicolas Ghesquière creations in the crook of her elbow. That includes the black pebbled version she brought to the G20 Summit and the checkered top handle purse she carried during a visit to the National Museum of Contemporary Arts of Rabat in Morocco. She also has a cross-body checkered bag from the brand that appears to be inscribed with her initials.
However, Macron is down to earth, in that she isn't averse to repeating some of her favorite pieces. She first donned that aforementioned grey Louis Vuitton blazer to visit the polling stations in April and re-wore her blue inauguration gown to attend a concert at the Philharmonie de Paris. All that goes to prove that Macron is a fitting fashion icon for all of France. While American women of all sorts continue to drool over French girl style and fashion, they need to look no further than the first lady to understand it.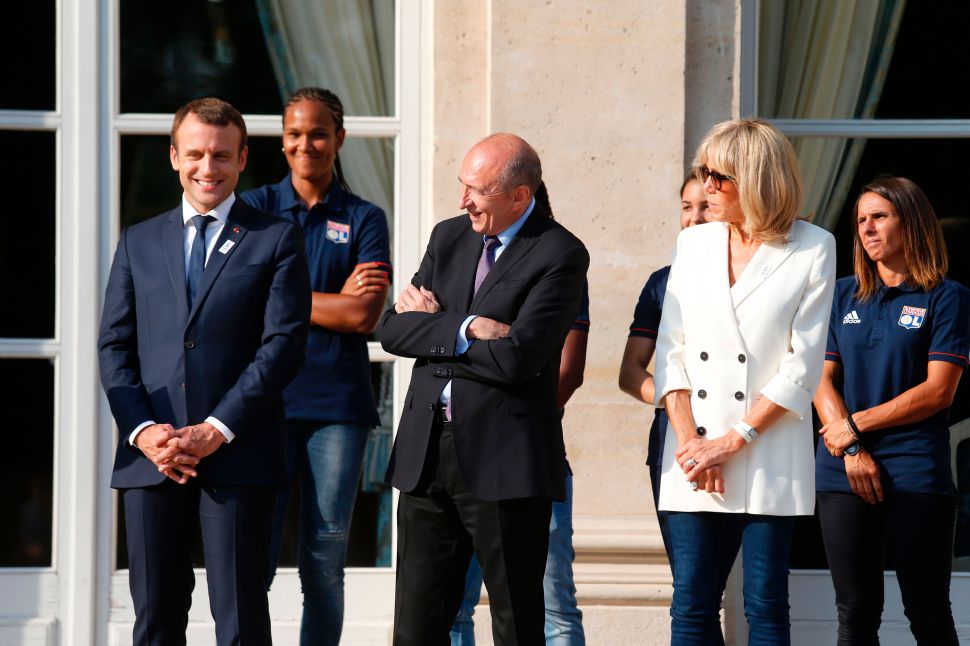 She defies all stereotypes that women of a certain age should dress a certain way—because she certainly does not dress like other 64 year olds. But she always looks polished, pulled together and like herself. Macron clearly appreciates nice designer brands, but isn't afraid to make the most out of her pricey purchases. That, right there, is #goals.