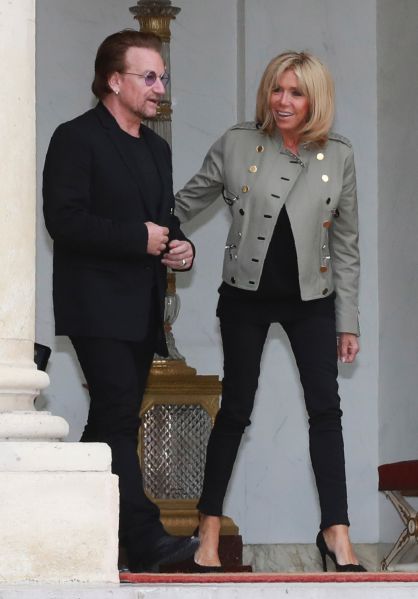 Brigitte Macron met U2's Bono at the Élysée Palace in Paris on Monday, and it appears the French first lady used the occasion to debut a rather edgy outfit. She actually just took her signature blazer and turned it up one edgy notch.
For a photo op with the Irish musician, Macron donned a pair of black skinny jeans, a black top and that aforementioned jacket, in a soft grey color. Accented with bold gold buttons and a busy display of zippered pockets and braided accents, this topper is certainly one of the most rock 'n' roll looks that the first lady has been photographed in. It appears to be similar to the blue Louis Vuitton blazer she wore to the French Inauguration this past May, but way trendier.
The charitable pop star, meanwhile, chose to wear his signature all-black suit to this meeting, adding just a pop of color, with a round pair of purple shades. Both of their looks, by all means, offered an example of how to dress like a restrained and polished rocker.
Bono was in Paris to play with U2 at the Stade De France on July 25 and 26, but he was also invited on a formal visit with President Macron to discuss his non-governmental organization, ONE. He co-founded the non-profit with the mission to "end extreme poverty and preventable disease, particularly in Africa." During his discussion with President Macron, which lasted over an hour, Bono reportedly focused his attention on furthering the education of girls and women in Africa.
The French president shared two tweets from his meeting with Bono, praising him for using creativity to fight poverty, in English. Another message, written in French, urged action. "130 million girls have no access to education. Exchange with Bono on education against sexism," it read.