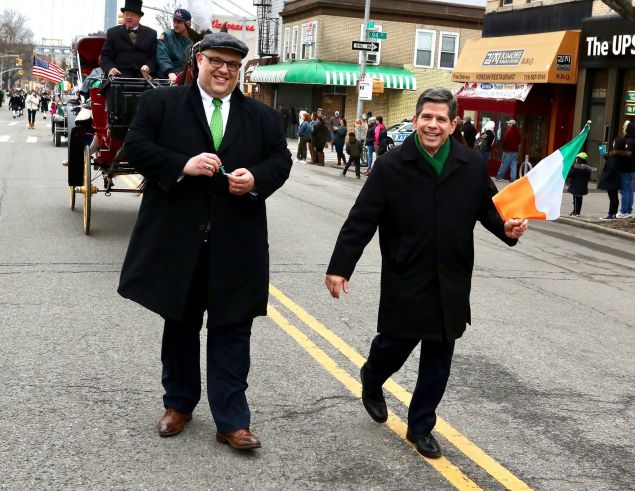 Supporters and staff for City Council candidate Khader El-Yateem of Brooklyn have accused his opponent, Justin Brannan, of failing to disclose campaign expenses to election regulators.
El-Yateem's supporters have filed a complaint with the New York City Campaign Finance Board, alleging that the Brooklyn district attorney campaign of Councilman Vincent Gentile paid for Brannan's rent at his campaign headquarters and petitions, among other items. The group is asking the CFB to deny Brannan public matching funds.
Brannan is running for the 43rd City Council District seat currently held by Gentile, who is term-limited and running for Brooklyn DA.
The complaint, filed with the board Monday and obtained by the Observer, alleges that Brannan and his "Friends of Justin Brannan" committee failed to disclose campaign expenses in his latest filing with the CFB covering expenditures from May 12 through July 11, including expenses for campaign workers, petitions, banners and mailers.
Brannan allegedly failed to disclose $2,000 that the "Gentile for DA" campaign paid to Henry Hui for rent at 8115 3rd Ave., where Brannan's campaign headquarters is located, on June 3, as well as $800 to Queens-based Progress Printing Corp. for petitions on May 23. Those items should have been reported as in-kind contributions and expenditures, according to the complaint, in keeping with the Campaign Finance Act and CFB rules.
The complainants are Bay Ridge resident Abdullah Younus, a member of the New York City Democratic Socialists of America, an organization El-Yateem belongs to that has endorsed him for the seat and whose political committee has organized a full-blown endeavor to help him get elected; Brooklyn resident Kayla Santosuosso, El-Yateem's campaign field director; and Bronx resident Andrew Smith, who stated on his Facebook and Twitter profiles that he is working for El-Yateem, the first Palestinian-American Christian ever to run for City Council.
The "Friends of Justin Brannan" committee has been a CFB-registered political committee since Dec. 9. The complaint notes that "Gentile for DA" is a state political committee — it is listed on the state Board of Elections website — and is not CFB-registered. 
"The absence of these and other expenditures renders these filings to be illusory, and should disqualify these filings from being considered accurate or timely filed" reports, the complaint reads. "Furthermore, there is a risk that the candidate would be able to circumvent campaign-spending limits if these filings are not investigated further."
Brannan, a longtime community activist born and raised in Bay Ridge, worked for the New York City Department of Education and served as chief of staff to Gentile. His campaign called it a "baseless complaint" from political opponents and said it is currently seeking CFB approval for its collaboration with Gentile's group. In the meantime, the in-kind contributions have been publicly disclosed to the Board of Elections, the Brannan campaign added.
Brannan's campaign allegedly printed and circulated petitions; retained election lawyer Sarah Steiner, campaign manager Luke Strong and field director Sara Faruqi; rented offices in Bay Ridge; printed and shared banner and campaign signs; sent out campaign mail to voters; printed palm cards; started a website; and hired photographer Jason Jamal Nakleh to develop pictures. But none of these expenditures, according to the complaint, have been reported in his latest filing.
The July 2017 financial disclosure report for "Gentile for DA," which totals $118,677.20 in expenditures, includes $800 for petitions on May 23 for Progress Printing Corp., which is based in the Woodside section of Queens, and $2,000 in rent to Henry Hui at 8115 3rd Ave.
Brannan has filed $12,318.17 in total expenses for the entire campaign, and his latest CFB filings show no expenditures since May 30, when he spent $102 on campaign mailings and postage.
Brannan's campaign sent Observer an itemized list of expenditures from May 1 to July 20 totaling $24,700.35. All expenses have been disclosed to the Board of Elections. (The complaint only takes issue with CFB filings.)
"We have disclosed all campaign expenditures and sought CFB approval on our collaboration with the Gentile for DA campaign," Brannan's campaign said in a statement. "This is a baseless complaint concocted by one of our opponents to halt the tremendous momentum we've gained in recent weeks. Justin Brannan's grassroots campaign has gained the support of thousands of everyday Brooklynites who have contributed their time, energy and donations towards electing Justin the next Council member for the 43rd District."
The itemized expenditures include $6,400 to Henry Hui for office rent on June 2; two payments of $3,600 each to Strong, on June 1 and July 1; one payment to Steiner of $2,000 on June 1 for petition expenses, and one payment of $2,600 to Mahnoor Faruqi.
Those updated expenditures are not yet reflected on the CFB website, which still shows $12,318.17 in total expenses by Brannan.
The Brannan campaign also shared correspondence between them and the CFB in which they explained that the rent is $2,400 a month, with "Friends of JB" sharing a portion of the space with "Gentile for DA," which is paying $500 a month toward the total $2,400 rent. The total space is roughly 550 square feet, with "Gentile for DA" using about 115 square feet, mainly for storage, they said.
The "Gentile for DA" campaign did not respond to a request for comment. The CFB declined to comment per agency policy. The CFB under its typical procedure will be sharing the complaint with the Brannan campaign within 10 days, and they would then have 20 days to submit a formal response to the agency.
Other candidates vying for the seat in the Democratic primary are district leaders Kevin Peter Carroll and Nancy Tong. On the Republican side, Liam McCabe, a former aide to Congressman Daniel Donovan; John Quaglione, an aide to State Senator Martin Golden; and Bob Capano, an aide to billionaire supermarket mogul John Catsimatidis, are running.