Back in 2006, I used to work for a non-profit in Philadelphia that leased mini-vans to drive groups of people in the city out to jobs on big corporate campuses in the suburbs. They called it "Commuter Options." A lot of the best employers had abandoned the city and set up shop in places that really couldn't be reached by the regional transit agency's trains, which meant that workers without cars in the urban core couldn't take jobs they qualified for because the commute was impossible.
The staff who ran the program (I had nothing to do with it directly) didn't have fancy algorithms or datasets to work with. They just made a lot of phone calls to companies to find workers who needed carpools, and they ran a lot of events to help unemployed city residents apply to suburban jobs. It was slow going, but eventually minivans full of workers were setting out from different neighborhoods every day to remote office parks.
Eight years later, Chariot launched a tech-infused version of a very similar program in San Francisco: find workers in urban transit deserts and get them to the places where the jobs are, thereby saving them a lot of time and probably money, too. Ford liked the idea, so it bought Chariot in 2016. Today it announced its third market, New York City.
In May, we reported on Chariot workers in the Bay Area joining the Teamsters union.
"We want to connect people more easily to where they want to go—whether they need help making it to a transit hub or live in an area underserved by public transportation," CEO Ali Vahabzadeh said in a press release. It will begin in August with two pre-planned service areas in Manhattan and Brooklyn, at a flat cost of $4 per ride.
At a press event today in Manhattan, Vahabzadeh emphasized that its program has been approved by the relevant agencies so that workers can pay for rides out of pre-tax earnings, just like many do for their monthly subway passes.
That daily price runs a lot higher than even paying full price for the subway, but there are tens of thousands of New Yorkers who drive to work for one reason or another, and $160 per month is a lot less than most people's car payment, never mind insurance, parking and gas. The CEO said that KPMG has estimated every Chariot van takes 10 cars off the road.
"We're going to really re-envision what a commute should be like," Vahabzadeh said at the event. Now that it's part of Ford, it can experiment with how its Ford Transit minibus is set up. Do they want to rearrange the seats? Let them move? Add new entertainment features? Vahabzadeh calls this "CX" for "Cabin Experience."
The company has a lot more CX flexibility now. That said, it's probably going to hew closely to what Vahabzadeh told the San Francisco Business Times in 2015: "At the end of the day, a commuter wants to get to work quickly, reliably and affordably. Everything else is a distraction."
Right now, Chariot really wants New Yorkers to download its app and start playing around. It hopes to crowdsource data about new routes to launch. It wants 60 Transit minibuses running through the city by the end of the year.
In ridesharing, it hasn't been riders that have made the news so much as workers, however. Drivers are not considered employees by the big ridesharing companies, and then when Juno launched in New York, promising a better deal, it reneged shortly thereafter, leaving many drivers feeling used. A lawsuit is underway now.
"Chariot actually employs its drivers," Vahabzadeh emphasized at the event. He cited a 91 percent retention rate month over month. While acknowledging that many drivers in the tech economy have been frustrated, "our employees say and act differently," he said.
Driving can be a weird job. Those doing it for Silicon Valley bus companies serving campuses like Apple's and Google's find themselves navigating very weird split shifts, where they are stuck far from home between their morning and evening runs. Chariot workers do split shifts as well, Vahabzadeh confirmed, but if they are staying within New York City, it shouldn't be quite so disruptive to their lives.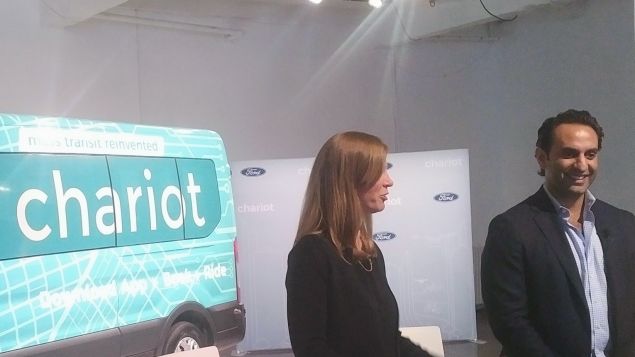 Tech's stabs at transit have already changed cities.
Philadelphia bus riders—served by the same transit agency that failed city residents with jobs in the suburbs when I was there—have started making the occasional switch to Uber, Philly.com reported this week. These problems are very complicated. "It's going to take everything" to get the roads unstuck, Ford's Jessica Robinson told the Observer at today's event.
Ford has committed to untying the Gordian knot of urban traffic, as we've previously reported. Robinson said Ford really looks at Chariot's vehicles as a platform. "There's a lot of other innovation that will come to the Chariot platform first," she told us. That could be new sensors, connectivity or amenities.
In particular, she looks forward to a more demand-responsive platform. Imagine if Chariot had enough users and vans that the routes changed a bit every day, depending on who was going to work and when? And if it could deliver similar service to big events, like sporting events and concerts? Not only would that deliver a really flexible commute for riders, but it would also take a ton of pressure off the city's clogged roadways.
That is, until robots start delivering toilet paper and pizzas and clog everything back up again.