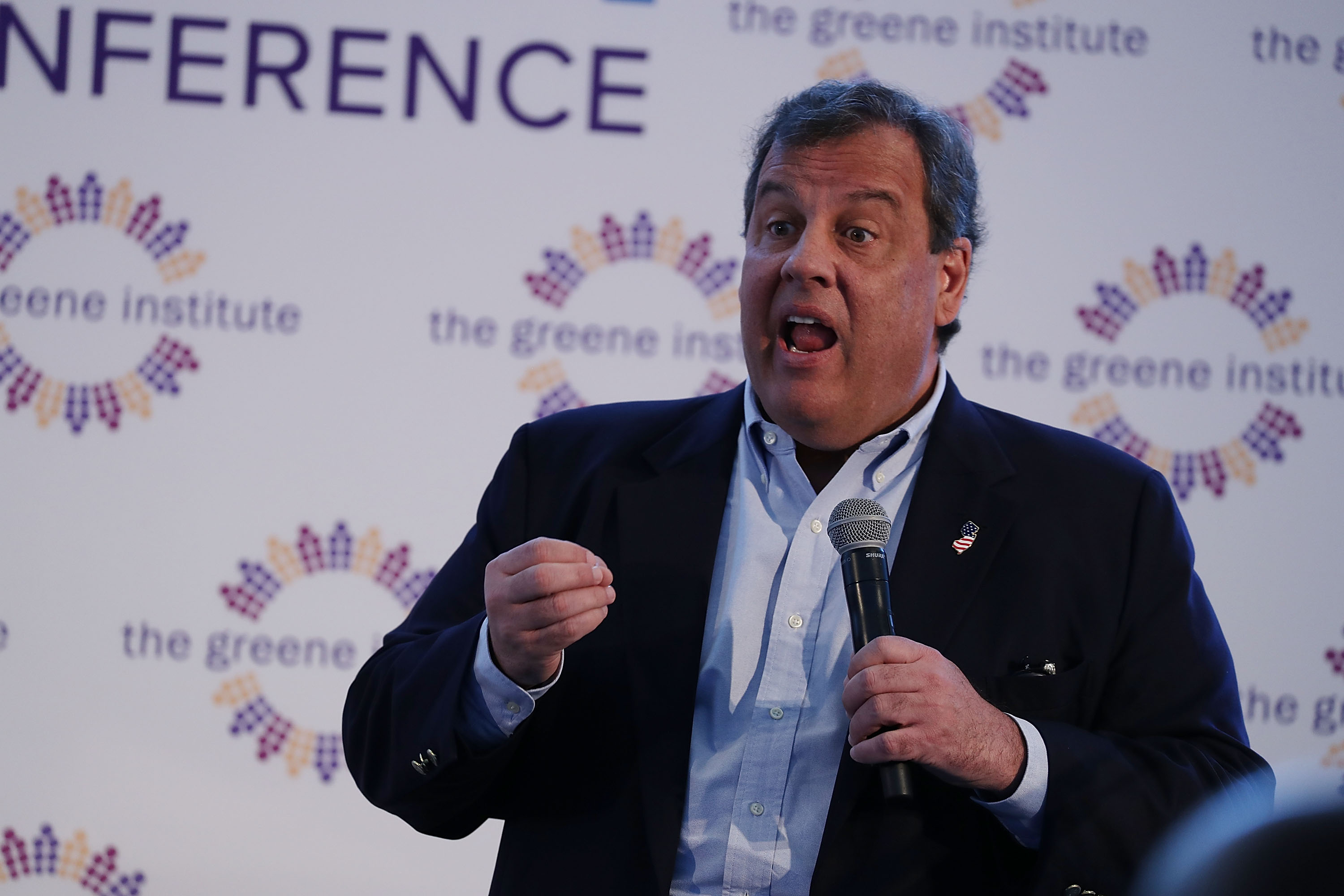 With New Jersey residents literally cursing him out the door, Gov. Chris Christie auditioned for a sports talk radio job on Monday and was called a profanity on air, too.
In the running to replace WFAN host Mike Francesa next year, Christie was co-hosting his drive time show as part of a two-day audition when a frequent caller, "Mike from Montclair," called the governor a "fat ass" and criticized Christie for sunning on a state beach he had closed this month during a three-day government shutdown.
"Put your fat ass in a car and go to one that's open to all your constituents," Mike told the governor. Christie called Mike a communist. And audio of the insult-laden exchange blazed through social media.
A deeply unpopular, term-limited governor, Christie was looking ahead to life after elected office. WFAN confirmed Friday that Christie is a candidate to replace Francesa next year and described the Monday spot as an audition. Christie will fill in on Tuesday, too.
Christie, who was on the radio for four and a half hours, joked that he's "totally mailing it in" as governor when asked how he has time to play fantasy baseball. He then predicted "Christie Mails It In" would be Tuesday's newspaper headline.
The tryout came shortly after another poll found just 15 percent of New Jerseyeans approve of the job he's doing. Two-thirds of residents negatively responded to Christie's time at the beach, and six percent used profanities or the word "jerk" to describe their feelings, according to a Monmouth University Poll released Monday.
But co-host Christie was laughing off his low poll numbers. When WFAN's John Minko said he approved of his time in office, Christie quipped: "He is one of the 15 percent!" When a caller from Westchester County, New York, had nice things to say, Christie said he needed to buy a house in New Jersey.
And he mocked another Montclair resident, this one named John, who called into the show and said Christie has done "a horrible job" as governor.
"I represent the 85 percent of people who do not prefer you as governor," John said.
"You lost twice," Christie responded, referring to his two gubernatorial election victories. "Shows how much you matter."
Christie managed to wedge in some sports talk when he wasn't calling Hillary Clinton a criminal or telling his co-host, Evan Roberts, that he shouldn't "bitch" about gas prices in New Jersey.
He predicted the New York Giants would win the NFC East with a 12-4 record, followed by the Dallas Cowboys, his favorite football team, at 11-5.
And he said he wore a New York Mets 2006 National League Championship Series hat when he was pictured sitting on Island State Beach Park. The hat, according to his spokesman, was why he didn't get any sun that day.