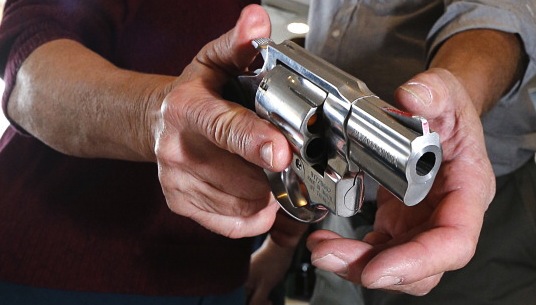 New Jersey will narrowly expand the pool of retired law enforcement officers who can carry handguns under a bill signed by Gov. Chris Christie on Thursday, a rare but minor loosening of gun restrictions in a state known for tough gun laws.
Retired police officers for state parks, New Jersey Transit, college campuses and others will now be able to get handgun permits. Previously, only retired officers who had "broad carrying privileges" such as local, county or state police officers could apply annually for permits until they turned 75.
New Jersey's Democratic-dominated Legislature is better known for trying to tighten gun laws. But state lawmakers overwhelmingly approved the bill by a 77-0 vote in the Assembly in December and a 27-7 vote in the Senate in May.
"Regardless of the law enforcement unit with which they served, retired law enforcement officers who received proper training in the use of firearms and dedicated themselves to protecting their communities should have the right to carry a handgun," Assemblyman Gordon Johnson (D-Bergen), a bill sponsor and former Bergen County sheriff, said in a statement. "This will further the intent of the original law giving retired officers the right to carry by enabling more individuals with professional law enforcement experience to help keep New Jersey safe."
A Christie spokesman declined to comment on the bill signing.
Christie, a Republican, has sought to loosen handgun restrictions more broadly. His administration announced rule changes in March to water down a regulation that requires people to show a "justifiable need," or an urgent ongoing threat, to get a carrying permit. Christie's new rule required only "serious threats." Democrats have sued to block the changes after they passed resolutions declaring the new rule defied their "legislative intent." The case is still in court.
The bill signed Thursday adds retired special agents of the Division of Taxation and retired police officers for state parks, human services, New Jersey Transit and railways and college campuses to the list of those eligible for handgun permits. State conservation officers, Palisades Interstate Park police officers, Burlington County Bridge police officers, housing authority police officers and parole and juvenile corrections officers are also included.
The previous list was limited to local, county or state police officers, members of an interstate police force, state or county corrections officers, county park police officers, county prosecutor's detectives and investigators, and federal law enforcement officers.
"We as a state have been stepping on people's right to protect themselves for too long," said Sen. Gerald Cardinale (R-Bergen), another sponsor of the bill. "These officers have already displayed the capability of carrying a firearm in the line of duty. Once they retire, this will give them the ability to keep protecting the public from acts of violence."