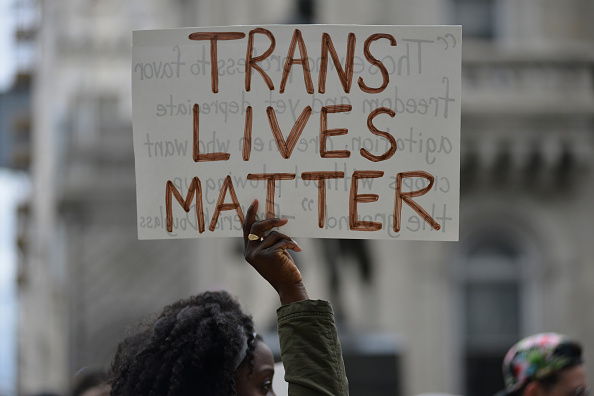 Gov. Chris Christie on Friday signed two bills instituting broad new protections for transgender New Jersey residents: one directing schools to let students use bathrooms and locker rooms based on their gender identity or provide "reasonable alternative arrangements," and another prohibiting health insurers from discriminating against transgender residents.
The first bill (A4652) prevents school districts from forcing transgender students to use facilities that correspond to their birth sex rather than gender identity.
The bipartisan-backed law also requires the state education commissioner to establish guidelines for schools handling name and gender-identity changes, ways to ensure pronouns properly correspond to gender expression, and procedures to allow students to participate in activities that correspond to their gender identities.
Other provisions of the new law would permit the creation of LGBTQ student clubs, allow students to dress in accordance with their gender identity, issue school IDs corresponding to gender identity as opposed to birth sex, and ensure that school counselors are knowledgeable about issues relevant to the transgender community.
The Legislature passed the bill — an effort led by Assemblywoman Valerie Vainieri Huttle (D-Bergen) — in a 25-10 vote in the Senate and a 59-15 vote with three abstentions in the Assembly in June. In both houses, the bill had bipartisan support, but most Republicans voted no, and a few Democrats abstained or voted no.
Huttle cited a study by the National Center for Transgender Equality, which found that 41 percent of trans people attempted suicide in their lifetimes, compared with 1.6 percent for the general population. The survey also found that 59 percent of respondents said they avoided using a public restroom over the previous year because they were afraid of confrontations or other problems.
The new law, she said, would help change cultural perceptions of trans children and "hopefully influence how students treat each other in and outside of school."
"Trans children are harassed and bullied for daring to be themselves," Huttle said. "This has to stop."
Christie and his office did not make public comments about the bill, and the governor did not issue a signing statement on Friday. But it is one of the most comprehensive measures protecting transgender student rights in the country, and New Jersey is now the 11th state to issue such guidance for schools.
"We are ecstatic that the governor has decided to stand on the right side of history by protecting all of New Jersey's residents," said Christian Fuscarino, executive director of Garden State Equality, the state's largest LGBT rights group. "After years of him vetoing bill after bill that would protect LGBT New Jerseyans, we are pleasantly surprised."
Christie signed a separate bill (A4568), also sponsored by Huttle, prohibiting health insurers from denying coverage or services or setting higher premiums based on gender identity. The new law also bars insurers from listing gender identity as a pre-existing condition for which coverage can be denied.
"Antiquated policies and attitudes towards transgender individuals have led to discrimination, violence, depression and suicide," Huttle said in a statement. "While tremendous strides have been made in recent years to advance equality for members of the 'LGB' community, much more still needs to be done to help protect our brothers and sisters in the 'T' community."
Transgender bathroom access has been a hot topic nationwide since North Carolina last year passed a controversial "bathroom bill," which required transgender individuals to use facilities corresponding to their birth sex. New Jersey's new law prevents such measures from being implemented in its schools. (North Carolina later repealed that law and replaced it with another measure that also drew intense opposition from LGBT advocates.)
When North Carolina passed the law, Christie said he would not consider similar legislation in New Jersey. But in 2015, Christie vetoed a bill that would have permitted New Jersey residents to amend their gender designation on birth certificates following gender reassignment surgery.
On the other hand, Christie also received praise from LGBT advocates for signing a ban on "gay conversion therapy" for minors in 2013, outlawing that controversial practice in New Jersey and defending the ban from several court challenges all the way to the U.S. Supreme Court, which ultimately left the ban in place.
"As he did with the conversion therapy ban, Governor Christie took a stand for LGBT youth in New Jersey by signing this important legislation, and he deserves our thanks," Fuscarino said Friday of the new measure on transgender students.