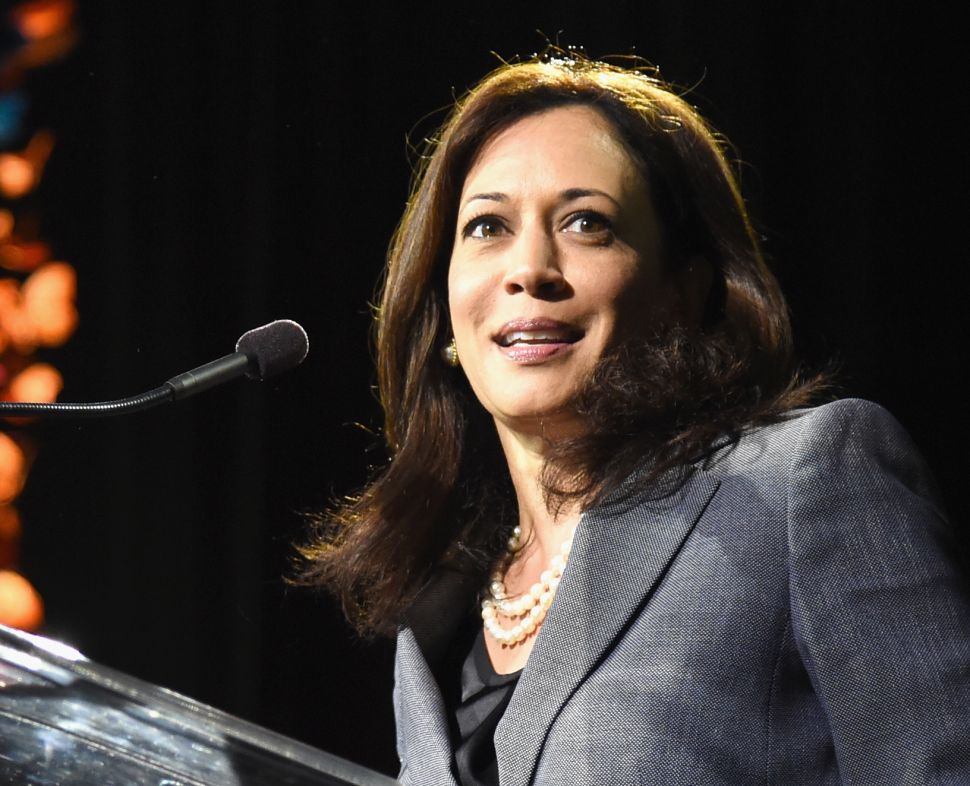 After propping her up as the Democratic Party's Trump resistance hero, the Democratic establishment, including Clinton donors and staffers, are lining up behind the idea of Sen. Kamala Harris running for president in 2020. Earlier this month, Harris met with several top Clinton donors in the Hamptons and attended a luncheon hosted for her by Liz Robbins, one of Hillary Clinton's top lobbyist bundlers. This weekend, Harris returned to the Hamptons for more meet-and-greets with top Clinton donors. This time she met with Harvey Weinstein, Citigroup banker Ray Mcguire and former U.N. Ambassador Susan Rice. The continued meetings and lavish galas signal that Democratic elites are rallying behind Harris as she positions herself to run for president in 2020.
An anonymous Democratic donor told The Hill that Harris is "absolutely going to run" in 2020. Another source told Page Six,"She's on overdrive. It's not just about the money…That's the easy part for her. She wants to meet the influential."
In addition to courting donors, Harris has hired several former Clinton staffers. Hillary For America Regional Director Sergio Gonzales joined Harris' Washington, D.C., office in March 2017. Lily Adams, who served as the DNC's deputy communications director before joining the Clinton campaign in Iowa in 2015, now serves as Harris' communications director. Harris' Deputy Press Secretary Kate Waters also worked for the Clinton campaign. Harris' hiring indicates that she hopes to stack her staff with people who have experience working on presidential campaigns.
Harris has also maneuvered to try to protect herself from being blindsided by possible challengers fueled by grassroots campaigning, such as Hillary Clinton was by Bernie Sanders. She has reportedly paid $400,000 to Revolution Messaging, the firm that built Sanders' digital and branding strategy while his candidacy experienced a media blackout in 2015.
The Guardian published an op-ed on July 22 touting that Harris' "centrist platform could be the party's solution to its identity crisis." The same day, The Hill published an op-ed by a Democratic consultant and lobbyist claiming that Clinton lost in 2012 was because moderate and conservative voters supported Barack Obama more. Quite the opposite, the source of the Democratic Party's woes is it's insistence on shifting toward the center. The "center" is a meaningless political term. Centrism is synonymous with compromise, and the Democratic Party's compromises the past few decades have consistently abandoned the interests of working, middle class and low income Americans.
Harris' recent response to Democrats in her home state of California sabotaging single-payer Medicare for all—despite holding a super majority in the state legislature and the governor's mansion—speaks volumes about her. She refused to outright support the policy; instead she said she supports the "concept" of single-payer but believes fixing Obamacare is more realistic. Establishment Democrats frequently state that the policy isn't possible, but they do so because it would hurt their donors. Democrats don't need another presidential nominee who sides with wealthy donors and markets policy compromises as "practical," "pragmatic" or coming from a "progressive who gets things done."