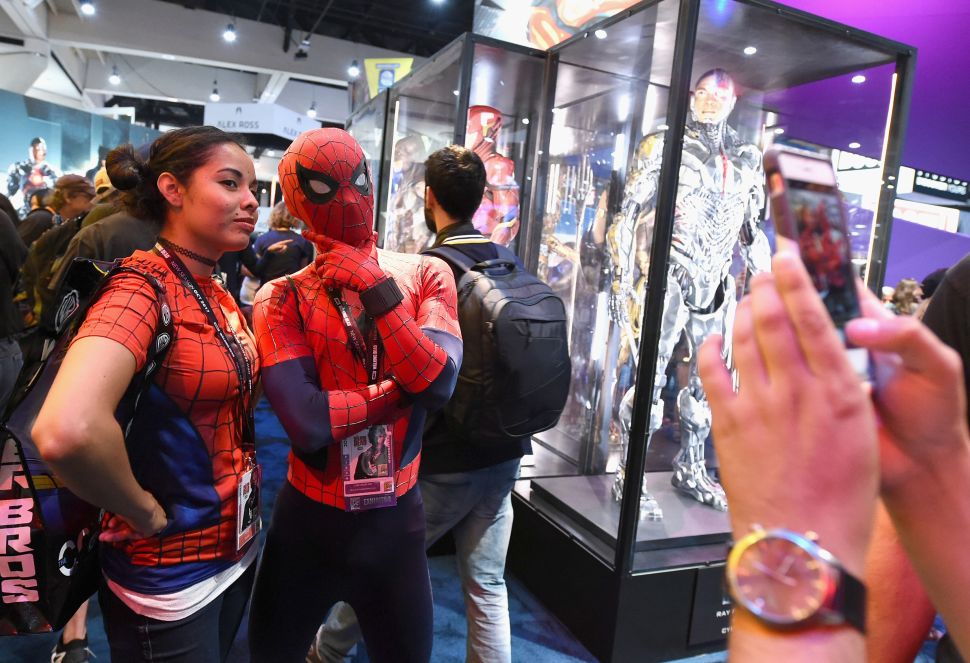 Welcome to our weekly comics column, Near Mint, where media guru Johnnie Martin discusses all the KaPOW that's fit to print. This Week: The winners of everyone's favorite panic attack, San Diego Comic-Con International.
Ahh, Comic-Con International. Celebrities are trotted out, trailers are unfurled, and hype trains try and leave the station. Now in its 47th year, Comic-Con has reached "MTV doesn't play music anymore" levels of diversion from its graphic roots, with major distributors Mile High Comics disappearing from the convention floor after decades of attendance. But yet, here we are again, asking ourselves "who came out on top?" Read on if you dare, true believers.
Rocko's Modern Life: Static Cling
From the sneak peek, Nickelodeon's Rocko's Modern Life reboot looks to be pretty heavy handed in its critique of 21st-century life. Rocko finds his comic shop job replaced by an automated 3D printer, gets trampled at an "O-Phone 10" release, and takes a surreal trip while trying to outrun like-buttons and online comments while the B-52s classic theme for the show plays him off. The concerns are modern, but the animation of Rocko's slappy, joy-crazed animal world is consistent with the original—just a little brighter.
Medusa
The problem with a lot of the Marvel film and TV projects is that they're neither great nor awful, they're just sort of…middling. But with a secret lair that looks funded by Kickstarter and a teleporting bulldog, Marvel's latest TV adaptation of The Inhumans may bestow the first Showgirls-level Marvel moments since Peter Parker tickled the ivories in Spider-Man 3. The real star of Thursday's Inhumans trailer reveal was Inhumans' leading lady, Medusa, known for her voluminous (and superhumanly strong) psionic hair. Early cast photos had Medusa's wig looking a little flat, but in Thursday's sneak peek we finally see actress Serinda Swan's weave in tantalizing hair-raising combat. Medusa's wig even wrote a tell all on Gizmodo on Friday! Let's hope for prehensile beards in Inhumans season two.
A Wrinkle in Time
Disney tried their hand at some performance art promoting Ava DuVernay's A Wrinkle In Time, and they succeeded in being far-out. Mimicking the homogeneous suburban planet of Camazotz from Madeline L'Engle's novel, brightly colored children holding red rubber balls and their creepy June Cleaver moms popped up in various locations throughout the con. Eventually, the group lined up in front of the A Wrinkle In Time bus featuring images from the film. Was the intention of this troupe of brightly dressed sycophants to be a metonym that criticizes convention goers in general? Unclear, but stay weird, Disney.
Kansas
Grey-haired rock band Kansas surprised convention goers with a performance of "Carry On My Wayward Son" at the panel for horror drama Supernatural on Sunday. Supernatural has existed for 13 seasons on the CW, going all the way back to when the network was still known as the WB. This is surprising to me because I've never heard of Supernatural! Good on them for going in a truly attention grabbing direction.
George Romero
The father of undead horror rose from the grave (too soon?) at the Walking Dead Panel on Friday, where he was a frequent topic of discussion. Dead writer Robert Kirkman eulogized that Romero was the reason he fell in love with the genre and claimed he "couldn't be more upset about that loss." By their own admission the Walking Dead owes a great deal to Romero, a veritable god in the genre of horror. Romero, however, notoriously disliked the TV show. Being celebrated in death by a show you openly disliked in life is pretty impressive. Romero also got shoutouts as a source of inspiration during the IGN live stream preview for Call of Duty: Nazi Zombies and toymaker Mezco premiered a line of Dawn of the Dead statues. Kiss the ring, children.
Saga…Again
For the fourth time in five years, space opera Saga took home an Eisner (comic book Oscar) for best ongoing comic book series. Saga scribe Brian K. Vaughan also won his 4th Best Writer Eisner, and Saga's artist Fiona Staples won two individual awards for best covers and best penciller/inker—frustrating as in last week's Near Mint interview Fiona remarked that she prefers her work placed in the Best Painter/Multimedia artist category. Saga, which tells the story of a war-torn alien family, and also features rainbow zebras, is still a critical and commercial darling at the five-year mark. It might be wise for accolade-hungry creators to wait until the book ends before unfurling their best ideas.
Black Panther
In the cavalcade of movie trailers released at Comic-Con this year, there seems to be a lot of pivoting. The new Justice League Trailer leans heavy on Wonder Woman; no doubt in response to the success of Patty Jenkins' solo Wondy blockbuster. The trailer for Stranger Things Season 2 is so overstuffed with eighties nostalgia (set to a remix of "Thriller") that I'm worried it's covering up a repetitive plot. But vaulting in amongst a litter of positive buzz, the Black Panther continues to prove that the titular character doesn't need to be anything more than himself. Director Ryan Coogler's Saturday screening confirmed that Andy Serkis' character Klaw would have his sonic superpowers, which elicited a standing ovation from the screaming hordes in Hall H. Black Panther stars Chadwick Boseman, Lupita N'yongo, and Angela Bassett and is coming to a theater near you February 16, 2018.
Liev Schreiber
Tough guy actor Liev Schrieber wins the wonderful parent award for bringing his kids Samuel Kai and Alexander Pete to the con in full costume! Alexander chose a Jedi look, and Samuel (pictured above) came in cosplay as Harley Quinn! Some parents might not have been open to little Samuel dressing as the clown princess of crime, so kudos to Liev for being an open-minded (and handsome) daddy. I'm sure some behind the scenes credit is also due to Sam and Alex's mom, Mulholland Drive actress Naomi Watts. Catch Liev's voice work in My Little Pony: The Movie, in theaters October 6.