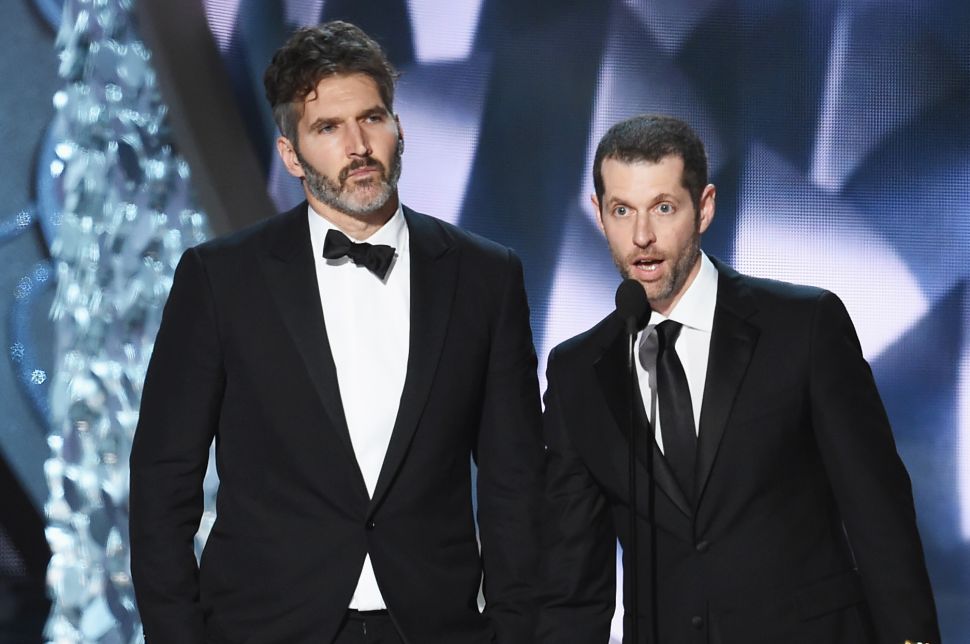 HBO's announcement that Game of Thrones showrunners David Benioff and D.B. Weiss's next series, Confederate, will take place in an alternate timeline where slavery still exists has been divisive to say the least. While the network is hoping fans adopt a wait-and-see approach to the delicate material, some viewers have organized the #NoConfederate social media campaign urging HBO to drop the series completely.
The network finally responded to the growing online movement Sunday night.
"We have great respect for the dialogue and concern being expressed around Confederate. We have faith that [writers] Nichelle, Dan, David and Malcolm will approach the subject with care and sensitivity. The project is currently in its infancy so we hope that people will reserve judgment until there is something to see," the premium cable network said in a statement, via THR.
Joining Benioff and Weiss as writers and producers are husband and wife Malcolm Spellman and Nichelle Tramble Spellman.
April Reign, who also organized the #OscarsSoWhite campaign, is behind the growing #NoConfederate. The campaign urged viewers to tweet the hashtagged message during Sunday night's airing of Game of Thrones in order to draw attention away from HBO's flagship series. At the conclusion of the episode's East Coast broadcasting, #NoConfederate had become the No.1 trending topic in the United States and No. 2 worldwide, according to the outlet.
Here's the official plot synopsis of the new series:
Confederate chronicles the events leading to the Third American Civil War and takes place in an alternate timeline where the Southern states have successfully seceded from the Union, giving rise to a nation in which slavery remains legal and has evolved into a modern institution. The story follows a broad swath of characters on both sides of the Mason-Dixon Demilitarized Zone — freedom fighters, slave hunters, politicians, abolitionists, journalists, the executives of a slave-holding conglomerate and the families of people in their thrall.
"What confidence should we have in two gentlemen who can't talk about race on their show and have had seven seasons to introduce significant characters of color," Reign told THR.
HBO president of programming Casey Bloys previously explained the network's thinking behind Confederate, saying:
"Everyone understands there is a high degree of getting this right.… If you can get it right, there is real opportunity to advance the racial discussion in America," Bloys said. "If you can draw a line between what we're seeing in the country today with voter suppression, mass incarceration, lack of access to public education and healthcare and draw the line to our past and shared history, that's an important line to draw and a conversation worth having. [The producers] acknowledge this has a high degree of difficulty. It's a risk worth taking."
Confederate isn't expected to begin production until after Game of Thrones concludes in either 2018 or 2019.