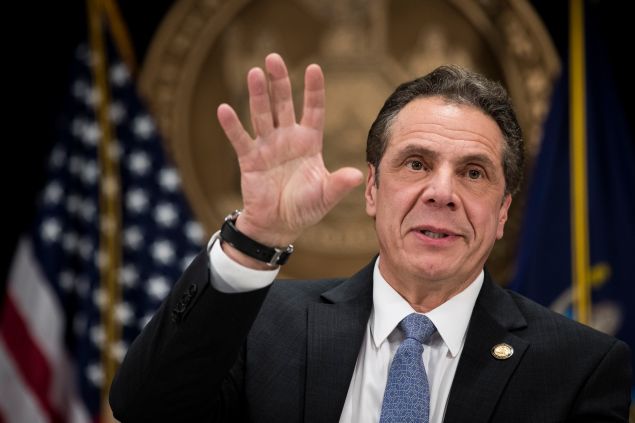 Gov. Andrew Cuomo signed an executive order on Monday mandating that all state agencies make voter registration forms available to members of the public in person and through mail, and also took other steps to expand access to the ballot.
Cuomo has taken a hard line recently against President Trump's commission investigating unproven claims that "millions of people voted illegally" in the 2016 election, refusing a request from that panel to provide New York voter registration data.
The governor also unveiled a new State Agency Voter Registration Task Force, which is made up of Alphonso David, his counsel; Jamie Rubin, director of state operations; and other agency commissioners. The task force is charged with executing the state agency voter registration program in conjunction with the State Board of Elections.
Cuomo's new order directs every state agency to make voter registration forms available and to help people fill out those forms. Under state and federal law, the forms previously were available at the Department of Motor Vehicles and some social service agencies. Cuomo's order extends that to all agencies that interface with the public in professional licensing, recreational activities and other areas.
"It is our responsibility to make it as easy as possible for people to vote because what's what democracy looks like," Cuomo said in a statement. "As the federal government and foreign powers threaten the sanctity of America's democracy, I am exercising my executive power to expand the availability and opportunity for every New Yorker to register to vote."
All agencies would be required to mail or electronically provide voter registration forms to people whose contact information they maintain. The order says all voter registration activities must be carried out "in a nonpartisan fashion."
Earlier this year, as part of his State of the State agenda, Cuomo proposed a series of bills aiming to update and reform New York's voting system, what he called the "Democracy Project." That package included enabling early voting across New York, legalizing same-day voter registration and carrying out automatic voter registration.
Both Mayor Bill de Blasio and New York Attorney General Eric Schneiderman have joined the call for those voting measures, as well as reforms to New York City's Board of Elections.
"Whether you are a student in college or a grandparent living on social security, there should be no artificial barriers to register and take part in the electoral process," Cuomo said Monday.
The governor also ordered the State University of New York and the City University of New York campuses to give voter registration forms to all students at the beginning of each school year as well as in January of each presidential election year. Federal law also calls on the institutions to give students the opportunity to register to vote as well as assistance and filing of registration forms through campus Disabled Student Service offices.
Cuomo is mandating that SUNY and CUNY conduct a probe into low registration rates and come up with an action plan to inform students of their rights and make sure that administrators are fulfilling their responsibilities under the law.
The governor also directed the Department of Motor Vehicles to send information referring to its online voter registration application in all renewal emails telling New Yorkers to renew their licenses, identification cards and vehicle registrations. He noted that since of the launch of the online voter registration in 2012, there have been more than 921,922 online voter registration applications, including 430,886 who identified as first-time voters.
At the end of June, Cuomo announced that New York will not provide voter data to Trump's Advisory Commission on Election Integrity after Kansas Secretary of State Kris Kobach, vice chairman of the commission, sent a letter to the 50 states and the District of Columbia requesting public data from state voter rolls and suggestions on how to yield election integrity.