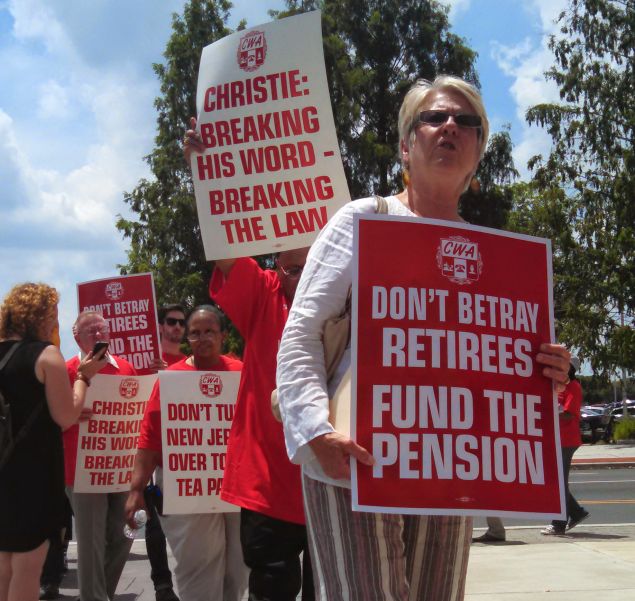 One of New Jersey's largest public workers unions is suing Gov. Chris Christie over his plans to change the way state government manages its IT infrastructure.
Christie signed an executive order in June to transfer many software development and maintenance functions from the Office of Information Technology directly to the agencies that office serves. Only software services used by more than one agency or across the executive branch would remain housed in OIT under Christie's order.
As a result, nearly 180 OIT employees are set to be transferred to nine state agencies starting Saturday, according to a lawsuit filed last week by the Communications Workers of America, the largest state worker union. The CWA claims the transfer will disrupt computer operations at agencies such as the State Police and the Department of Children and Families.
CWA attorneys argue Christie exceeded his authority with his executive order because OIT is deemed "in but not of" the Department of Treasury. That's a term of art; "in but not of" agencies are considered to be independent and the governor may only restructure them to the extent authorized by state law.
Independent agencies such as OIT cannot be abolished without legislative action, the state Supreme Court has ruled.
An appellate court denied the union's motion to block the transfer pending a final ruling, but the court also granted a motion to accelerate the appeal. Briefs are due to be filed in August and oral argument is scheduled for Sept. 11.
Christie was asked about the lawsuit at an unrelated news conference in North Brunswick on Wednesday. The governor stayed away from the legal arguments, but he accused the union of being "against efficiency in government."
"Because if government is most inefficient that's when the most jobs exist and that's what they're for," Christie said of the CWA. "They reflexively look to sue me on every policy I put forward. That's fine. It's OK. We beat them almost all the time in court and we'll beat them again." (The CWA most recently won a major court case knocking down the Christie administration's attempts to scrap merit exams used to decide promotions for government workers.)
Dudley Burdge, a senior staff representative at the CWA's state chapter, said Christie's plan would be inefficient because it would lead to "lots of communication between agencies, less uniformity, more waste as people go in different directions."
"Very clearly, moving application development people to the agencies is going to build those silos," he said.
Burdge also said the transferred workers served as "watchdogs" for potentially bad deals with contractors, and moving them out of OIT could open the door to more privatization. Christie said there are "no plans to privatize jobs at all."