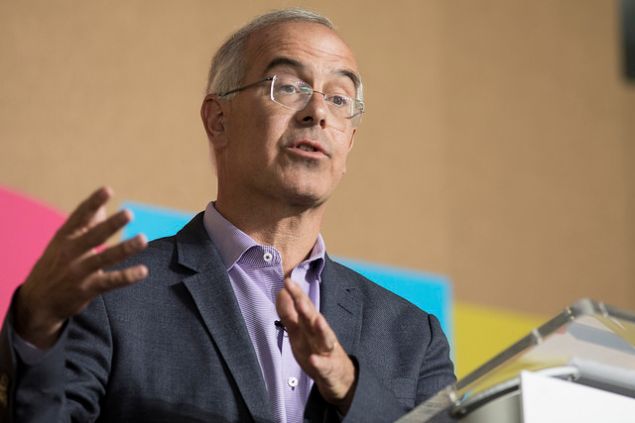 David Brooks has long been the most controversial New York Times columnist. He often wags his finger at millennials about issues like race, which can come back to haunt him since he's a white man.
But Brooks' latest column is his most viral yet—indeed, it made him a top Twitter trend.
The op-ed, titled "How We Are Ruining America," focuses on white privilege, especially the upper middle class "rigging the system" in terms of housing and college admissions. Important issues, to be sure.
It's Brooks' section on so-called "informal social barriers," however," that really riled up the internet. To show how upper middle class culture makes people feel unwelcome, he shared this anecdote:
Recently I took a friend with only a high school degree to lunch. Insensitively, I led her into a gourmet sandwich shop. Suddenly I saw her face freeze up as she was confronted with sandwiches named "Padrino" and "Pomodoro" and ingredients like soppressata, capicollo and a striata baguette. I quickly asked her if she wanted to go somewhere else and she anxiously nodded yes and we ate Mexican.

To feel at home in opportunity-rich areas, you've got to understand the right barre techniques, sport the right baby carrier, have the right podcast, food truck, tea, wine and Pilates tastes, not to mention possess the right attitudes about David Foster Wallace, child-rearing, gender norms and intersectionality.
There's definitely a lot to take in here, but Brooks' holier-than-thou attitude about his confused friend was what most people took issue with.
Oh, and since Brooks never actually explained this to his friend, soppressata and capicollo are Italian deli meats. Perfect for lunch, as long as you're not eating with David Brooks.