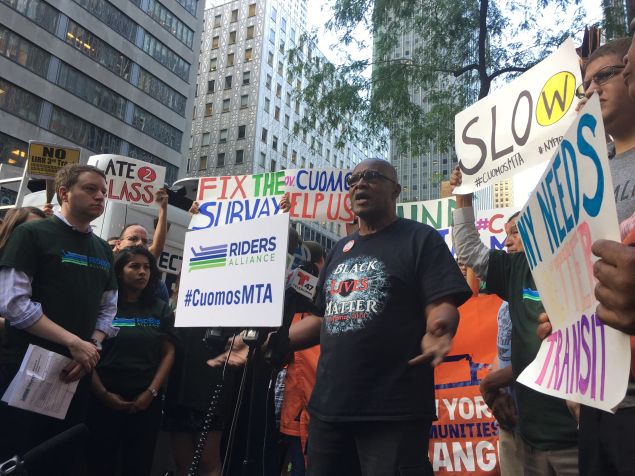 Just a week before Metropolitan Transportation Authority Chairman Joe Lhota is due to present the MTA's 30-day subway overhaul plan, Mayor Bill de Blasio has outlined his expectations for the MTA and Governor Andrew Cuomo—asserting that it is "time for the MTA to level with its New York City riders."
At the end of June, Cuomo announced that the state will contribute an additional $1 billion to the MTA capital plan. He also signed an executive order declaring a state of emergency to suspend procurement rules for the MTA, enabling the agency to expedite repair and the purchase of material and equipment to supplant aging infrastructure.
At the time, he also announced that he asked MTA Chairman Joe Lhota—the 2013 Republican mayoral nominee whom Cuomo appointed to the position last month—to come up with a reorganization plan for the MTA by July 31, and to conduct a review of the capital plan in 60 days.
The city boiled its expectations—which it dubbed "What New York City Riders Deserve from Governor Cuomo's Subway Turnaround Plan" and released via email and in a Medium post—down to five tenets: 1) Immediate relief for riders; 2) public performance goals and standards; 3) Clear accountability for continual improvement; 4) An efficient and fair MTA budget and a reallocation of resources towards core needs; and 5) A meaningful state commitment to the needs of subway riders.
"Riders have every right to be frustrated," the mayor's office wrote. "Over the last five years, subway delays have more than doubled, from around 28,000 per month in 2012 to more than 70,000 per month today. Only 63 percent of trains are now running 'on-time,' a drop of more than 15 percent since 2012, meaning longer waits and less-reliable travel times."
The city argued that the MTA needs to outline and quickly execute changes to ameliorate service and reliability, asserting that long-term steps will be "essential in the future" but that they do not have any significance if the MTA "cannot demonstrate to riders it can manage its own affairs."
It calls on the MTA to develop public performance goals and standards that makes it clear what riders should expect from their system and "frequently report actual performance against those standards." These include, they said, simple operation measures such as how long riders have to wait for a train during rush hour and how many times a train is too crowded to get on.
They also said the MTA needs to develop some services standards, such as mandating air conditioning in all trains during the summer, that no station be unattended in the event that people need assistance and that riders should never be stuck in trains for more than a few minutes due to maintenance issues—particularly without knowing what is occurring.
Another suggestion was for the MTA to measure performance against such metrics by line and station for rush hour and non-rush hours and—similar to the NYPD's CompStat program that provides statistics on crimes in every precinct every month—hold managers responsible for their performance. They also said that the MTA should fund new measures first by speeding up the use of available resources from every funding source.
"If additional funds are needed, the MTA should re-allocate resources from less-critical investments, including funds being made available to it for lights on bridges, any primarily aesthetic portions of station enhancements, or bureaucratic staffing that does not impact customer service," the mayor's office continued.
The city notes that the MTA should be "rigorous" in making its operations and capital project delivery as cost-efficient and effective as possible before "sending yet another bill to the hard-working taxpayers and riders of New York City." They also said a "fair plan" would consist of the city's subway and bus riders receiving a larger portion of resources already available to the MTA.
"New York City subways and buses carry 93 percent of all MTA riders, and there should be investments and operating support commensurate with this ridership," the announcement reads.
The city also said that the plan should return the more than $450 million in operating funds diverted from the MTA to the State general fund since 2011 and offer a "clear accounting" of how and when the extra $1 billion in state funds Cuomo announced will be available.
"These are basic steps that are required of public agencies everywhere: set high standards, report on performance, use every available dollar wisely, and hold managers accountable," the mayor's office concluded. "It's time for the MTA to level with its New York City riders."
In a statement, Lhota said that the "political posturing and photo ops are getting silly" and noted that both the mayor and his team are "fully aware" that the MTA is set to present its 30-day overhaul plan this week and have had "every opportunity to convey their suggestions."
"Instead, the mayor has continually taken the position that the New York City subway system is not his problem," he said. "What we need right now is for leaders to step up and work together, not hastily thrown together press releases drafted to score cheap political points — New Yorkers deserve better."
He also said that the city is solely responsible for the capital plan and has only contributed one-third of what the state contributed. He added that since 2010, state-operating aid to the MTA has increased by $940 million—or 23 percent—and that its capital aid has increased more than $9 billion—or 350 percent—over the previous plans combined.
Short-term stabilization of the subway system, he said, cannot come "at the expense of expansion and modernization."
"The mayor's solution is to rob Peter to pay Paul and take away capital funding that's already been earmarked for badly needed projects like expanding the Second Avenue subway into Harlem," Lhota continued. "The mayor should understand the difference between long term capital investments and the immediate need for operating dollars now."
The governor's office did not immediately respond to a request for comment.
Over the weekend, de Blasio rode the F train at the 4th Avenue — 9th Street station and asserted to reporters that Cuomo is responsible for fixing the subway system. The MTA is a state-run agency, falling under Cuomo's authority. This came after both Cuomo and Lhota argued that the city is responsible for financing the subway system because it owns and leases it.
The latest development comes after a Q train derailed in Brooklyn as well as an A train derailment in Harlem last month.